Read and Resist: W's Daily Briefing for June 10th
From taxpayer dollars paying for police misconduct to a media industry reckoning, here's what to read to stay informed today.
---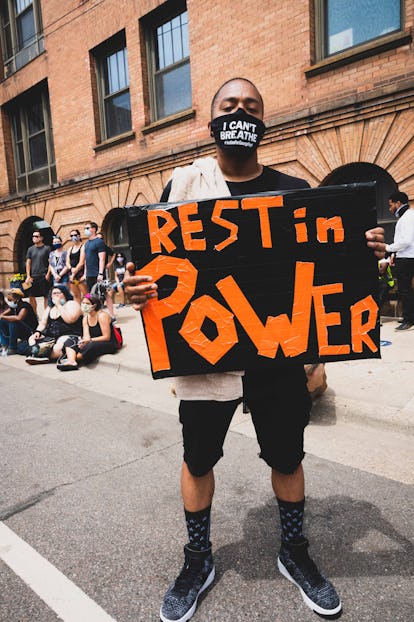 Protestors gather at North Central University, in Minneapolis, Minnesota, to commemorate the life of George Floyd and to protest police brutality directed at black lives on Thursday, June 4th, 2020. Photograph by Andrea Ellen Reed for W magazine.
Back in the day, W started off the morning with a quick round-up of links to that day's fashion- and culture-related news. Times have changed; in the week since a white police officer named Derek Chauvin killed an unarmed black man named George Floyd, protests have erupted across the country. Now, more than ever, it's important to stay up to date, which is why we're reviving "Chic in Review" as the slightly more radical "Read & Resist." Here are the stories, videos, and tweets we're hoping you don't miss this Wednesday:
The Chronicle attended the final farewell for George Floyd in Houston yesterday, and published an article that's equal parts minute-by-minute, on-the-ground reporting; photographic journalism; and crowdsourced tweets on the event. Pictures of attendees, family members and friends both inside and outside the service show thousands of people in Texas—some of whom, unrelated by blood to the Floyd family, arrived hours beforehand to help decorate.
The Republican party, which has found voter success by touting a "law and order" approach to policing since the 1980s, now struggles with shifting public opinion. Plus, they're trying to distance themselves from Donald Trump, who tweeted the charged phrase, "When the looting starts, the shooting starts," on May 29. GOP-ers enlisted Tim Scott of South Carolina, the sole black member of the Republican Senate, to lead the drafting of potential legislation for conservatives. "We are still wrestling with America's original sin," The Times reports Mitch McConnell as saying. "The best way for Senate Republicans to go forward on this is to listen to one of our own who has had these experiences."
The Plug, a tech publication focusing on black-led companies and issues within the industry, has culled a list of corporations that released statements in solidarity with the Black Lives Matter movement or condemned the killing of George Floyd, and also noted when they did so. In a graphic based on the information detailed in a master Google Spreadsheet, The Plug breaks down what each CEO said on the matter, and shows the snowball effect that took place after companies saw other companies taking a stand. (Salesforce, for instance, was the first company to put out a statement at 1:59 p.m., followed by Twitter almost eight hours later, then Apple.) "Tech CEOs—indeed all CEOs—should be speaking up not just because their employees and customers are being impacted, but also because the next 6 months are a moment when there is an opportunity to lay the foundation for real change," The Plug reports Laszlo Bock, CEO of Humu and former VP at Google, as saying. "Let's see if they want it."
This brilliantly reported story offers a look at how taxpaying citizens end up shelling out millions of dollars in legal fees when police misconduct crops up. Mock also takes into account costs associated with climate change-related events and the economic effects of COVID-19, which could also be viewed as another angle in the argument for defunding the police. "Cities are effectively using their residents to mortgage police violence—a proposition that may grow less and less palatable as families' finances are depleted by other circulating disasters," Mock writes.
Although this story doesn't pertain directly to the issue of police brutality against black people, it certainly is part of the ripple effect that's emerged in the days since protests against the killing of George Floyd began. On the internet—and on media Twitter in particular—a reckoning is taking place. Marginalized reporters, editors, producers, and assistants of publications including Refinery 29, Popsugar, and the latest, Bon Appétit, are outing higher-ups and the toxic workplace cultures they foster. Workers at multiple media outlets have claimed wage disparity, unfair treatment of BIPOC, and cases of outright racism within these organizations. Think it's just a bunch of writers online, complaining about bunk pay? These revelations have led to the resignation of the editors in chief of both Refinery and Bon Appétit—the latter, Adam Rapoport, is the subject of this article from Business Insider, one of a few on BA that's been posted since a photo of Rapoport in brownface surfaced a few days ago.
Newsreel
Food for Thought
Related: Required Reading on Race, According to Black-Owned Indie Booksellers