The Movies, Music, and TV to Stream and Watch in March: A Wrinkle in Time, Lil Yachty, and the Last of Shondaland as We Know It
We're in on 'A Wrinkle in Time,' totally out on the 'American Idol' reboot.
---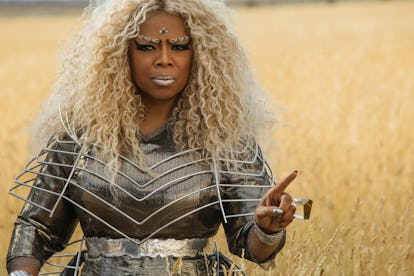 In this special, monthly edition of In & Out, we're looking at the month ahead and sorting through March's cultural calendar for you. Here are our picks for what you'll need to consume to keep up with polite dinner-party conversation, what you'll be secretly bingeing late at night, and what's best to just avoid. And for daily In & Out content, subscribe to the newsletter here.
What You Need to See
Wes Anderson returns, with his first film in four years (and second foray into stop-motion animation), Isle of Dogs (March 23), which is an ode both to the love between a boy and his dog and to the legendary Japanese director Akira Kurosawa. Critics were charmed when it debuted at the Berlin International Film Festival, and Anderson walked away with the award for Best Director (one, incidentally, also won by Kurosawa himself). It should be noted that the film also has a wonderful grab bag of voice talent, with everyone from Bill Murray and Scarlett Johansson to Tilda Swinton and Yoko Ono involved. Gemini (March 30) is an arthouse neonoir that involves a Hollywood starlet, her trusty assistant, and a gruesome crime. It's both a thrilling mystery and a thoughtful meditation on gender and fame, with Lola Kirke and Zoë Kravitz co-starring. Thoroughbreds (March 9) is another indie that finds imbalanced female friendships and potential murder at its heart, but this one, starring Anya Taylor-Joy, Olivia Cooke, and the late Anton Yelchin, takes place in tony Connecticut and plays as a dark comedy—like a more-refined Heathers or Jawbreaker, but with WASPs. From the looks of the trailer for Lean on Pete (March 30), it's a story about Chloë Sevigny repeatedly telling a young boy that he shouldn't make friends with a horse. But the critics tells us it's a whole lot more than that—and that 18-year-old star Charlie Plummer proves he's worthy of cutting to the front of the line of future leading men.
Television
Shonda Rhimes is headed to Netflix, but not before delivering two new shows to ABC this month. Station 19 (March 22) is a firehouse-set spinoff of the show that started it all for her, Grey's Anatomy, while For the People (March 13) follows federal court attorneys on both sides of the aisle as they face off against each other both in and out of the courtroom. HBO, meanwhile, gives Bill Hader a proper post-SNL vehicle with Barry (March 25), a comedy about a depressed hit man that should please fans of its lead-in comedy, Silicon Valley. And while the John Paul Getty III kidnapping tale was just told on the big screen in All the Money in the World, the fact that FX's TV version, Trust (March 25), is directed by Danny Boyle means we'll at least tune in. Yes, this is also the TV show that will usher in the new era of Brendan Fraser, respected character actor.
Music
Nashville-based Sophie Allison, aka Soccer Mommy, debuted her first full-length album, Clean, on March 2. Alma, the Finnish pop star you might have heard on Charli XCX's Pop 2 mixtape, releases a debut tape of her own with Heavy Rules Mixtape.
What You Might Actually Enjoy
Film
Have you bought your tickets yet for A Wrinkle in Time (March 9)? It's a film that stars Oprah, Reese Witherspoon, and Mindy Kaling as benevolent space witches, so what are you waiting for? On that level, and so many more, it just seems like a necessary film for right now. We're less sure that the Tomb Raider (March 5) reboot was necessary, but, hey, it's two hours of Alicia Vikander kicking ass, so why not? Meanwhile, after the legacy work of The Post, Steven Spielberg returns to blockbuster mode with Ready Player One (March 29), which stars up-and-comer Tye Sheridan as a gamer on a quest in a virtual reality universe. There are a lot of questions surrounding this one, but the buzz boils down to this: It's a Spielberg blockbuster, and Spielberg blockbusters are always a fun time. Speaking of bluechip directors and action flicks, while Guillermo del Toro isn't returning for Pacific Rim: Uprising (March 23), many fans of his movies are nevertheless excited about this sequel. Love, Simon (March 16) represents a quiet breakthrough; it's a mainstream teen romcom with a gay main character. Critics basically agree it's cute and necessary, if not much more.
Television
If Laurie Metcalf doesn't win an Oscar, at least we'll get to see her on television regularly again, with the return of Roseanne on ABC (March 27). Given the questions surrounding the reboot, she's the one thing we're definitely looking forward to. Mindy Kaling, producer, remains busy this month with the launch of her new NBC sitcom Champions (March 8). She doesn't star, but she does recur as a mother who drops off her son in the care of a former high school fling who has been living the life of a carefree bachelor.
Music
In a month devoid of a musical blockbuster, Jack White's Boarding House Reach (March 23) may be the most promising release. Or if you're into Lil Yachty's whole thing, he's putting out the sequel to his debut album, Lil Boat 2 (March 9). And country queen Kacey Musgraves continues to hold the crossover space that was once the domain of Taylor Swift; her new album, Golden Hour, is out March 30.
What You Can Skip
Film
The Hurricane Heist (March 9) deals with exactly what it says in the title—it's a film about tech-savvy thieves who attempt to pull off a robbery at a U.S. Mint facility in the middle of a Category 5 hurricane. So unless you have a 12-year-old son or a partner who acts like one, you can probably wait for the inevitable TBS reruns. Shawn Christensen has had quite an interesting career: He's the former lead singer of indie rock band Stellastarr who turned to film and went on to win an Oscar for Best Live Action Short Film. His second feature, The Vanishing of Sidney Hall (March 2), has an intriguing premise (a literary wunderkind has disappeared) and cast (Elle Fanning, Logan Lerman, Nathan Lane), but the reviews have critics wondering how the script ever got greenlit (the answer: Elle Fanning and Logan Lerman).
Television
Should we, as a culture, skip the American Idol reboot on March 11? Probably. How many singers do we really need?
Music
The output of the once charmingly quirky indie pop band Of Montreal may be the definition of diminishing returns, and yet, 21 years into its existence, the band keeps dropping music with ambitious prolificacy. White Is Relic/Irrealis Mood (March 9) is its latest.