Wes Anderson's Isle of Dogs Trailer Is Here and It Features Everyone from Scarlett Johansson to Yoko Ono
It's like 'Homeward Bound' meets Akira Kurosawa
---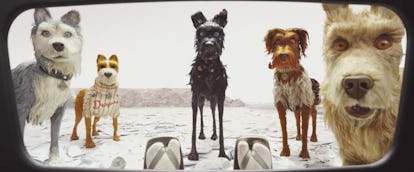 If you've ever wondered what Wes Anderson's take on the "pets on a quest" genre of film that includes Homeward Bound and Milo & Otis would be, well, Isle of Dogs is your answer.
Anderson announced the film late last year, but his announcement was light on plot (basically only dropping the obvious point that it would indeed be an animated film about dogs) and heavy on cast announcements. The vocal talents of everyone from Bill Murray to Scarlett Johansson to Yoko Ono are featured.
The new trailer finally offers a rundown of what to expect otherwise: set in Japan twenty years in the future, a city has become overrun with dogs and "dog flu," so the human residents decide to send all the dogs to be quarantined on Trash Island. Of course, one young boy decides to brave the possible contaminants on the island to find his lost pet with the help of a pack "scary, indestructible Alpha dogs."
Edward Norton stars as the lead dog Rex, but in addition to Murray, Johansson and Ono, the rest of the cast includes (deep, deep breath) Tilda Swinton, Bryan Cranston, Liev Schreiber, Greta Gerwig, Frances McDormand, Jeff Goldblum, Harvey Keitel, F. Murray Abraham, Ken Watanabe, Courtney B. Vance, Bob Balaban, and several Japanese stars including Akira Takayama as well. The only surprise is that Anderson didn't find characters for Angelica Huston and Jason Schwartzman to voice, as well.
The film is meant to be Anderson's tribute to legendary Japanese director Akira Kurosawa, which is why it is set in Japan. Kurosawa's films have been a frequent source of inspiration for American filmmakers–the original Star Wars films were heavily influenced by his work, after all.
Isle of Dogs marks Anderson's first film since 2014's Moonrise Kingdom, and is set to debut on March 23rd, 2018.
Related: Here's What Food Tutorials Directed by Wes Anderson, Quentin Tarantino and More Would Look Like
Tilda Swinton Dishes on Who She Thinks is a God: