What Will Become of Bill Cunningham's $1 Million Photo Archive?
Bill Cunningham left behind a nest egg of $3 million, and a photo archive worth seven figures. What will become of it?
---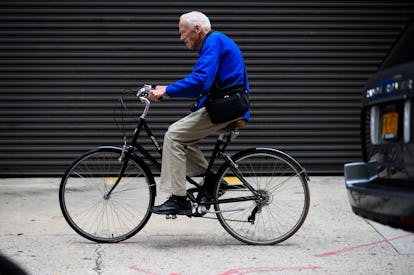 Photo Courtesy of Adam Katz Sinding
Bill Cunningham famously detested money.
"Money is the cheapest thing," he was known to say. "Liberty is the most expensive."
The documentary "Bill Cunningham New York" detailed his almost monk-like way of life. He ate frugally-priced deli food, wore utilitarian blue smocks meant for janitors, lived in a spartan apartment, never took a taxi, and wouldn't even accept a glass of water as a gift from the host of a party he was covering. At times viewers almost had to wonder, "Is The New York Times paying this guy fairly?"
Turns out even though he didn't have much interest in spending it, Cunningham was making it. In fact, he's left behind a tidy sum of $3 million. If you've ever thought, "Well, if I just cut back my restaurant budget by $50, passed on every third pair of shoes I've coveted, went for the cheaper apartment, and put all that extra money in a savings account I'd practically be a millionaire in no time," Cunningham proves that you might be on to something.
Not only did Cunningham leave behind the seven-figure nest egg, but according to The New York Post, his photo archives alone may be worth somewhere in the neighborhood of $1 million. It was Cunningham himself, and not the Times, who owned the rights to images.
That seems an appropriate figure for a photo archive that might be the most vital trove of street style images in the world. The man chronicled fashion in New York City spreading over six decades. He started snapping photos of stylist pedestrians all the way back in the '60s. Some of those earlier photos were on display at The New York Historical Society back in 2014. We're talking a verified piece of New York history here.
The bigger question is what might become of that archive.
Cunningham died in June at the age of 87, and lawyers are now just figuring out how to divvy up his estate. He never married and left behind no children. Page Six reports that the process is even more complicated by the fact that Cunningham left behind two different wills.
The first left behind the estate to Cunningham's sibling (now deceased), and his close friend and frequent subject Toni "Suzette" Cimino. Cimino, who just turned 90, had known Cunningham since the pair were in the 20s.
"I met him when he was 26 or 27, and he was a milliner. Can you imagine?" Cimino told The New York Times in 2002. "I moved into an apartment on the third floor of his building, on West 54th Street."
The pair often spent weekend together reading the paper and eating food.
Though, in 2010 Cunningham filed a new will. It declared that $500,000 would be split between four nephews and a niece. $50,000 and many of Cunningham's personal effects will be left to Louise Doktor, another close longtime friend. Cimino wasn't mentioned in the latest version of the will.
But who will gain control of the photo archive. The latest will leaves it all to his niece, Patricia Simonson of Massachusetts.
Though, much of Cunningham's work is still available online at The New York Times archive, it seems almost criminally inaccessible in other forms.
Amazingly, only one book of Cunningham's photos have ever been published. The 1978 tome Facades featured Cunningham's neighbor and fellow photographer Editta Sherman as she posed in vintage (even for the time) clothing in front of some of New York's most interesting architectural facades.
Here's hoping that whoever ends up with control of the archive does right by it. A series of books chronicling Cunningham's amazing archive decade-by-decade seems like something the world needs.