When Brad Pitt Photographed Angelina Jolie for W Magazine
In 2008, W published a series of intimate images Pitt took of Jolie, then his partner, creative collaborator, and mother of his children. Here, a look back at that now-iconic spread of the then happy couple.
---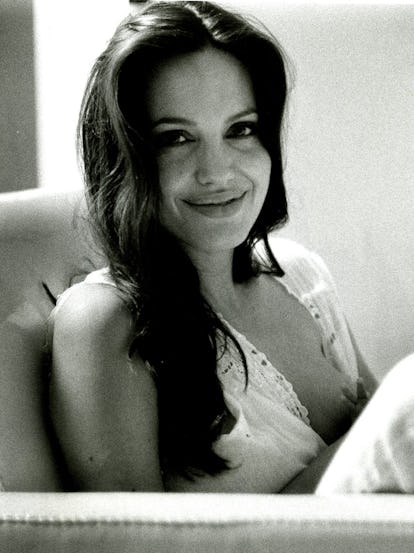 Back in Christmas of 2007, Angelina Jolie surprised Brad Pitt with a Littman 45 Single camera. Though he's never stepped behind the camera in a professional capacity, he nursed a latent interest in photography around that time, an interest that — in combination with this gift — yielded a rare, intimate glimpse at the private lives of Pitt and Jolie that W published in 2008.
The approximately 30-page spread of Pitt's private photographs of Jolie was shot just a few weeks after the birth of the Jolie-Pitt twins Vivienne and Knox. It depicts Jolie at the family's home in the South of France with their six children — and two dogs — in repose, breast-feeding the newborns, and out and about on the 998-acre estate.
"He's someone who will really study the camera—he'll get the most complicated one and really understand the science behind it," Jolie told Christopher Bagley at the time. "He's very critical of his own work. I'll see a photograph and think it's amazing, but he'll see all the different reasons why it can be better, and he'll work very, very hard to improve it." The product of this intense study was this series of deeply revealing, up-close-and-personal images from a couple who kept a notoriously tight seal on their media presence — going so far as to sell the first photos of their newborn twins to People and Hello! magazines for a cool $14 million in lieu of allowing a paparazzo to nab the first shot.
The couple met on the set of Mr. and Mrs. Smith back in 2004, he, then married to Jennifer Aniston, and she, the single mother of an adopted son, Maddox, from a Cambodian orphanage. Then two of the biggest movie stars in the world, they were featured in a Steven Klein-lensed shoot for W depicting them at a fictionalized home in Palm Springs — with a surprisingly prescient cast of five young children gathered around the dinner table — in July 2005. Pitt's marriage to Aniston dissolved around the time of Mr. and Mrs. Smith, though Jolie and Pitt didn't go public with their relationship till January of the following year, when she revealed she was pregnant with her third child (the previous two, adopted). Their brood has since expanded to six, ages ranging from 8 to 15.
Pitt's photos are at their most revealing when they capture Jolie during an unguarded moment: looking peacefully down at one of her infant twins, or, face cupped in her palm, staring off into the distance.
"I'm with a man who's evolved enough to look at my body and see it as more beautiful, because of the journey it has taken and what it has created," Jolie told Bagley in 2008 — he described her, in the same story, as a kind of "postfeminist icon," alluding to her then-upcoming role in Salt, an action part originally penned for Tom Cruise. But the description could also have referred to many aspects of Jolie's life: her decision to adopt, as a single mother, to which there is still something of a taboo attached, or her seemingly preternatural confidence in herself and her relationship, or her decision to forego a publicist mediator in her dealings with a press. (She had one once, she told the Hollywood Reporter in 2014, but she "didn't like it.") Where she said back in 2005 that she was "better alone," she had shifted her perspective by the 2008 interview, telling Bagley, "I do think that I'm good in a partnership now. … I think it just needed to be the right man."
In the wake of Jolie's filing for divorce from Pitt after two years of marriage and a decade-plus-long relationship, these images still stand as a brief freeze-frame in the life of the most famous couple in the world — a power couple that few Hollywood pairings have since matched. The images are the product of a couple who know the power of an image — and who know the power of being the ones dictating what's shown on camera, and what's not.
Watch W's most popular videos here: