Where in the world is… Koos Van Den Akker?
Judging from the recent collections, it looks like the splice motif (see our related story) is gaining even more traction for spring. Thakoon, Louis Vuitton, 3.1 Phillip Lim and Balenciaga—these were just a few of...
---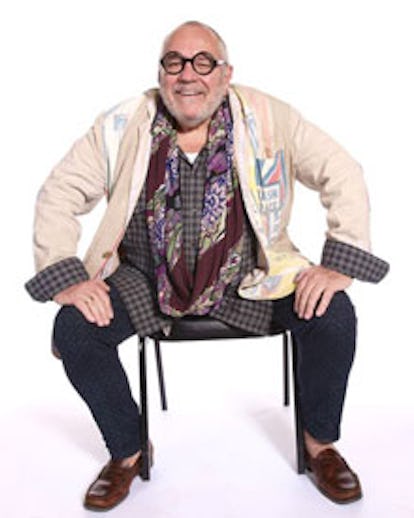 From left, Koos Van Den Akker's 1995 collection; 1985 runway.
Where do you think the fashion industry is nowadays? Right now, everything in the kitchen sink works. And very often, it's not pretty. But that is just the freedom that people have today. There's all this craziness, and a lot of it is done for the "do-ing" of it. But I have nothing to do with this. I mean, I'm totally out of the loop. I'm very much a one-man band.
What about collections that get their inspiration from you? For example, there was Balenciaga from spring 2002 and, even this season, the Marc by Marc Jacobs line was partly inspired those old Bill Cosby sweaters you did. What I like is that the designers give their own version, which is so much freer. I'm a 70-year-old man; I come with that era. But the kids today can see this and out comes something completely different. That's delightful.
OK, what about celebrity designers? Did you see Lindsay Lohan's debut at Emanuel Ungaro? Oh, that's bullshit. That is total commerce and total, total bullshit— and you can write that down too. No, I don't go for that. That's a waste of time. The only one that does it well is [Gwen Stefani of] L.A.M.B. Not Lindsay Lohan. I mean, who the f-ck cares?
Fashion reality shows? Forget that. They're poison. That f-cking [Project] Runway thing—that is the worst thing in the world. Those reality shows do nothing for the kids. The thing is that all the people are making money on them, except for those kids.
You had your own line on QVC for a long time. I loved that, and I was good at it too. I was good on camera and all that. I'm not very good with customers, face to face.
What was it like working for Dior? Those were my most difficult customers, in Paris. Those French women, they had you by the balls.
You really should have a one-man show of your own. Your career's packed with terrific stories. Hey, it would sure beat those reality shows. Get the money together and I'll do the work!
Some of Koos's current work (in progress)
The designer's eponymous shop in New York City is at 1263 Madison Avenue. See koosnewyork.com for more information.
Photos: 1995 collection, Kyle Eriksen; 1985 runway, Tony Palmieri