Mapei at the Museum
Museum parties don't have to be staid, grey-haired affairs, as MoMA has proved with its raucous Pop Rally series. Last Friday the American Museum of Natural History was the unlikely setting for a Fader magazine...
---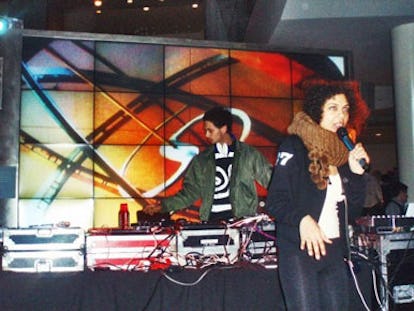 Beneath the planetarium's "Cosmic Pathway," Mapei slipped on stage wearing black leggings and a sweatshirt, noticeably amused by the mix of scenesters, college students and 30-something ladies. "Where my white girls at?" she called. Mapei half-rapped and half-joked through her lyrics, occasionally prompting the awkwardly bouncing crowd to dance. Halfway through her set, wild child Amanda Blank of the electro-rap group Spank Rock joined her on stage for a duet.
"One Step Beyond" continues its run at the Museum of Natural History on April 17 with guests Kode9 and Flying Lotus. Mapei's album will be released at the end of the year on Downtown Records.