The Sound and the Fury
Miles Teller and J.K. Simmons celebrate their new film, Whiplash.
---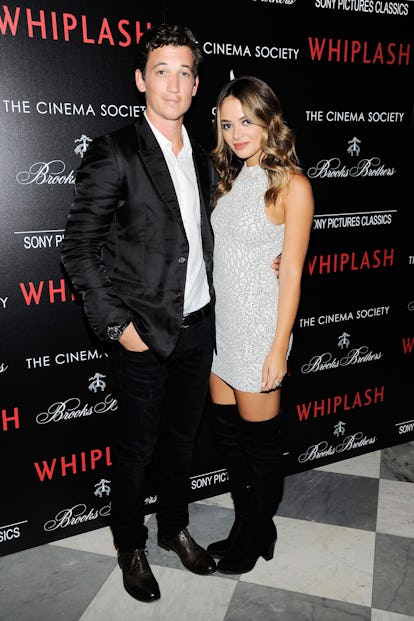 What: The Cinema Society and Brooks Brothers-hosted screening of Whiplash, a new coming-of-age film about a drummer who is pushed to his limits by an overbearing professor from first-time director Damien Chazelle.
When: Monday, September 28th.
Where: A screening at The Paley Center for Media was followed by an after-party in the Weil Music Room at Carnegie Hall.
Who: The stars of the film, Miles Teller and J.K. Simmons, joined Chazelle in celebrating with an attentive audience that included designer Zac Posen, newly blonde actress Zosia Mamet, and Broadway star Condola Rashad.
Why: The audience's resounding ovation for the film seemed almost like an attempt to extend the last moments of Chazelle's cinematic ballad. The actors, however, were happy to leave production behind. "L.A. road rage," joked Simmons of how he prepared for his boorish character's terrifying outbursts. "But honestly, whatever the range of emotion that's required of you by a part whether its laughter or tears or anger, if it's well written then I find it to be very easy to get there." Hopefully, he took the subway home.
Photos: The Sound and the Fury
J.K. Simmons. Photo by PatrickMcMullan.com
Damien Chazelle. Photo by PatrickMcMullan.com
Zosia Mamet. Photo by PatrickMcMullan.com
Helen Estabrook. Photo by PatrickMcMullan.com
Zac Posen and Andrea Dorigo. Photo by PatrickMcMullan.com
Jessica Joffe. Photo by PatrickMcMullan.com
Alysia Reiner. Photo by PatrickMcMullan.com
Condola Rashad. Photo by PatrickMcMullan.com
R.J. King. Photo by PatrickMcMullan.com
Nora Zehetner. Photo by PatrickMcMullan.com
Carrie Preston. Photo by PatrickMcMullan.com
Jackie Cruz. Photo by PatrickMcMullan.com
Sebastian Stan. Photo by PatrickMcMullan.com
Isabelle Huppart. Photo by PatrickMcMullan.com
Rachel Roy. Photo by PatrickMcMullan.com
Zachary Booth. Photo by PatrickMcMullan.com