Cannon Fire
Chef Michael White and restauranteur Chris Cannon give W a preview of their ambitious Central Park South eatery, Marea, and tell us how—even in these times—they'll be able to stand the heat.
---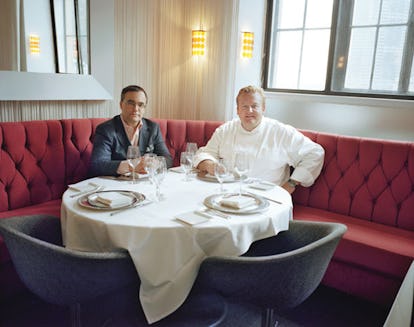 To most people, launching an ambitious seafood restaurant in a pricey slice of Manhattan real estate at the height of a recession might seem as daring—or stupid—as investing one's remaining savings in domestic auto manufacturing. Even the foodie world, already in love with chef Michael White and partner Chris Cannon's two three-star restaurants, Alto and Convivio, is greeting the duo's latest venture with raised eyebrows. "In New York," the bombastic White says, "this is a blood sport. And I'm not going down."
White and Cannon
In May, White and Cannon are slated to open Marea in the former Central Park South home of San Domenico, the Italian fixture that occupied the space for 20 years, until the rent became astronomical. They know the scrutiny will be intense. "Everybody's shaking each other's hands—I'm friends with Scott [Conant, of Scarpetta] and Mario [Batali]—but there's tremendous competition," says White. "People ask if I ever do cooking competitions, and I say, 'Yeah, it's called every day in my restaurants.'" A husky Wisconsin transplant with Norwegian roots, White, 37, is an unlikely creator of some of the world's best Italian food, a talent honed during seven years in Italy (where he also met his wife). His first New York stint—at the recently closed Fiamma—earned him, at age 29, a three-star review from The New York Times. Though he joined Cannon after a falling-out with über restaurateur Steve Hanson, White acknowledges that "I was lucky to work with Steve. I took on all his great business qualities."
Cannon—Manhattan-bred, Brown-educated and a bit subtler with his bravado—seems to truly adore White, making the pair a rarity in their industry: business partners who are the best of friends. "He keeps me laughing," says Cannon, 48, who worked as a chef and manager in various Manhattan eateries before opening Judson Grill and—with Conant, his original chef-partner—midtown's Alto and L'Impero (the latter became Convivio after Cannon joined forces with White in mid-2007). "With L'Impero, I wanted a restaurant with great food that wasn't ridiculously expensive," explains Cannon, whose split with Conant culminated in lawsuits being filed last year. "But then we got three stars, and Scott got a little full of himself. Foie gras started showing up on the menu, and the prices kept going up. It lost the feeling of being…convivial."
Of his new partner, Cannon says, "There's no ego there," explaining that for all White's bluster, he is a compromiser. "A lot of chefs don't think like businessmen," says Cannon. "Michael understands." White couldn't agree more, delivering his own glowing self-appraisal: "There are so many cooks that are freaking outrageous, but they're terrible chefs; that's why they go out of business. Being a chef is like being a general in an army. I'm a great teacher—I'm not boasting, I really know how to speak to people. I'm a great delegator. Every night I look at how many veal chops I sold, and every morning I view our reservation system on my home computer, so I know Mr. So-and-So will be at Alto at 12:30 and another great customer will be at Convivio at 1:30; I can say hi to them both. That's what being a chef is."
Schmoozing patrons is part of Cannon's guiding principle: "The customer should have the perception that we're delivering more than what they're paying for." At Convivio, where diners can score Frank Bruni–acclaimed arancini for just $5, this is precisely the case, but one wonders whether it will be possible at Marea, where, Cannon admits, "you need a decent check average—it can't be $40 per person, because we'd have to do 4,000 people a day." What he's banking on is that people will spend more for seafood, just as they do at New York mainstays Milos and Le Bernardin, though he intimates that Marea, which will feature moderately priced pasta dishes and a raw bar, will still be less expensive and stuffy than the competition.
But while Cannon seems focused on making Marea work, his partner is, incredibly, hunting for further opportunity in the recession. "There are restaurants closing; you gotta lick up the blood, set good deals," White says, clearly relishing the challenge. "We're in talks for a Vegas restaurant right now. A pizza place [in New York]—that's next." He pauses, perhaps realizing how all of this might sound to those who enjoy his tableside visits. "Look, first and foremost, I'm a cook. I cook every day; I'm responsible for everything on my menus." He can't help adding, "But you can't hold it against me that I'm a businessman."