Party Downtown
In case you haven't heard the news, the Whitney museum's planned move downtown, into a Renzo Piano designed building slated to open in 2015, is a big deal. How big? Well, for starters, its...
---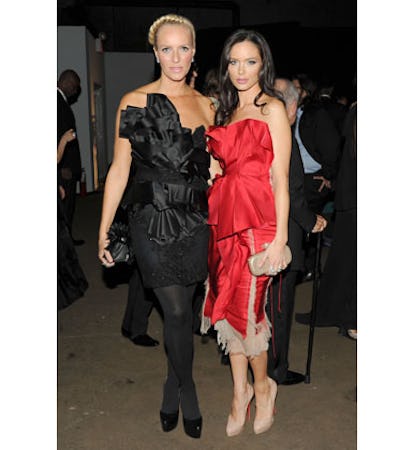 In case you haven't heard the news, the Whitney museum's planned move downtown, into a Renzo Piano designed building slated to open in 2015, is a big deal. How big? Well, for starters, its annual fall gala actually began a week early, with an intimate dinner hosted by Marchesa in the Gramercy Hotel's Rose Bar, where Keren Craig and a coterie of pretty friends ate by candlelight before ascending to the after party on the roof. The gala itself was held on Wednesday night, in the huge Hudson River Park space at Pier 57, and was actually a three-part affair, a black tie dinner, followed by a Studio Party in the same space, hosted by the Whitney Contemporaries and an after-party at Double Seven.
Oh and the gala itself was sponsored by a long list of generous brands: The Ritz-Carlton Rewards (Google it), J.P. Morgan, Aol, Marchesa and Chandon (who provided the wine).
If you haven't been keeping count that would be five parties and five sponsors for one event. It was enough to make your head spin a bit.
Certainly the boldface names who entered Pier 57 for the black tie portion of the evening had a lot to wrap their heads around. First, there was the décor, courtesy of Bronson Van Wyck, who transformed the industrial blank space—think an asphalt ground with faded yellow lane marks on it—into something resembling a decadent, pop up nightclub-cum-urban garden. Resin marble bars topped with multi-colored votive candles and large crystals made way for a dance floor flanked by velvet Chesterfield-esque sofas and lit by three huge disco balls. Autumnal plants were scattered throughout (I believe I recognized maple leaves, but I'm rusty on botany). A silvery sparkling bar proffered alcohol if you somehow made it empty-handed past the army of waiters with trays of drinks. The effect was charming.
"It's kind of awesome," said Michelle Monaghan, one of the evening's "Special Guests" according to the invitation (her other such cohort, Naomi Watts, didn't make it). "It works."
It did and its impact should not be downplayed, as this was the first Whitney gala held outside the actual, current Madison Avenue museum. And some in the crowd, which included honorary chair Harvey Weinstein; Anne H. Bass; co-chairs Jill Bikoff, Ginerva Caltagirone and Fern Kaye Tessler; Julian Schnabel; Andy Spade; Celerie Kemble; Yvonne Force Villareal; Tom Sachs, and Hope Atherton, were still of a mixed mind about the downtown move.
"Well, I live uptown, so I'll miss it," said Richard Meier. "I probably won't see as many shows as I used to, being realistic. But you can't do everything."
Georgina Chapman, however, was looking forward to the new locale.
"I'm going to pass it everyday on my way to the office," she said.
Cocktails were relatively brief—Chuck Close was surrounded by tall lanky model-type women; Sherrell Aston reminded his wife, Muffie Potter, that work called the next morning—before a man in a grey suit wearing a security earpiece ushered people to dinner by chiming a triangle—not necessarily the most effective choice for the space.
But it worked, and guests made their way down a long hallway lined with planters full of daisies and floating faux candles into a black velvet enclosed space hung with colored chandeliers. Surrounding the tables were multiple screens of a video installation by Marilyn Minter depicting letters—in the Whitney's font—falling into a gelatinous silver liquid in slow motion.
"This is the Oscars for our industry," declared Kreemart's Raphael Castoriano as he settled into his seat at one of the mirror topped tables. Admiring the décor he observed, "It's simple. I like that it's not all cleaned up. I mean, we're in a bus hangar. It's apropos."
Across the table, Mary Boone nabbed a bottle of San Pellegrino for herself, while behind us Tamara Mellon stared transfixed at Minter's video.
"It looks like the Gowanus," said artist Dana Schutz of the mercurial liquid.
The Whitney's director Adam Weinberg came around and patted Boone on the shoulder saying "You're lucky—it's good to have a few angels around."
Just before dessert, writer Calvin Tomkins was honored with numerous speeches—it might have been five?—including ones from Agnes Gund "How many artists like critics? Not many!" and David Remnick "At the New Yorker all Jewish Calvins are 'Buds' and all gentile Calvins are 'Tads.'" Then the modest writer took to the stage.
"Artists really are more interesting than other people, including bankers," he said to much laughter (perhaps some of it self-deprecating).
Soon, the band Fitz and the Tantrums were performing (this was still the black tie portion), while in the front of the space the Studio Party was in full swing, with young girls in short tight dresses and young men in post-banker mode swigging drinks. Glasses were heard shattering, friends were lost in the swirl and it showed no signs of stopping.
"Where is this party going?" asked one man rhetorically. "I don't know, but I'm gonna keep going."
Photos: courtesy of BFA