Who Snuck in Their Phones at Burning Man? We're Looking at You Cara Delevingne, Paris Hilton and Karlie Kloss
The festival used to be a cell-phone and social media free space with limited service in the desert and a faux-boho manifesto. But times have changed.
---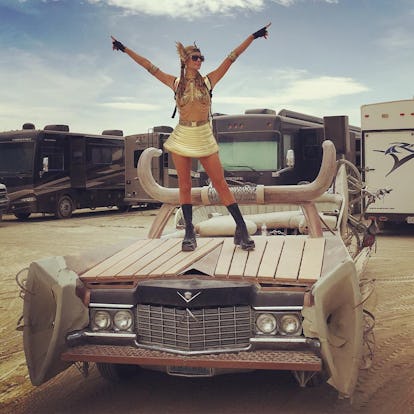 Paris Hilton / Instagram
Since its founding in 1986, attendees of the annual "experiential" and "radical" festival known as Burning Man, which takes place every summer in the Black Rock Desert of Nevada, have frowned upon the use of cell phones or electronics of any kind. And even if you wanted to check your email or Instagram, service is scarce — as is plumbing, electricity, and dollar bills (in the literal sense), since the event operates under a "gift exchange" economy. In short, Burning Man was intended to be a space for exuberant self-expression, far removed from society. At the end, a large wooden effigy known as "the Man" is burned, hence the name.
This has all become very ironic with attendees like Google co-founders Larry Page and Sergey Brin, Jeff Bezos of Amazon, Mark Zuckerberg of Facebook, and other tech billionaires from Twitter and Uber in the years past — all hoping to "unplug" in the desert. Plus, this year, celebrities like Katy Perry, Cara Delevingne, Karlie Kloss, Paris Hilton and Nina Agdal, (who is currently dating Leonardo DiCaprio, although he hasn't been spotted…yet) have all touched down and are Instagramming up a storm, of course.
Although Instagram is not strictly banned at Burning Man, per say, the festival does encourage "Radical Self-reliance" or to "discover, exercise and rely on his or her inner resources." In this exchange economy, however, the best these stars have to offer is radical selfies.
Poppy Delevingne, Alex Israel, and Cara Delevingne
Paris Hilton
Katy Perry
Cara Delevingne
Karlie Kloss
Nina Agdal
Gaia Matisse
Diplo
Watch W's most popular videos here: