Introducing @WhosWho, an Instagram Account That Finally Answers the Question: Who Should I Follow?
There are 700 million people on Instagram. These are the accounts W magazine thinks you need to follow.
---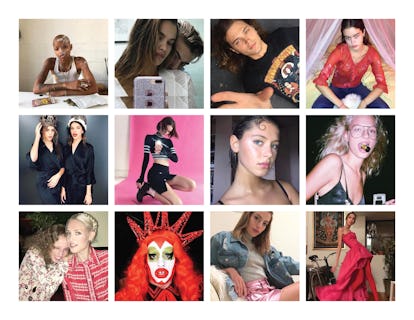 We've all been there: You're out to dinner or bored at a party, and someone inevitably takes out their phone and pulls up Instagram. "Have you seen this?" They ask, showing you a glowing profile. "You have to follow them."
Whether it's a toddler in Tokyo with great taste, a Turkish chef sensually sprinkling salt on raw meat, or even a funny-looking Pomeranian, you don't ask why; you just do.
There's a sense of urgency when it comes to following someone others do and you've somehow missed. Their account seems to have been pulled out of another realm to which you weren't invited, or weren't privy to. You had no idea that Diane Keaton was on Instagram, for example. Or maybe you forgot that Eminem had a daughter, and yet there she is—a stunning 21-year-old who gained over half a million followers overnight when people suddenly found her account.
Thanks to Instagram, the world has become simultaneously bigger and also smaller, more attainable. Who else is out there, waiting to be discovered? You have the power to find them and introduce them to your community. But with over 700 million accounts on Instagram today, you can't see everyone. (Plus, you don't want to.) So, the real question then is not who can you follow, but rather who should you be following?
A new Instagram account from the editors of W magazine, @whoswho, is here to help answer that question.
Every day on the website, and each month in the magazine, we're introducing our readers to new It girls, models, scions, actors, artists, musicians, and everyone in-between just minutes before they go from being an indie star to a mainstream success.
As any model can tell you, Instagram is the platform for being discovered in 2017, and the right follow can change your life. It's not only about images anymore—your account is an extension of yourself. Which is why it's possible for big personalities like Farren Fucci—a stylist from Atlanta—to have a visible influence over mega-stars like Rihanna and Bella Hadid, who essentially use his account as a mood board.
Instagram is also a great way to get to know another side of huge movie stars like Diane Keaton, who still manage to surprise us on social media after all these years with photos from their past and private lives. And then there are emerging stars like Moonlight's Ashton Sanders, who we know has acting chops, but who also gets to show off his sense of style with selfies at the Raf Simons show, for example.
Even the world's biggest, most curated Instagram celebrities like the Kardashians / Jenners have holes in their social media facades via their entourage of influencers. Jordyn Woods, for example, is Kylie's right hand (literally, when it comes to posting), and has gained her own following and modeling career as a result. And if you want a rare glimpse inside the mind of Kanye West, you have to follow the young Eli Russell Linnetz, who is not only the one to thank for all of Kim Kardashian's recent faux-throwback family photos, but also West's Maison Martin Margiela Instagram "installation" project.
These are only a small smattering of the many accounts W magazine thinks you need to discover—and now! For more, follow @whoswho.
6 Rising Male Models from Famous Families Share Their Biggest Pet Peeves