Why Alice Lancaster and Other Young Artists Are Making Their Names With Fashion Collabs First
Emerging outsider artists are quickly becoming fashion insiders.
---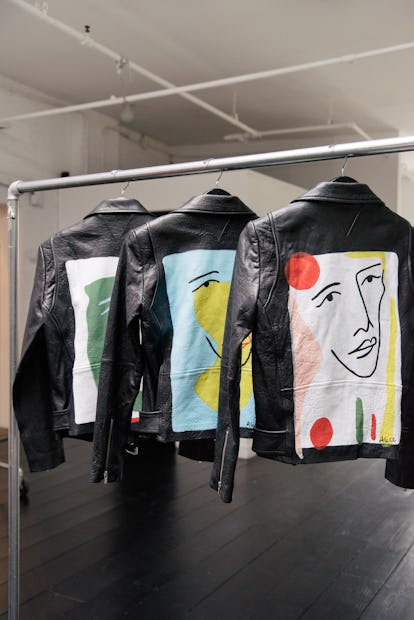 "Basquiat never would have done this," said the 31-year-old artist Alice Lancaster at Veda's Soho studio last week, where three of the brand's leather jackets hung with her work hand-painted on the back. We were discussing her habit of turning clothes into a canvas. "He would have screamed at people if they suggested this," she continued. "But I'm happy to. Why not?"
Lancaster's most recent leather jacket collection for Veda features colorful, abstract paintings of female faces, which are available for $1,500 each exclusively at TenOverSix. And this way of showing her work — although it has perhaps more overt ties to mainstream commerce than a gallery — doesn't bother Lancaster at all. "It's great," she said of working with brands in general. "It makes us way more visible to other people. Artists aren't in mainstream media, for the most part. If you asked someone on the street to name five modern artists, they'd be like: 'Picasso.'"
And although she still aspires to a solo gallery exhibition, the runway is becoming an increasingly viable showcase for outsider artists like Lancaster. With fashion, their work is not only seen by millions of people, but it also gets sold — just not in the traditional sense.
"I feel like I'm fighting to be in this world that I don't belong in," she said of the traditional gallery system. "But it seems like my work translates best to clothing. Either hand-painting clothing or having my art on clothing as a print. When it's on a different form, as opposed to a piece of paper, people look at it differently."
Lancaster also enjoys the challenge of working with clothing. Unlike painting on a canvas, she has to do layers and layers of white over the black leather before she can begin — a process she describes as "very cathartic."
"I was nervous for the first series that I did with Veda," she said. "What if I make a mistake and fuck up this $1,000 jacket? But it's like any other thing: if you fuck up, you can just paint over it. It's that simple."
Alice Lancaster Collaborates With Veda On a Collection of Custom Leather Jackets
Lancaster, who's from Missouri and moved to New York City in 2012, first made her foray into fashion with the help of Petra Collins. In 2013, Collins reached out to her about doing some composite sketches for a collection she was doing with American Apparel. As Lancaster recalled, "She was like, 'Hey, will you draw a girl masturbating? Like, just the vagina?' And I was like, 'Anything for you, Petra.'" Then, unbeknownst to Lancaster, Collins added some red watercolor to her drawings. "When the t-shirt came out, it was all over the news; this masturbating, bloody, vagina shirt went viral," she said. "I was surprised. But we sold a ton of t-shirts, so it turned out to be an… interesting project."
After the American Apparel t-shirts that put both Collins and Lancaster on the fashion world's radar, in the beginning of 2015, Veda's CEO and creative director Lyndsey Butler commissioned Lancaster to paint icons like David Bowie, Patti Smith, Joan Didion, and Frida Kahlo on the backs of leather jackets. It happened to be the same season that Céline tapped Didion for their own campaign, and the jackets flew off the rack.
"I like the graphic boldness of Alice's paintings," said Butler, who wore leather pants in the studio, a can of La Croix in hand. "Like the Veda girl, Alice is confident and cool. She has fun with clothes and color."
Shortly after Lancaster collaborated with Veda, Calvin Klein's former creative director, Francisco Costa discovered her work on Instagram and asked her to do some prints for his Resort 2016 collection. "I followed him and then liked one of his posts, which he saw and then clicked on my name," explained Lancaster. "The next thing I knew, I was having a meeting with him in my studio." And the next thing Costa knew, his collection was being described as "freeing the nipple," with Lancaster's figurative interpretations of breasts.
For young outsider artists like Lancaster, Instagram has proven to be an integral stepping stone in getting their work from the studio to the runway. Alessandro Michele, for example, discovered the painter Helen Downie, who goes by @UnskilledWorker on Instagram, and this season he incorporated the illustrations of Jayde Fish (@mrsjaydefish) into his collection as well. In real life, Michele has also become a huge fan of the artist Trevor Andrew a.k.a the GucciGhost, and flew him from his Bed-Stuy studio all the way to Milan last season to spray-paint Gucci coats and accessories.
Today, Instagram has allowed for a cross-pollination of creativity that not only allows brands like Gucci and Calvin Klein to poach fresh talent, but also gives young artists a platform on the runway, which they might struggle to find at a gallery.
"I don't want to say it's changed my life," said Lancaster of the impact of Instagram, "but it's a great tool."
Today, Lancaster has almost 23,000 followers on Instagram, but has built enough of a reputation that she's now being approached offline as well. The musical artist Dev Hynes asked her to collaborate for an art book called Feelings, which was published by Rizzoli last November, and she recently did a collection for Print All Over Me, which dropped at the end of August.
And as the path to gallery shows becomes increasingly fraught, Lancaster is experimenting with other alternative outlets as well: "Acting!" she said when asked what her plans were for the future. "It's been a secret dream of mine. I just realized two weeks ago that I wanted to start doing it. What am I waiting for?"