Why We Heart Marion Cotillard's Instagram
The 40-year-old French actress, bombshell, and mother-to-be is also a social media dynamo.
---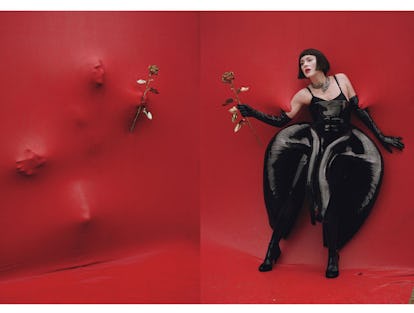 Photography by Tim Walker. Styled by Jacob K.
In 2012, the French actress Marion Cotillard was described in W magazine's November cover story by Lynn Hirschberg as being, "hands down, France's most delectable export." And even after all these years, she's still got the same charm.
The woman has acted in 79 films, is one of the faces of Christian Dior, and has impeccable taste of her own. She most recently starred in It's Only the End of the World, and has four other films in the pipeline. Cotillard has also been the subject of tabloid rumors lately following the announcement of Brad Pitt and Angelina Jolie's divorce, though she has steadfastly denied them. Though she's somehow been thrown in the middle of it, she's expecting her second child with Guillaume Canet.
And while it's not hard to imagine experiencing a coup de foudre for Cotillard, her Instagram account, which has almost half a million followers, is proof that she's got nothing but good intentions.
For example: Cotillard seems to have made it her life's mission to find every heart-shaped object out there in the world, from rocks, to a leaf, to even a bruise in her avocado. Now, is that the kind of woman who gets between a man and wife? Her captions, many of which are written in French, also read like a poem rather then double-tap bait.
Rather than showing fans how she gets ready like most celebrities, Cotillard opted instead to capture herself going au natural.
And our all-time favorite photo is the selfie Cotillard took with the 95-year-old "complex thought" philosopher Edgar Morin, whom she describes as her "hero."
Cotillard! So complex! So natural! So lovely!
Watch Marion Cotillard explain why the Justin Bieber movie made her cry, below.