Willow Smith Pulls a Tilda Swinton, Climbs Into a Glass Box for Art
The performance-art piece at MOCA in L.A. partly serves as promotion for Smith and Tyler Cole's latest album, aptly titled The Anxiety.
---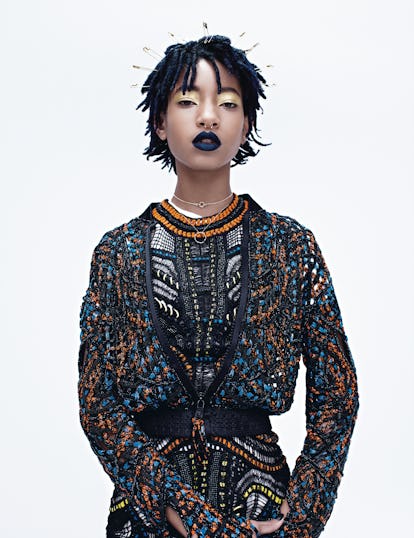 Willy Vanderperre
Like Tilda Swinton did before her, Willow Smith will appear in a glass case in the name of art and music.
The musician and cohost, with her mom, Jada Pinkett-Smith, of Red Table Talk has planned an installation at Museum of Contemporary Art's Geffen Contemporary in Los Angeles with her creative collaborator, Tyler Cole. The two will be contained in a glass box inside the museum, starting Wednesday night at 9 p.m., where they will experience eight emotional states associated with anxiety for three hours per emotion, in public. Cole and Smith will go through paranoia, rage, sadness, numbness, euphoria, strong interest, compassion, and acceptance. Visitors can watch them cycle through these feelings for 15 minutes through one side of the glass—the other three walls will be draped with canvas so the two can write affirmations and paint while they're confined.
The performance-art piece partly serves as promotion for Smith and Cole's latest album, aptly titled The Anxiety. The record will drop right after the 24-hour installation ends. But Smith told the Los Angeles Times that the main purpose of the installation was to provide commentary on the process of accepting anxiety as a fact of life, and even welcoming it.
In her interview with the Times, Smith explains that, as a kid, she went through intense spells of nervousness and stress. Pinkett-Smith encouraged her to see a therapist, but she found more solace in meditation, being outside, and studying Buddhist texts. This approach jibes with her public persona—and in her 2019 Originals interview with W magazine, Smith touched on how she didn't fit in growing up, which added to her anxieties.
"I've always felt different," she explained. "And sometimes I've felt estranged from my peers because I was interested in things like the cosmos and history at a young age. I would talk about these things, and my friends' parents would tell my parents that I was scaring their kids. So after a while, I learned to tone it down. I realized that there are people who accept originality and some people who are afraid of what it may mean to their lives."
Of course this isn't the first time a celebrity has spent time in a glass box as a form of artistic expression. Who could forget the OG person-in-a-display-case, Tilda Swinton? In 1995 and again in 2013, Swinton put together her own performance-art piece, The Maybe, in which she took hours-long naps in a glass cube at MoMA. In her case, there was no backstory, commentary to be made, or schedule. It was just Tilda Swinton, on display, sleeping in a box at various times of day. Bella Hadid also mimicked this concept; she was photographed in a series of outfits and poses inside a clear box for her 2018 cover story for Pop magazine, called "Goldfish Bella." Staged museumgoers gawked at Hadid, observing her from outside the box and pressing their hands up against it. (Any guesses as to what the commentary was for that one?)