With the Rise of Women's Clubs, One Step Closer to Having It All
With the opening of Audrey Gelman's The Wing in New York, all-women workspaces are here to stay.
---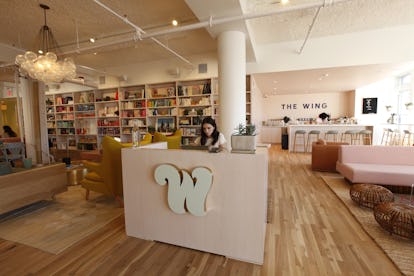 When women's clubs came to prominence in the early 1900s, females were in the midst of the suffragette movement, building careers and creating communities for themselves outside of the home. One hundred years later – and despite many social advances – we're in an equally revolutionary time for women, which has come to a crux with the presidential election and a candidate as shamelessly misogynistic as Donald Trump.
So it seems fitting that women's clubs are on the rise once again, cropping up in Manhattan, San Francisco, Washington D.C., a whole host of metropolitan cities and at large on the internet. They are emerging in the wake of Sheryl Sandberg's Lean In movement – a moment in the zeitgeist long before Hillary Clinton ran for president, where women's empowerment became a rallying cry for a new generation of second and third wave feminists. Designed for equal parts work, play, and networking, the founders of these clubs say these spaces are necessary now more than ever, as the strides made by working women are under threat from every direction, from politicians who insist on rolling back rights to business interest who continue to resist equal pay.
The most prominent of the new generation of women's clubs is The Wing, a 3,500-square-foot space on 20th Street between Park and Broadway in Manhattan that opened in October. It is the brainchild of Audrey Gelman, a 29-year-old former public relations specialist – she was the spokeswoman for New York City comptroller Scott Stringer's most recent campaign – who is well known as a friend of Lena Dunham's; she is often cited as a role model for the character Marnie on Girls.
"I had way too much to do in one day, and my life sort of lacked the proper infrastructure to do even half of those things gracefully," Gelman told me. "So I was constantly with two percent battery on my phone, my bag was overflowing with the entire contents of my apartment, and I never had anywhere to go in between all the different commitments in my day."
These "pain points" of showering at the gym, working at a coffee shop and charging her phone in a hotel lobby are resolved at The Wing, where the locker rooms are stocked with Living Proof, Carol's Daughter, and Wen products as well as workspaces and a café serving breakfast, lunch, coffee, and drinks. But Gelman was also interested in building a community to call her own. "Having deodorant if you forgot it at home, which has happened to me far too many times, but also just cultivating friendships in a spontaneous way," she continued.
Phoebe Lovatt's Working Women's Club was born out of a similar philosophy. "Creating space for women to have conversations in supportive environments and actually communicate with each other outside of a pressurized context," the British writer said. For Lovatt, a physical space was too limiting; she wanted to reach as many people as possible and so created on online platform of advice, interviews, inspiration, reading lists, even worksheets. Think of it as a younger, cooler sister to Rachel Sklar's and Glynnis MacNicol's TheLi.st, which was an early and still active newsletter for working women. (To launch her club, Lovatt did have a physical temporary pop up office space in Los Angeles.)
"My primary focus and point of interest is helping people establish the freelance lifestyle that I've been living," she said. "If they want to live that life of autonomy and freedom – my definition of success – my goal is to provide the practical information they need to do that."
In September, she launched a subscription membership program, an "additional benefit, rather than the crux of the entire concept," that provides members with specialized online livestream mentor sessions, meet ups, and newsletters.
Still, "I don't want to create anything that feels elitist or inaccessible," Lovatt said. It's really important to me that this is as accessible as possible, because my primary goal is to impart information to women who don't normally have access to it."
Some spaces are intentionally exclusive to females, including the Hera Hub franchise and Brooklyn's New Women Space, but others have accidentally adopted that policy along the way, thanks to nontraditional spaces and offerings. Take the Clementina in San Francisco, which was started by model and activist Kyleigh Kuhn and her musician boyfriend Ryan Brown – but now serves has office space for a handful of women, including photographers and entrepreneurs. (It's also available to rent out for events.)
The converted car garage on Clementina Street is decorated with globe lights, a white tiled bar, and a claw tub to hold beer, champagne, and ice during parties. "It's been described as tropical mid century punk," said Kuhn, citing The Factory, CBGB, and The Bohemian Club as decor inspirations. "Traditional work spaces often don't honor the human spirit. Environments with acoustic tiled ceilings and florescent bulbs hurt my feelings."
Judging by the amount of interest (and Instagrams), these founders are on to something.
"I'm just in my element in all women environments," said Veronica Gledhill, an advisor and strategist for beauty startups, who utilizes The Clemetina. "I've only had the most positive, challenging life changing experiences working with women first, attending an all women's college (Scripps) and then working for years in fashion and beauty, where offices have always been 90 percent women and maybe 10 percent gay men. There's something about the presence of gross masculine machismo that throws off the sense of collaboration, empathy and most of all, unguarded fun that I've always found in all-women environments."
Beyond the girl power element, there's also a practicality to these clubs. The Wing is $185/month, compared to WeWork, which starts at $500—members include Hari Nef, Sloane Crosley, Lena Dunham, Jenna Lyons, and more. Lovatt's WW Club is even more accessible (no rent to pay…), at $9/month, and counts Sandy Liang, WAH London's Sharmadean Reid, Dimes co-founder Sabrina De Sousa, and Ann Friedman as members.
(The Clementina is $350 a month, but as Kuhn pointed out, "Most of our creative friends moved out of San Francisco as the rents increased…We found ourselves a bit discouraged by the changing culture of San Francisco, and wanted to create an affordable outpost that still encouraged artists.")
In any case, for many, the cost is worth the price for the community.
"I spent one month working in a trendy, chic workspace for cool startups here in SF (called Galvanize) and left for Clementina because working with men can be exhausting; accounting for their egos and bottom lines when juggling requests to get coffee, dinner or offers to help me with a project," said Gledhill. "I've yet to find a sense of equal footing or pure collaboration in a co-ed environment."
Lovatt echoed the sentiment: "I do think that women still need dedicated spaces, information, events, and support. I don't think that box has been ticked in any way, shape, or form."
Watch: Tory Burch, Diane Von Furstenberg, Martha Hunt and more on why voting matters: