Wiz Khalifa and Winnie Harlow Continue to Spark Dating Rumors With Couples Merch Necklaces
Nameplate necklaces are still going strong.
---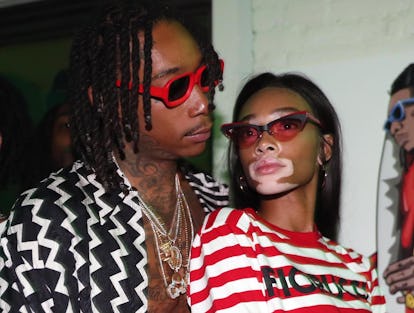 Johnny Nunez/WireImage
Instagram official is officially irrelevant. This summer, celebrity couples have made a habit out of making statements with matching merch, and Wiz Khalifa and Winnie Harlow are the latest to do so. Following in the footsteps of Justin Bieber and Hailey Baldwin's matching watches and, more recently, Pete Davidson's Ariana Grande-laden bracelet, Wiz and Winnie have each worn necklaces that serve as tributes to each other.
Last night, Khalifa was spotted wearing a nameplate necklace that said "Winnie" when he held a concert in Atlanta — which Winnie attended, as she shared moments from it on her Instagram Stories. The Instagram account @theshaderoom later posted an up-close look at it for those who didn't see it in person.
While this is the first time they've shown off couples merch, Winnie did wear one of Wiz's most recognizable necklaces last month — his "CAM" necklace, referencing his birth name Cameron Jibril Thomaz.
A couple of weeks before that, Amber Rose, his ex-wife and the mother of their five-year-old son Sebastian Taylor Thomaz, gave her official opinion on their status, leaving an Instagram comment on a photo of the pair that said, "Wait. Winnie Harlow as Sebastian's stepmom?!?!? #LitAF." Wiz dismissed it, though, a week later in an interview on The Breakfast Club.
When asked point blank, "You got a new boo, it looks like?" Wiz replied. "No, nope." "So Winnie's not your girlfriend?," the host pressed, to which he said, "That's my home girl, she's super sweet." "Because Amber cosigned it," she pushed, before Wiz added, "Yeah, and I told Amber, 'Don't be doing that yo'… I took a picture with Winnie and she was like [to her], 'Oh you're Sebastian's stepmom'. I was like, 'No, don't do that'."
A handful of days later, though, Wiz apparently backtracked, because he posted a photo of Winnie sitting on his lap at his recent album release party for this year's Rolling Papers 2 with the caption, "ME: 'YOU CARE WHAT ANYONE THINKS?'
HER: 'NAW NOPE ?‼️
WINNIE & WIZ❤️"
Need more hard evidence? See below.