Here's an Update on Wiz Khalifa's Elusive Album Rolling Papers 2, From Backstage at His First Fashion Show
Inside the presentation of the rapper's MADE Los Angeles collaboration with 424 and Pleasures.
---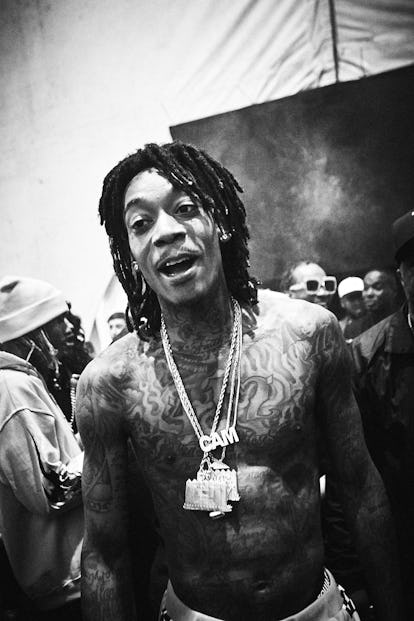 Photos by Koury Angelo for MADE.
On Saturday night in Los Angeles, Wiz Khalifa's 2011 track "Black and Yellow" was blaring through speakers.
No, it wasn't just a throwback moment. Khalifa himself was present, rapping the lyrics to the song that launched his career, at his debut fashion show, which is part of MADE Los Angeles. He slowed it down, as the 2011 hit from his third LP Rolling Papers faded away.
"Black … and … yellow," he said, again pointing to his look.
No subtlety here. Standing on the narrow runway, the rapper had on a white tee under a yellow jacket and black pants as he shared the stage with male models sporting the same looks: white tees, yellow hoodies with "Fourtwofour" in bold, large font on the sleeves, black pants—some featuring black-and-white checkered motifs—with "Pleasures" written down the side of one leg and Old Skool Vans on their feet.
The song itself is about Khalifa's black-and-yellow variations of the Dodge Challenger Hemi cars he's owned throughout the years as an ode to his hometown of Pittsburgh and its sports teams.
As he performed, later joined by Taylor Gang's Juicy J, Chevy, and Ty Dolla $ign, the second wave of models appeared, this time in a variety of looks, mostly in the same color family. Standing out amongst the bunch was an all-denim orange jacket and jeans and a white button down with "Army" written repeatedly alongside a small, colorful graphic.
"If you've got some weed, light that shit up," yelled Khalifa, as he lit a joint of his own. "If you've got a drink, take a f—ing shot. Take two shots."
The show began with about a 10 minute intro of lights, fog and machinery sound effects. From time to time, models froze as they were exposed to simulated body scans.
"I like clothes, I like the scene," said Khalifa before the show. He was surrounded by a cloud of smoke. "I feel like fashion is really edgy, and it doesn't get enough credit for that, for being as edgy and next level as it is. People look at high fashion, but there's so much more to it, so I just want to dive into that world."
When Khalifa was approached by MADE to collaborate for the line, he chose streetwear labels 424, founded by Guillermo Andrade, and Pleasures, by Alex James.
"They're brands that I actually f— with and that I know that people who are thinking the way that I'm thinking," said Khalifa. "We're all on the same page, so to be able to get the message fully across, not just with the music, but with the visuals and with the clothes and everything. You have to be involved with all the right people, and I feel like 424 and Pleasures are definitely the right people to get the vision across with."
"We've all been Wiz fans for ages," said Andrade. "Real shit, real talk. We're all here because of hip hop."
Khalifa has recently made headlines for appearing in Gap's new "Bridging The Gap" campaign and commercial, alongside a few familiar faces including Priyanka Chopra, Christie Brinkley and Yara Shahidi, created by W's Creative Fashion Director Edward Enniful.
"The director really reached out to my people and was like, 'I want to have Wiz to be apart of this,' so knowing that I was part of his vision and hearing what the campaign was about, it was about embracing being different and being an individual, that's what I'm all about," he said. "And then it's Gap, that's f—ing legendary… It was a no brainer."
And when can fans expect Rolling Papers 2 to drop?
"Man, it's been through so many stages, and the best thing I can say is that it's not gonna be done until it comes out," he said. "I'm never gonna be like, 'Oh it's finished. It's always a working progress. And the day that it comes out that's when it'll be done.'"
This year though?
He chuckled. "This year for sure."
See what's trending on W Video: