Robert De Niro's Bernie Madoff in HBO's Wizard of Lies Has Shades of Donald Trump
The Barry Levinson-directed film, airing Saturday on HBO, is a powerful reminder of just how much damage can be inflicted by a single empathy-averse narcissist.
---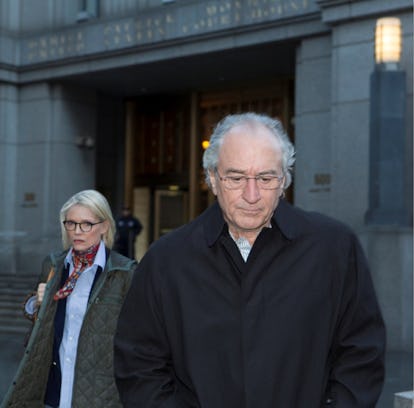 Countless people were devastated by Bernard Madoff's infamous multibillion-dollar Ponzi scheme, including members of his own family. Today, almost nine years after the fraud came to light, both of Madoff's sons are dead (one by suicide), his brother remains in prison, and his wife has downsized from their Manhattan penthouse to a one-bedroom rental in Connecticut, where she's essentially hiding out from her many haters.
The Wizard of Lies, a film directed by Barry Levinson and premiering on HBO this Saturday, May 20 at 8 p.m., takes us inside the broken clan's dramatic unraveling. Based on the book by the New York Times writer Diana B. Henriques, the movie—which stars Robert De Niro as Madoff and Michelle Pfeiffer (both below) as his wife, Ruth—shows the fraudster as both completely delusional and shockingly remorseless. (Madoff, who has claimed to be happier in prison than he was on the outside, in some measure blames his victims for trusting him.)
In the film, he shows far more emotion over a smudged place setting at his office beach party than he does about dismantling the lives of his supposed loved ones. It's a riveting story, and De Niro, in particular, turns in a ­performance seamless enough to avenge his recent run of schlocky comedies. But why revisit the Madoff affair now, with so many other headline-making horrors having gone down in the meantime? Because the film serves as a powerful—and timely—reminder of just how much damage can be inflicted by a single empathy-averse narcissist.
"Let me ask you a question," Madoff says to Henriques, who scored the first jailhouse sit-down with Madoff and plays herself onscreen. "Do you think I'm a sociopath?"
Does he really need to ask?
Meet the women who made history as the organizer's of the Women's March on Washington, D.C.: