Oprah Winfrey and Hillary Clinton Both Love Wonder Woman (But Only One Has Seen It)
Two of America's most admired women are fans of one of the world's most admired fictional women.
---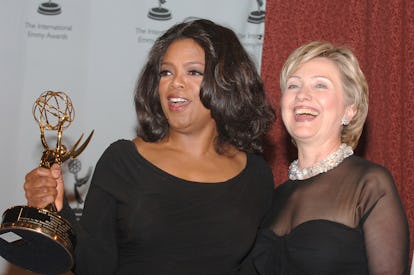 Stephen Lovekin
Together, Hillary Clinton and Oprah Winfrey take up two of the top four spots of Gallup's poll of America's most admired women. There's few women (or people in general for that matter) in the country who have accomplished more or inspired quite as many, but that doesn't mean that they're immune from getting excited over the pop culture phenomenon that is the Wonder Woman movie. In fact, both are fans of the film, even if one hasn't actually gotten around to seeing it yet and the other took a little time to get to it.
Winfrey, though, has a good excuse for not seeing it right away. She decided it would be best to wait to see it with a group of young girls.
"I'm so excited because –what? — it's Wonder Woman day at my house!" said Winfrey in an Instagram video posted yesterday. "I'm having a party for 28 ten-year-olds."
Winfrey then precedes to place a Wonder Woman bust on top of a speciality cake she ordered, because she does not do anything halfway, least of all Wonder Woman day.
In fact, the cable channel honcho posted a series of videos showing her preparation for the screening, and they're really worth viewing if only because every time Winfrey says "Wonder Woman" she says so as excitedly as she used to introduce major celebrities on her talk show. She is clearly more excited to watch Wonder Woman than she was to interview Tom Cruise.
But it didn't end at just the cake, she had Wonder Woman flip-flops, a Wonder Woman tiara, and her own Wonder Woman cuffs.
This video does not, unfortunately, involve Oprah saying "Wonder Woman" again, but just for the full effect, here's the rundown on the food she served.
If only to be a guest at that party.
Though, we know Hillary Clinton, at least, wasn't there. The former Secretary of State popped up via a video message at last night's Women in Film Crystal + Lucy Awards event in Los Angeles last night, and commented on the film success.
"No, I haven't seen Wonder Woman yet, but I'm going to, in part because it's directed by the fabulous Patty Jenkins," Clinton said. "But something tells me that a movie about a strong, powerful woman fighting to save the world from a massive international disaster is right up my alley."
Of course, if the movie can get two of the most respected and accomplished women on the entire planet excited, just think what it did for the little girls watching not just at Oprah's party but everywhere.
"Wonder Woman" Star Gal Gadot Was a Very Reluctant Pageant Queen: