Working Boys
With their cool brand of British savvy, the duo behind Working Title have cornered the market on UK film talent—and grossed $4.3 billion along the way.
---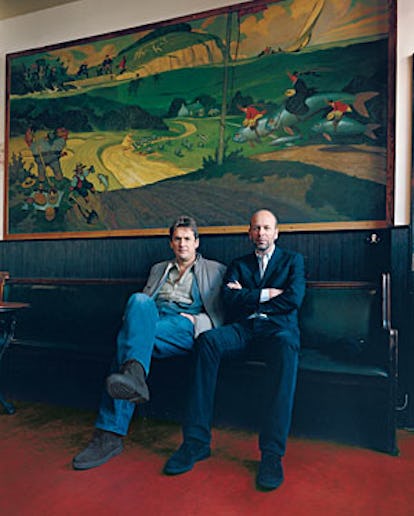 Eric Fellner, cochairman of Working Title Films, first met his partner, Tim Bevan, in the mid-Eighties. At the time Fellner was, he recalls in his languid drawl, "very young and highly competitive. So I probably wanted—" Bevan leaps into the conversation like a king cobra, interjecting, "To kill me," as Fellner sails sardonically on, his brown suede boots resting on a coffee table in his London office: "I probably wanted him off the f—ing planet so I could do my stuff. But we became friends, and it was because of that we teamed up in Working Title."
It's a partnership that started in 1992, and one that has seen the two British producers gross $4.3 billion since. More than $3 billion of that has come since 1999, when Working Title embarked on a deal with Universal Studios that has allowed them to make about five films a year under the company's wing. And there's plenty more to come. Fellner and Bevan have just released Frost/Nixon and, on Broadway, Billy Elliot to ecstatic reviews, while there's a glittering slate of films in the pipeline: The Soloist, by Joe Wright (Atonement); Green Zone, by Paul Greengrass (United 93 and The Bourne Ultimatum); and The Boat That Rocked, by Richard Curtis (Love Actually). It's no wonder that the mildly combative Bevan, sprawled on a couch in blue jeans and a sweater, boasts of being "the only big-label company with a big-studio relationship that's based outside America." Or that Peter Morgan, who wrote Frost/Nixon, calls the duo "fantastic navigators of the system."
But theirs is not only "a financial quest," says Fellner. As Bevan puts it, "There are also some really good, long-term creative relationships. Richard Curtis I've worked with for 20 years, and Joel and Ethan Coen, and Joe Wright, and Stephen Daldry [director of Billy Elliot]." He stops himself and reflects on the Daldry experience. "It's a decade now, isn't it? One f—ing movie and one stage show!" "In 10 years," Fellner echoes with a laugh. "Yeah. But it's still an enormous pleasure, spending time with him."
They're a wry pair, the 51-year-old Bevan and the 49-year-old Fellner—and they are also, according to twice-Oscar-nominated director Stephen Frears, "the most powerful people, ever, in British film." The source of that power is a simple one: Almost all the best talent in Britain (not to mention the Coen brothers) flock like moths to Working Title's candle. Why? "It's a trust thing," says Joel Coen. "I trust their judgment, and they trust ours." Then there's the fact that, as Curtis says, "there they are, two handsome, tall, leisurely sophisticates, as interested in selling films as in making them." Curtis should know: It was Four Weddings and a Funeral, which he wrote, that made Bevan and Fellner's name when their marketing moxie turned the small British romantic comedy into a worldwide hit. Fearing that the critics might eviscerate the film in England, they opened it in America on a small number of screens. And, says Fellner, "we put a big marketing push behind it to make it feel like it was a big film." It ultimately grossed almost $250 million.
That kind of movie-biz savvy is always at play. Bevan revels in the knowledge that Working Title's relationship with Universal allowed them to turn Greengrass's United 93 from a film that would have been seen by $10 million worth of people into one seen by $100 million worth. But the film's success, Bevan says, was also a question of right time, right place: "We'd wanted to do a film about 9/11. Stacey Snider, who was running the studio at the time, was desperate for Paul to do the third Bourne—and we basically managed to leverage that into getting the film made. It's our job to see where those opportunities are."
Bevan and Fellner jointly decide on projects but look after separate films. (Fellner tends to the Coens, and Bevan to Greengrass; as for Curtis, the pair treat him, the director says, in a "Mormonic way: One does me first, the other does me next.") Bevan is now working with Greengrass on Green Zone, a thriller set in postinvasion Iraq. Bevan notes that Working Title has never had "the big, big U.S. release." Green Zone will, he hopes, be just that.
But the budget is up in the $85 million to $100 million range, which brings more scrutiny from the studio. And, says Bevan, "Paul Greengrass is a very difficult guy to work with because he likes to create chaos, and out of that he gets what he needs to get. Which is…fine. But it's pretty wearing for the people around him." For his part, Greengrass finds Fellner and Bevan "wholly admirable. They're a huge force for creative good. Sure, there have been strains—film's an emotional experience, so I'll get riled up, and you need the producer to be supportive and calm. And Tim's got a lot of calm."
What has all that calm and canniness brought the Working Title bosses? Both have luxurious homes in London's Notting Hill and in the country. ("Tennis courts, swimming pools, servants" is how one of Fellner's friends describes his rustic pile. "Eric always makes his houses very enjoyable.") Bevan drives a Bentley, Fellner a souped-up Mini Cooper—"though God knows what else he's got," Bevan says. Both have failed marriages behind them: Bevan's first wife was actress Joely Richardson, with whom he has a daughter; he has two more children with second wife Amy Gadney. Fellner was married to actress and director Gaby Dellal, with whom he has three kids. He now lives with model Laura Bailey and their two children.
Each one's longest-lasting partnership, then, is with the other. According to Morgan, "They each have their delights. Tim's got no attitude to him, but Eric's more playful; there's a twinkle in his eye." Friends say Bevan is the more down-to-earth of the two, while Fellner is the one who yearns for the trappings of tycoonery. "Eric," says an intimate, "is very urbane and smooth and social, while Tim is more private, but Eric's built on more fragile ground." Fellner mentions that "I was a big drug addict, and the vein of addiction runs very, very deep." That's why, on the rare occasions that he gambles, "I have to be very disciplined. I just never will go into a casino except with a very small sum of money and no credit cards."
It's the job, though, that's truly consuming. In the past two years, Fellner says, "I was out of the country for 270 days, without my family. So the job's quite…tough." Or, in Bevan's earthier formulation: "That's what it f—ing takes."
Through it all, however, Bevan and Fellner manage to maintain their collective levelheadedness, charm and discipline. Ethan Coen remembers that The Hudsucker Proxy was his first project with the duo, and it was "by far our worst movie in terms of how it performed. And they just kind of shrugged and said, 'Okay, we'll try another one.' You know, that's what we appreciate about them."
It's an appreciation shared by Curtis, who recalls his own moments of despondency while watching a very early rough cut of Notting Hill that got alarmingly few laughs. But Fellner remained cheerful about the film's financial prospects, counseling, "Don't worry: $300 million."
"It was, really, perfect producer's behavior," Curtis says. "Eric and Tim are always intelligent and peaceful. I've never been even slightly tempted to work with anyone else."
As Fellner sums it up, impishly, "We do well; we do well."