Wonder Boys
The campy duo behind cult films like The Eyes of Tammy Faye aim their lens at Heidi Fleiss.
---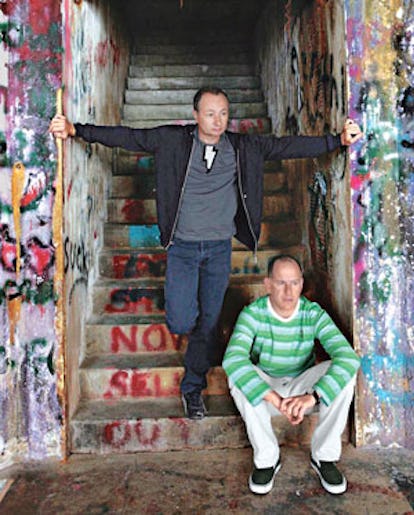 The Shane Building, erected in 1930, is a relic of Hollywood Boulevard's first heyday. Its green concrete facade is covered with stone and wrought-iron details. Fenton Bailey and Randy Barbato, makers of the pornography documentary Inside Deep Throat and Party Monster, the documentary about club kid–turned–murderer Michael Alig, bought the building in 2000 to serve as headquarters for their production company, World of Wonder. On the roof, where potted plants and outdoor chairs make up the company's smoking lounge, Bailey points at the parapets and notes wryly that the building "is a rare example of the zigzag Art Deco style."
Over the years, the building has housed the Directors Guild of America, a clothing company and, in the Seventies, the Pussycat Theatre, which kept Deep Throat playing for almost 10 years. Today it is a veritable television factory. At any moment, Bailey and Barbato and their 125 employees are producing about 15 different TV projects, such as the Logo channel's Transamerican Love Story, in which straight men compete for a transgender woman's affection, and the Oxygen network's Tori & Dean: Inn Love, a reality show starring Tori Spelling.
Somehow the duo still find time to direct their own films, namely the new documentary Heidi Fleiss: The Would-Be Madam of Crystal, which follows the Hollywood Madam's attempt to build a legal all-male brothel—to service women—in the Nevada desert; it premieres July 21 on HBO. Like their past documentaries, including 2000's The Eyes of Tammy Faye and 2002's Monica in Black and White (about Monica Lewinsky), Heidi Fleiss is a character study of a person who has been vilified in the public eye. It doesn't shy away from Fleiss's unsavory side: Her narcissistic attachment to her tabloid persona is front and center, as is her apparent drug abuse, but so is her humanity. In fact, the film is surprisingly sympathetic; one memorable scene shows Fleiss befriending an elderly woman in a nursing home. But Fleiss, who has agreed to join the upcoming season of VH1's Celebrity Rehab, has yet to see it after a falling-out with the directors. In a meandering phone conversation, Fleiss lists her complaints about the filming process, which range from the cameras disturbing her pet birds to an inadequate focus on her chain of Nevada laundromats. "I was hoping it would be fun," she says, "but instead it was me getting mad."
Nevertheless, the film is a poignant portrait and yet another astute take from Bailey and Barbato on our ugly celebrity age. "Fame is the disease of the 21st century, and it's peaking at a pandemic stage," says Bailey. "Everyone has pustules and sores. Everyone suffers, the unfamous perhaps more because they are written off as non-entities. So they are longing to be something which drives you mad. It's a bit like everyone is sitting around craving a deadly affliction."
Bailey, 47, and Barbato, 46, first met in the early Eighties when they were attending film school at New York University. They immediately began collaborating on everything from student films to the management company they started that helped make RuPaul famous. The two also became romantically involved but broke up six years ago ("after some incredibly successful couples therapy," quips Barbato), a few weeks shy of their 20th anniversary.
In 1994 they moved to L.A., just as the cable universe was exploding. But when they launched World of Wonder in 1991, the idea was to make just enough TV shows to pay for documentary projects. "Randy and I started out wanting to make films, but our ideas were always considered too crazy for anyone to produce them. We realized that in order to make anything, we'd have to produce it," says Bailey. Now, as prolific producers, they struggle to find time for their documentaries. "It was supposed to be the other way around," Barbato says.
But Bailey and Barbato are hardly ashamed of their TV work. "Randy and Fenton pick iconic outsider pop-culture subjects that are immensely relevant to the insider nature of their audiences," says Lauren Zalaznick, the NBC Universal president in charge of Bravo and Oxygen. "They are camp sophisticates."
In fact, they think it may be time to retire the self-serious notion of documentaries. "What is reality television other than documentary?" asks Bailey. "It's been a complete renaissance. Certain people think it's some sort of abomination, but actually [reality TV] has been an amazing explosion of documentary making. And it's documentary film that people want to watch. What people might think of as trashy is simply visceral stuff that is the opposite of cerebral.
"Cerebral might be labeled highbrow," Bailey continues. "But in TV terms, cerebral is dull."
Sedaris: Karen Robinson/Retna Ltd.; book cover: courtesy of Little, Brown and Company.