Good Beauty Tricks from the Founders of Yoga For Bad People
Two of New York's hottest fitness gurus share their tried and true wellness hacks just in time for International Yoga Day.
---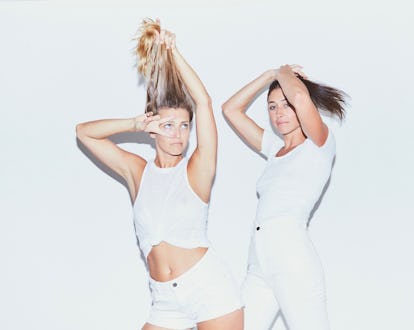 In between leading classes at Bandier in New York City, Katelin Sisson and Heather Lilleston of Yoga for Bad People are bringing their athletic-based vinyasa style yoga around the globe, from Miami to Croatia, with their highly popular yoga retreats. No matter where they are in the world, they always seem to maintain an enviable glow and gorgeous beachy hair (just take one look at their Instagram account @yogaforbadpeople for proof). Here, they reveal a few of their beauty secrets, from their favorite on-the-go healthy snacks (hint: croissants and green juice) to the best beauty cure-all.
Favorite healthy on-the-go snack? Katelin:An Apple. I also happen to believe that a croissant is a perfect food. I know I am wrong. I know that it is not widely seen as a health food. But I feel great with a coffee, green juice and a croissant in the morning. I'm good for quite a while after that. Heather: Mashed avocado with olive oil, spirulina powder, nutritional yeast, salt and pepper on a rice cracker. Agreeing with the croissant-coffee-green juice combo mentioned above.
What three things are always in your workout bag? K: Jump rope, headphones, phone charger, and Mustela facial wipes. H: Rose water, Yoga For Bad People mat mist antibacterial splash, and a good playlis.
What are your go-to beauty essentials? K: H2o, Oribe hair oil, and VMV Hypoallergenics facial moisturizer. H: Tata Harper beautifying face oil, Egyptian Magic, dental floss, MoroccanOil conditioner, and coconut oil.
What do you never leave the house without? K: Keys, phone, wallet, sunglasses, hat, and ear buds. H: Phone, Leilani Bishop orange blossom, and pocket Pema Chodron quote book.
What is your exercise regime? K: Jump rope, core, jump rope, planks, jump rope, and yoga. H: Yoga, The Class by TT, and an occasional 30-minute run.
Favorite spa-cation? H: Big spa advocate over here. I love Kabuki in San Francisco, WiSpa in Los Angeles, and Soho Sanctuary in NYC. I have also had a great time at the Hundertwasser spa in Austria and a Hamman in Istanbul. K: I love a spa but feel like I can never get to one. We have a great friendship with the Edition Hotel, so when we visit Miami Beach Edition I love to spend a moment in their spa. Other than that, the best move for me is to get someone to come to my house after my baby is in bed. House call for a an hour long foot massage is epic. (Glass of wine is optional.)
What is your sunscreen of choice? K: RADICAL facial SPF. H: Either Elta or Alba – my skin is dry and doesn't break out often, so I don't tend to need to be picky with sunscreens
What is your go-to lip savior? K: Aquaphor. H: Spa 30 Coolio in Skinny Dip color or Egyptian Magic.
The secret to a good summer hair day? K: Wear a hat. H: Go in the ocean, let you hair dry and don't wash it.
How do you practice beauty from the inside out? Katelin: Juice Press Proviotic. H: Aloe vera, probiotics, apple cider vinegar, lemon water and chlorophyll mix, lots of water and vegetables.
Best-kept beauty secret or trick? K: Breast milk literally heals everything. Any breakout, any cut or scrape, and any rash. H: An apple cider vinegar bath to detox the skin.
Best way to relax and unwind after a busy day? K: Put my daughter to bed, listen to a really great podcast, and a foot massage. H: Epsom salt bath, cold shower, chamomile tea, lavender oil on feet, Tata Harper face mask, Pema Chodron or Krishnamurti book.
In-tub must-read? K: "Love in the Time of Cholera" or "Sex at Dawn." H: "Autobiography of Pablo Neruda."
Fragrance of choice? K: Jo Malone amber and patouli. H: Leilani Bishop orange blossom fragrance oil.
Best beauty advice from mom? K: "Less is more." H: Well, my mama is pretty "au natural." It was a big deal when I started shaving my legs in my household, but since then things have changed. I appreciate now how natural our household beauty products were.
Watch W's most popular videos here:
Photos: Good Beauty Tricks from the Founders of Yoga For Bad People