Yolanda Hadid's Kitchen Is a Shrine to Bella and Gigi's Covers
Specifically, 40 framed magazine covers.
---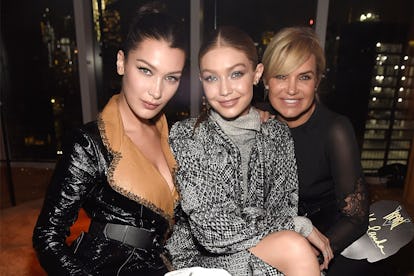 Kevin Mazur/Getty Images
The family kitchen has always been the preferred exhibition space for children's artwork, so when you're Yolanda Hadid, mother to three superstar models, it only makes sense you'd dedicate your kitchen to your children's recent relevant work: their ever expanding collection of magazine covers. Yes, the former Real Housewife and former model herself has turns a kitchen wall into a shrine to her Bella and Gigi Hadid's career cover achievements.
The wall has its own lighting, and features some of the Hadid sisters' most memorable covers, like Gigi on the cover of W and Bella on the cover of Glamour. On a nearby wall, Yolanda herself models a silver bathing suit. Posing for covers does run in the family, after all.
The wall's existence came to light after Yolanda posted a sweet photo of Bella hanging out at home. The pic is captioned, "Home Sweet Home with my baby girl……. #FarmLife #HappySunday," and features Bella doing an impressive hair flip while balancing on the kitchen island. The home in question is Yolanda's recently purchased farm on the East Coast, where she moved from California, and if the pattern holds, she'll be sending a lot of time in the kitchen. It was the centerpiece of her Cali home and appeared often in The Real Housewives of Beverly Hills, to the point where her refrigerator had its own Twitter account. It mostly tweeted support for the Hadid family (and Chrissy Teigen and John Legend), which is still a lot more than your average fridge.
While we can't see any specific covers featuring Anwar on the wall, we hope and assume he's there as well. He's already got Teen Vogue and L'Officiel Hommes covers to his name.
In any event, Yolanda might have to make more room. Her children's cover star credentials don't seem to be slowing down anytime soon. Bella, for instance, was recently on more September covers across the globe than anyone else this year. Gigi meanwhile is Vogue Japan's current covergirl. Or maybe, like an art gallery, she can switch out covers from the permanent collection to display on a rotating seasonal basis.
Related: Yolanda Foster Made an Instagram Account for Her Fridge
Model Gigi Hadid Reveals the Secret to Her Signature Runway Walk: