Zac Efron Lands First Major Fashion Campaign as Face of Hugo Boss
He's the latest face of Hugo Man cologne just as he's about to release a remake of Baywatch because nothing says California beach like a German fashion label.
---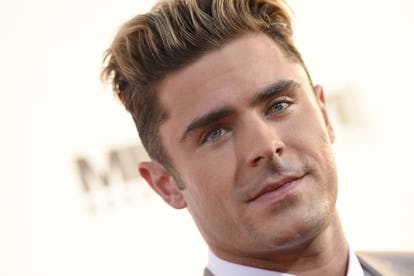 FilmMagic/Getty Images
For someone who is photographed so regularly, it's a surprise that no major fashion brand has ever snatched up Zac Efron to lead a campaign before. That's about to change. The actor is the just-announced new face of Hugo Boss's Hugo Man cologne, with his campaign beginning next year.
Efron took to his social media accounts to let the world in on the news and share the first photo from his new gig. He wrote on Instagram, "Hey guys – I'm excited to reveal that I will be fronting the new Hugo Man campaign next year – check it out!" Efron always did have a way with words.
Efron, who started out a Disney Channel star, has matured professionally in recent years, taking on riskier art house fare like The Paperboy as well as grown-up parts in big studio films like Neighbors and its sequel. He is joining the fragrance campaign alongside another heartthrob, Divergent actor Theo James.
But his is arriving at an especially professionally opportune time with the release of the remake Baywatch on the horizon, no pun intended. It's yet another film where he'll get to show off his prodigious abs.
Details about the scent's campaign are still under wraps.
While at first glance the connection between the star of a film set in a California beach and a German suiting company is not obvious, in recent months Boss has pivoted a return to its roots in menswear. And Efron may help the label attract some of his young male fans, especially those who can't afford an expensive suit but can spend some money on a new cologne.
Kit Harrington on having a birthday right after Christmas: