See Zac Efron as Serial Killer Ted Bundy in the First Photo From Upcoming Film, Extremely Wicked, Shockingly Evil and Vile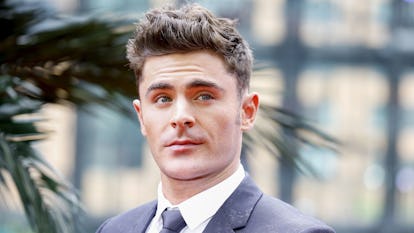 Getty Images
Zac Efron continues to shed his Disney star past. In May, the actor revealed that he will play the serial killer Ted Bundy in the upcoming film Extremely Wicked, Shockingly Evil and Vile.
As you may recall, Ted Bundy is one of the country's most notorious and disturbing serial killers of all time. (Before his execution in 1989, he admitted to assaulting, raping, and murdering at least 30 women.) In the film, Efron will be portraying Bundy during the "prime" of his crime spree, in the 1970s, with the role promising to see Efron in a darker turn than, say, Baywatch.
Now, we finally have a first look of Efron as Bundy.
"Meet Ted," Efron tweeted on Wednesday afternoon, showing off a black and white photo of himself as Bundy.
Lily Collins, who portrays Bundy's long-time girlfriend Elizabeth Kloepfer in the film, also posted a photo on Instagram to express her excitement over the role.
Efron has remained relatively mum since accepting the part last summer, only speaking to his Greatest Showman costar Zendaya about how be believes it'll be the most challenging role in his career. "Ted Bundy is going to be a challenge. I think it's going to be different and it's going to be fun," he said a few weeks ago. "I'm super stoked."
The film is expected to be released by the end of 2018.
Related: Zac Efron Is Just the Latest Disney Boy to Play a Cold-Blooded Killer
Zac Efron's Body Transformation From Lanky Teen Heartthrob to Baywatch Stud
In A Hawaiian inspired button-down with cuffed sleeves, the lanky young actor appeared on the red carpet of the WB Networks' 2004 All Star summer Party.

Jean-Paul Aussenard
A year laster and still without any noticeable muscle definition, Zac sported another button down with cuffed sleeves at the breakfast with the cast and crew of 'High School Musical'.

Michael Tran Archive
The teenage heart throb flexed his muscles on the red carpet at the premiere of 'High School Musical 2'.

Jason Merritt
At the 2007 Madrid ' Hairspray' Photocall, we begin to see the peak of slight muscle definition in what later becomes Zac's infamous athletic body.

Lalo Yasky
Still with his muscles on the lean side, Zac rocked a fitted mode-sleeve button down and vest to the 2008 Teen Choice Awards.

K Mazur/TCA 2008
Tanned and visibly chiseled a year later at the Teen Choice Awards, Zac opted for his go-to classic button down with cuffed sleeves look.

Jeffrey Mayer
While visiting Maui in June 2010, the young stud showed off his hot physique after taking a dip.

Splash News Online
Zac soaked up the sun in Maui in June 2010 – shirtless of course.

Splash News Online
In 2011, Zac modestly showed off his biceps in a simple black tee while sitting court side at a Lakers game.

Noel Vasquez
Zac relaxed to music shirtless at his Sydney hotel in April 2012.

INFphoto.com
While filming his 2014's 'Bad Neighbors', the actor frequently showed off his incredibly buff body on and off the big screen.

GONZALO/Bauer-Griffin
With the star being in the best shape then ever before, he couldn't resist showing off his chiseled abs and biceps on the 2014 MTV Movie Awards stage.

Frederick M. Brown
While filming 'We are your friends', Zac showed off his sculpted bod again while running on the beach.

TSM/Bauer-Griffin
Acting out a scene from his new film 'Bad Neighbors 2' at the 2015 MTV Movie Awards, the stud shows off his hot bod once again under a green fatigue jacket.

Paul Archuleta
Zac was spotted walking the streets of Los Angeles last year flexing his muscles without even trying.

RB/Bauer-Griffin
While filming his newest movie 'Baywatch' Zac shows off all of his hard training work by shooting shirtless scenes showing of his incredibly ripped bod.

© 2016 FameFlynet, Inc – Beverly Hills, CA, U.S.A.