Priyanka Chopra Is Still Impressed by How Well Zac Efron Could Walk in Heels on the Set of Baywatch
Finally free of their grueling fitness regimes, the cast got together and recalled taking Jello shots and doing karaoke in the south at a screening of Baywatch in New York on Monday night.
---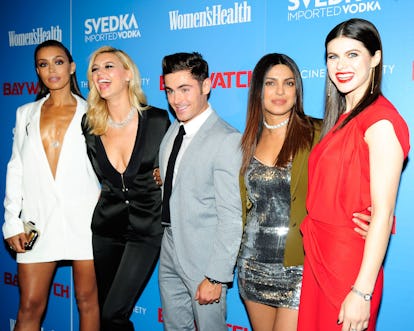 Paul Bruinooge, © Patrick McMullan
After over a full year of hearing about and seeing memes of Zac Efron's grueling fitness regime as he prepped to play Matt Brody, a two-time Olympic gold medal swimmer—not to mention stand up to the ever mind-blowing physique of The Rock, who stepped in to replace David Hasselhoff—Baywatch is finally hitting theaters this Thursday, to viewers's hot anticipation of scores of swimsuit-clad abs. Not that the film is exactly the stuff of its '90s predecessor: Instead, it's trying its best to be self-aware, starting from the very beginning. Early on, for example, Efron's character notes that the happenings at the bay, where he gets the job after dragging two refrigerators across a beach, only to find out the gig consists of uncovering dead bodies and an illegal drug operation, sounds like an "entertaining but far-fetched TV show."
That attempted self-awareness extends over to how director Seth Gordon had a mind to do a bit of the impossible and make the series, famous for its slow-motion shots of women's bikini-clad bodies, feminist, too. Or, as Priyanka Chopra, whose role as a murderous and burgeoning real estate mogul bent on privatizing the bay was originally meant for a man, also marks her Hollywood film debut, put it: "It's a comeback, bitches."
At a screening for the blockbuster, osted by the Cinema Society, Hugo by Hugo Boss, and Svedka in downtown Manhattan on Monday night, followed by an after-party at Mr. Purple stocked with drinks like the Lifeguard's Libation, Chopra recounted with delight the scene where Efron dressed up in a wig, makeup, and a body-con dress, promptly struggling to walk in the matching heels. (He's since called it one of his "hardest stunts ever.")
"I witnessed it," Chopra said with a laugh. "I witnessed him walking around, and I witnessed him saying how much newfound respect he had for girls. But it hurt his feet a lot, I must say. I was impressed, but by the end of the day, he was back to flats."
Chopra had her own struggles with stilettos, seeing as her character only ever shows up to the beach in couture. On-screen, she may have been pictured only emerging from a Jeep to perch on a step stool her minions set up for her, but in between takes, Chopra had to walk in heels in the sand—a worthy sacrifice, it seems, for getting to play someone "so absurd that it's fabulous," and for sparing herself from the months and months of wearing a swimsuit on-screen that the rest of the cast endured.
Even after months and months of training six days a week, the skin-tight swimsuits alone, which had to be glued down, could take up to an hour to put on. Eventually, though, things did start to loosen up. "There was definitely a pressure coming in to be in optimal shape, but some days you just didn't really bother," said Ilfenesh Hadera, a lifeguard who plays Johnson's right hand man. "Some days—like, most days—you knew you had bathing suit scenes coming up, but you were too tired to go to the gym, or you had a craving for something that you know you shouldn't eat. But we got more and more relaxed in our lives and our exercise routines as we went on in our shooting schedule. Towards the end we were having some sort of nightly celebrations."
At that point, shooting between Miami, Florida and Savannah, Georgia then became less of a nuisance, and more of an opportunity to sample the local fried fare. "We started to eat a lot of Southern food," said Alexandra Daddario, who plays Efron's crush, the lifeguard Summer Quinn—a meal they made sure to polish off with Jello shots.
Kelly Rohrbach, who's been vocal about her appreciation for the Spanx-like material their trademark red swimsuits were made of in her role replacing Pamela Anderson as the lifeguard C.J. Parker, found another way to celebrate, too. "We did some karaoke in Savannah. I did '…Baby One More Time,' and then me, Priyanka, Alex, and Ilfanesh did a rendition of Spice Girls's 'Wannabe,'" she recalled with a laugh. "It was hot."
Related: Priyanka Chopra's Role in Was Initially Written for a Man Was Initially Written for a Man
Priyanka Chopra: "I Don't Crush on People, They Crush on Me"