See Zac Efron's Transformation Into Ted Bundy in Extremely Wicked, Shockingly Evil and Vile
Extremely Wicked, Shockingly Evil and Vile will debut at Sundance in January.
---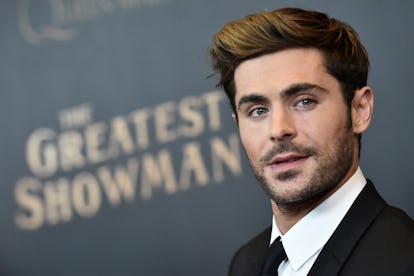 Steven Ferdman/Patrick McMullan via Getty Images
There's nothing like seeing your favorite teen heartthrobs transform into particularly prolific serial killers (only onscreen, of course) to bring years-long crushes to a screeching halt. Such is the case with Zac Efron, whose turn as Ted Bundy in the upcoming film Extremely Wicked, Shockingly Evil and Vile continues to be all of those things, and puts a swift end to his days as Hollywood's go-to bonehead frat star.
On Thursday, Efron took to Instagram to share the latest photo—the first since the slew of behind-the-scenes shots he shared in February—of his transformation into Bundy, coinciding with this week's announcement that Extremely Wicked, Shockingly Evil and Vile will premiere at the Sundance Film Festival in January. In the picture, he wears a '70s-style blue suit over a white button-down shirt and patterned tie, and sports Bundy's signature wavy locks; the snapshot appears to have been taken in a courthouse, likely from a scene depicting one of Bundy's three trials for his assorted murders and other crimes.
And here, for reference, is Bundy in July 1978, looking extremely Efron-esque (or vice versa).
Earlier this year, throughout the filming of Extremely Wicked, Shockingly Evil and Vile, Efron shared several more photos of himself in character as Bundy, including shots escaping arrest by jumping out a window; having a moment with Lily Collins, who plays Bundy's ex-girlfriend Elizabeth Kloepfer; and flashing an especially wicked, evil, and vile grin at director Joe Berlinger.
Efron has promised that the film will be "really deep." "It doesn't really glorify Ted Bundy," he told Entertainment Tonight in March. "He wasn't a person to be glorified. It simply tells a story and sort of how the world was able to be charmed over by this guy who was notoriously evil and the vexing position that so many people were put in, the world was put in. It was fun to go and experiment in that realm of reality."
While it's perhaps troubling to hear that playing a man convicted of attacking, torturing, and killing dozens of women was "fun," rest assured that Efron didn't take on any of Bundy's tendencies while filming. "I didn't take it home," he told ET. "I didn't go full Method and I didn't have to, like, do any weird stuff to anybody to get into character. It's a different type of film."
Related: Zac Efron's Body Transformation From Lanky Teen Heartthrob to Baywatch Stud
Zac Efron's Body Transformation From Lanky Teen Heartthrob to Baywatch Stud
In A Hawaiian inspired button-down with cuffed sleeves, the lanky young actor appeared on the red carpet of the WB Networks' 2004 All Star summer Party.

Jean-Paul Aussenard
A year laster and still without any noticeable muscle definition, Zac sported another button down with cuffed sleeves at the breakfast with the cast and crew of 'High School Musical'.

Michael Tran Archive
The teenage heart throb flexed his muscles on the red carpet at the premiere of 'High School Musical 2'.

Jason Merritt
At the 2007 Madrid ' Hairspray' Photocall, we begin to see the peak of slight muscle definition in what later becomes Zac's infamous athletic body.

Lalo Yasky
Still with his muscles on the lean side, Zac rocked a fitted mode-sleeve button down and vest to the 2008 Teen Choice Awards.

K Mazur/TCA 2008
Tanned and visibly chiseled a year later at the Teen Choice Awards, Zac opted for his go-to classic button down with cuffed sleeves look.

Jeffrey Mayer
While visiting Maui in June 2010, the young stud showed off his hot physique after taking a dip.

Splash News Online
Zac soaked up the sun in Maui in June 2010 – shirtless of course.

Splash News Online
In 2011, Zac modestly showed off his biceps in a simple black tee while sitting court side at a Lakers game.

Noel Vasquez
Zac relaxed to music shirtless at his Sydney hotel in April 2012.

INFphoto.com
While filming his 2014's 'Bad Neighbors', the actor frequently showed off his incredibly buff body on and off the big screen.

GONZALO/Bauer-Griffin
With the star being in the best shape then ever before, he couldn't resist showing off his chiseled abs and biceps on the 2014 MTV Movie Awards stage.

Frederick M. Brown
While filming 'We are your friends', Zac showed off his sculpted bod again while running on the beach.

TSM/Bauer-Griffin
Acting out a scene from his new film 'Bad Neighbors 2' at the 2015 MTV Movie Awards, the stud shows off his hot bod once again under a green fatigue jacket.

Paul Archuleta
Zac was spotted walking the streets of Los Angeles last year flexing his muscles without even trying.

RB/Bauer-Griffin
While filming his newest movie 'Baywatch' Zac shows off all of his hard training work by shooting shirtless scenes showing of his incredibly ripped bod.

© 2016 FameFlynet, Inc – Beverly Hills, CA, U.S.A.