Zayn Malik Says He "Doesn't Need to Put a Label" on His Relationship With Gigi Hadid in New GQ Interview
It's his first ever GQ cover.
---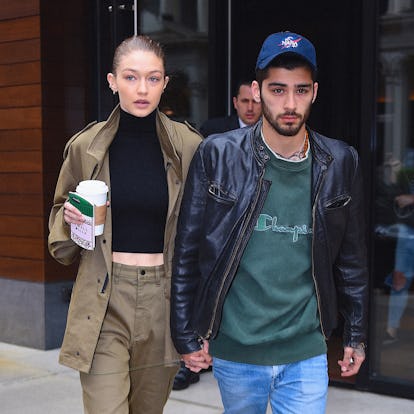 Photo courtesy of Getty Images.
It just wouldn't be a Zayn Malik interview without a question or two (or three, or four . . . ) about Gigi Hadid. Three months after the two confirmed their break-up, Zayn has appeared on his first GQ cover, and in the accompanying profile, he gets candid about his (possibly on-again) relationship with the model.
"We're still really good friends, and we're still in contact," he told GQ. "No bad blood . . . Taylor Swift. We're adults. We don't need to put a label on it, make it something for people's expectations."
In the interview, Zayn said the two met in late 2015 at a "cool party." A few days later, he asked her out to dinner at the Bowery Hotel after finding out that she'd broken up with Joe Jonas. "I'm really thankful that I met her," he told GQ, adding that she was there for him when he was partying too hard while releasing his first solo album. "I had a very negative outlook on things," he said. "That might have been adolescence or testosterone or whatever the f/*ck was running through my body at the time. She's helped me to look at things from a positive angle."
Like when the pair attended the Met Gala together, which Zayn says is "not me" and was entirely his former stylist's idea. "To do the self-indulgent Look at me, I'm amazing thing on the red carpet, it's not me," he said. "I get it, and I understand that people gain enjoyment from it . . . Gi stole the night, though. The stained glass on her dress. Everyone else just put a cross on," he said referring to the most recent Gala, which he did not attend.
Now, Zayn says, the pair still hang out together, sometimes at his farm, where he and Gigi share a horse named Cool. ("I looked like a complete idiot and she looked like a complete professional," he said of the first time they rode horses together.) He revealed that buying the farm was the idea of Gigi's mom, Yolanda Hadid, who he says makes up most of his inner circle, along with the rest of the Hadids. "We get on. She's really f/*cking cool," he said. "She's a Capricorn. She's the same star sign as me."
GQ writer Carrie Battan noted that throughout their interview, Zayn referred to himself and Gigi by the term "we" in the present tense multiple times. This isn't too surprising, considering the pair have been spotted together several times since their break-up, fueling speculation about a Zigi reunion. Two weeks ago, Gigi posted a photo of her and Zayn playing Pokémon together on her Instagram. And back in May, an unnamed source told E! News that Zayn wanted to get back together with Gigi, just a few days after the pair were photographed kissing on the sidewalk on April 30. And just 10 days before that, Zayn was spotted near Gigi's apartment over the course of two days, wearing the same clothes.
Of course, the exact nature of their relationship is just speculation until one (or both) of them confirms it. As Zayn says, they don't need to "put a label" on it to suit people's expectations.
Related: Is Zayn Just Making the Same Music Video Over and Over Again?
See Gigi Hadid's Best Beauty Looks of All Time
At 16 years old, Gigi Hadid steps into the limelight and returns as a Guess girl (where she modeled as an infant) at the People StyleWatch Denim Party, with a natural wave and subtle winged liner.

GETTY
The green-eyed beauty steps out to celebrate at the W magazine X Guess party in January 2013 with a sleek bun and a fresh face.

GETTY
Becoming an overnight sensation thanks to her Tom Ford campaign, Hadid rocks fresh blonde locks, a golden eyelid, and nude lip at the American Music Awards in November 2014.

GETTY
Hadid rocks the "no makeup" look keeping her hair side-parted in soft curls at the God's Love We Deliver, Golden Heart Awards in New York in October 2014.

GETTY
As the newest face of Maybelline, Hadid shows up in a sleek side pony, creamy skin and a dark smokey eye to celebrate the beauty brand's 100th Year Anniversary in May 2015.

GETTY
At the American Music Awards in November 2015, Hadid tucks away the long locks and steps out in a faux bob, natural face, and nude lip.

GETTY
Rocking the ultimate Cali-girl look, Hadid glows at the MTV Video Music Awards in August 2015 with sun-kissed skin, swept back hair, and a "barely there" makeup look.

GETTY
Wearing her hair in naturally tousled waves with a playful cat eye and a nude lip, Hadid attends the Harper ICONS Party in September 2015.

GETTY
Hadid wears her hair in a tousled up do with loose curls framing her face and sleek cat eye at the The Daily Front Row's 1st Annual Fashion Los Angeles Awards in January 2015.

GETTY
Celebrating her 21st birthday in April 2016, the supermodel shows off her sultry side with a smokey brown eye and dark berry lip.

GETTY
At the 2016 American Music Awards that November, Hadid wears her hair swept back in loose curls with a taupe smoky eye and a coral pink lip.

GETTY
Hadid stuns in red as she hosts the iHeartRADIO Music Video Awards in June 2016, wearing a coral lip, soft shimmered eye, and a perfectly tousled long braid.

GETTY
Hadid radiates at The Fashion Awards 2016 December in London with a sleek bun, a frosted silver smoky eye and luminous skin.

GETTY
At the Victoria's Secret Fashion Show photo call in Paris in November 20"16, Hadid wears her hair side-parted in polished, tousled curls with a smoky cat eye and a nude pink glossy lip.

GETTY
Hadid poses at the Tommy Hilfiger Flagship store in London in February 2017 wearing her hair middle-parted in a sleek low pony with a subtle golden smoky eye and nude lip.

GETTY
Celebrating her Messika jewelry collaboration in September during Paris Fashion Week, Hadid sports a sleek high top knot with luminously radiant skin and silver smokey eye in September 2017.

GETTY
Supporting mother Yolanda Foster at the premiere of her new show Making A Model With Yolanda Hadid in January 2018, Hadid steps out in swept over side curls and an exaggerated cat eye.

GETTY
Gigi Hadid attends the HBO New York Premiere of 'Being Serena' at Time Warner Center on April 25, 2018 in New York City with a gothic plum lip.

GETTY
Gigi Hadid is seen walking in Soho on October 11, 2018 with a frosted blue eye.

GETTY
Gigi Hadid attends the world premiere of "Ocean's 8" at Alice Tully Hall at Lincoln Center with a head full of curls.

GETTY
Gigi Hadid seen on the streets of Manhattan on October 23, 2018 in New York City. Photo courtesy of Getty Images.

GETTY
Gigi Hadid attends as Marc Jacobs, Sofia Coppola & Katie Grand celebrate The Marc Jacobs Redux Grunge Collection and the opening of Marc Jacobs Madison on December 03, 2018 in New York City. Photo courtesy of Getty Images.

GETTY
Gigi Hadid walks the red carpet ahead of the 2019 Pirelli Calendar launch gala at HangarBicocca on December 5, 2018 in Milan, Italy. Photo courtesy of Getty Images.

GETTY
Gigi Hadid on February 11, 2019 in New York City. Photo courtesy of Getty Images.

GETTY
Model Gigi Hadid attends Variety's Power Of Women: New York at Cipriani Midtown on April 05, 2019 in New York City. Photo courtesy of Getty Images.

GETTY