Zayn Malik Struggled with an Eating Disorder During His Time in One Direction
In his new memoir, the boybander reveals that he battled unhealthy eating during the last months of his tenure with One Direction.
---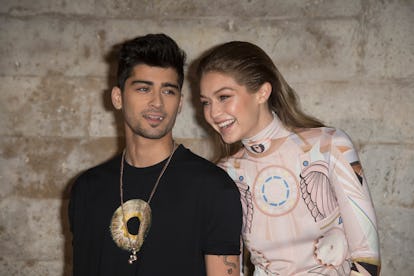 Getty Images
Back in November 2014, Zayn Malik's increasingly gaunt appearance and a failure to make an appearance at the band's album launch event on The Today Show led to rumors that the singer was struggling with drug or alcohol addiction. During the segment, Matt Lauer even grilled his bandmates about whether the giving excuse – that he was back in Britain battling a stomach condition – was the real reason for his absence.
"There's obviously a lot of concern, a lot of fans have been tweeting overnight," Lauer asked. "There's been a lot of action on social media about him. Is it something more serious than just a minor illness? There have been rumors of substance abuse. What's going on?"
Malik ended up slamming Lauer at the time for the question, and now four years later he's finally answering what exactly was going on.
He was struggling with an eating disorder.
The revelations come from his upcoming memoir, Zayn, and while Malik discloses that while he was never officially diagnosed with a disorder, his eating habits had clearly become unhealthy:
"When I look back at images of myself from around November 2014, before the final tour, I can see how ill I was. Something I've never talked about in public before, but which I have come to terms with since leaving the band, is that I was suffering from an eating disorder."
"It wasn't as though I had any concerns about my weight or anything like that, I'd just go for days – sometimes two or three days straight – without eating anything at all. It got quite serious, although at the time I didn't recognize it for what it was. I think it was about control. I didn't feel like I had control over anything else in my life, but food was something I could control, so I did."
"I had lost so much weight I had become ill. The workload and the pace of life on the road put together with the pressures and strains of everything going on within the band had badly affected my eating habits."
Indeed, doctors say that habitually skipping meals can either be a warning sign of or a gateway to disordered eating, while a desire for a feeling of control through unhealthy eating habits is an underlying symptom of many eating-related disorders. The National Eating Disorders Association lists "feeling…of lack of control in life" as a contributing psychological factor.
While eating disorders can still be assumed to be something that only affects women in popular culture the reality is that men make up about 25 percent of all suffering from anorexia and bulimia, and more than a third of binge eating disorder sufferers.
Malik is also far from the first male celebrity to disclose his issues with eating. Kings of Leon frontman Caleb Followill has opened up about struggling with anorexia as a teenager, Billy Bob Thornton developed anorexia to deal with the stress that came with a high point in his career and even hid his troubled eating behavior from then-girlfriend Laura Dern, and Elton John has shared his past battles with bulimia.
Malik has also previously revealed his ADHD diagnosis and issues with anxiety that can interfere with his performances, but the star has clearly recovered since November 2014.
A few months after that period he struck out on his own. His debut album, Mind of Mine, hit number one in both the United States and the United Kingdom earlier this year, he's dating Gigi Hadid, and he's set to design both a collection for Versace's Versus line and shoemaker Giuseppe Zanotti.
The memoir, Zayn, is officially available today.