What's Hot: A Supermodel-Approved Sunscreen
Brit beauty Jourdan Dunn relies on this brand to protect her glowing skin.
---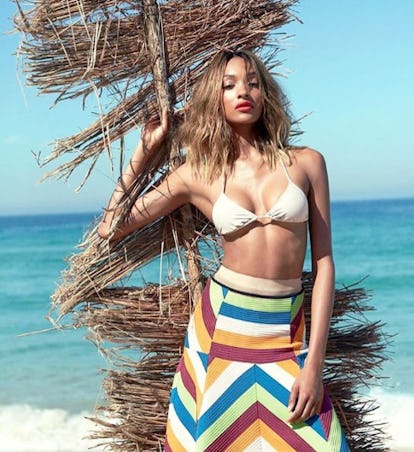 When models like Jourdan Dunn start Instagramming their skincare routines (plural, as in morning, evening, and weekend facial sessions), you know it's time to revisit your own edit. Skincare is, after all, the best makeup. And a glance at any of Dunn's sea of selfies will show that the 25-year-old Brit beauty certainly knows what she's doing. Using a vitamin C serum in the morning? Total score. As for how to echo that level of commitment from the neck down, Dunn's go-to serum's label, Zelens, has a new solution. While a quick spritz of the most magical of potions won't transform your gams into lithe limbs, their Body Defense Sunscreen Oil can cure your summer SPF woes. Leave it to antioxidant-packed essential oil formula to hydrate your skin (and hair!) and reduce free radical formation, which, along with sun damage, cause aging. Leave a bottle of this UVA/UVB SPF 30 by your keys, and take care of business on the way out the door. Accept stares and comments on your glow, and remember there's no such thing as a safe tan.
Photos: What's Hot: A Supermodel-Approved Sunscreen