Zendaya and All Those Other Cool Teens Make Their Dolce & Gabbana Ad Debut
A quick guide to all the cool teens, celebrity scions and barely legal influencers in Dolce & Gabbana's Spring campaign.
---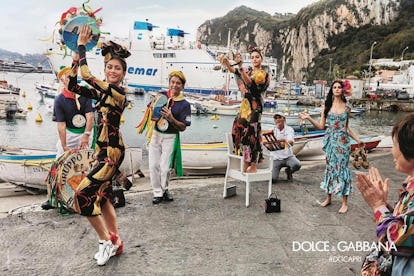 The front row at Dolce & Gabbana's Spring 2017 show in Milan looked more like the world's chicest after-prom party. The design duo packed the seats with a collection of the world's foremost cool teens and celebrity scions. The clique then spent the week running (or in some cases, segwaying) across the Italian city to the notice of an occasionally bemused fashion industry and the adoration of their combined millions in online followers.
A selection of the pack was then shepherded off to Capri to shoot the campaign for the fashion show they had just watched. In true millennial style, Dolce & Gabbana has rolled out the images on their Instagram.
If you happen to be under the age of, say 26, you not only know who each of these people are already, but likely have strong opinions about them as well. If for some reason you don't, here's your quick cheat sheet to D&G's new teen beat.
Age: 20
Known For: A Career as an Actress, Singer, and Dancer
Instagram Followers: 36.6 million
The only person in the campaign with a traditional show business career, Zendaya first rose to fame thanks to her starring role on Disney Channel's Shake It Up. Though, her serious style has helped to garner the attention of the fashion industry at large. She's already appeared on the cover of W, after all. She's set to make her first foray into non-tween-targeted media with a major role in Spider-Man: Homecoming.
Age: 15
Known For: Modeling
Instagram Followers: 756,000
Though she's the younger in the crew, Blondeau is the modeling vet. She first walked the runway for Jean Paul Gaultier at just 4-years-old and caused controversy be appearing on a French magazine cover seemingly dressed up a little too adult at the age of 10. Undeterred by criticism, she's continued to keep up her modeling endeavors. Though a glamour girl on set, she once told W that her school uniform consists of "black ripped jeans with simple t-shirt and sneakers."
Sonia Ben Ammar
Age: 17
Known For: Having Once Dated Brooklyn Beckham
Famous Parent: Movie Producer Tarak Ben Ammar
Instagram Followers: 249,000
Ben Ammar first came to wider note through dating the son of Posh and Becks, but she had already worked as an agency-signed model and occasional actress in her native France beforehand. Her father, Tarak, is a prolific producer in France with credit including Hannibal Rising and Femme Fatale.
Age: 22
Known For: Making Vines
Instagram Followers: 17.2 million.
One of the original breakout stars of Vine, Dallas has turned that micro-fame into multiple fashion campaigns (he's previously worked for Calvin Klein Jeans) and a Netflix reality show. Don't worry. He's still in touch with his social media roots despite the fact Vine is dead. His most recent YouTube video is entitled "How man cheeseballs can I fit in my mouth?"
Age: 20
Known For: Having Famous Parents
Famous Parents: Pamela Anderson and Tommy Lee
Instagram Followers: 46,300
While fashion didn't fully embrace Pamela Anderson until later in life (she's now a front row regular in her own right), her sons didn't have to wait as evidenced by Brandon's inclusion in the campaign. He also has a younger brother, Dylan.
Age: 17
Known For: Same as Lee
Famous Parent: Cindy Crawford
Instagram Followers: 183,000
You would have never seen Pamela Anderson and Cindy Crawford in the same shoot during their heydays in the '90s, but it's nice to see their sons getting along. Gerber has followed his mother (and his sister) into the family business of modeling. Though, he says his hidden talent is actually fixing things. "I can fix stuff pretty good, kinda like everything."
Rafferty Law
Age: 20
Known For: Same as Gerber
Famous Parents: Jude Law and Sadie Frost
Instagram Followers: 21,400
The young law has actually been modeling for a while now, first appearing in a DKNY show back in 2014. He's since been joined in the modeling industry by his sister, Iris.
Age: 21
Known For: Same as Law
Famous Parent: Daniel Day-Lewis
Instagram Followers: 50,700
Kane has been modeling for a few years now, but really consider music his true passions. "Songwriting has helped me get through some turmoil and the harder parts of my life," he told W once.
Age: 19
Known For: Modeling
Instagram Followers: 305,000
Sabbat got his start in modeling after getting street cast in a Hood By Air shoot. He soon found himself working other shoots, and was introduced to Kanye West by Virgil Abloh. He's also since amassed a large Instagram following as one of the platform's premiere cool teens.