Zendaya's Stylist Trolled Who Wore It Better Stories to Make Her a Household Name
Her stylist worked the system to make her a household name.
---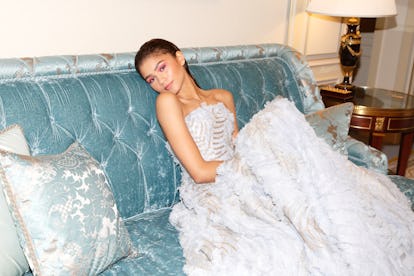 Photo by Mireya Acierto.
In a world where females are not only often singled out for their clothing choices—see: the #AskHerMore red carpet movement—but also pitted against each other for it, Zendaya has reworked the system to her advantage. Specifically, the Who Wore It Better series, a prime example of the sexism women in the entertainment industry endure around their clothing choices. Back before the actress and singer was a household name, her stylist employed a clever way of raising her profile.
Law Roach, who has been working with Zendaya for the past eight years, used the Who Wore It Better feature strategically so she'd become a media fixture and, therefore, more brands would be vying to dress her. "Nobody wanted to dress her when she wasn't known," he told The Guardian in an interview, "so I would put her in things that other people had already worn." Not long after, "people started to know her name."
For example, back in 2012, Zendaya wore the same leopard-print dress as Rumer Willis and the same black turtleneck and white frilly skirt combination as Olivia Palermo. The following year Roach was still apparently using the styling trick. That year, she wore the same strapless geometric-print dress as Kylie Jenner and the same pink A-line frock as The Fosters star Cierra Ramirez.
Roach and Zendaya were even seemingly using that strategy in 2015, when she stepped out in an abs-baring jumpsuit with a wide leg that Emily Ratajkowski was also seen wearing. That prompted E! News to ask the outdated question "Who wore it better?"
Interestingly, back in 2014 Roach told Teen Vogue of his styling technique for Zendaya that "I never send her pictures." "We get everything together on the rack and show it to her in the fitting," he said. "It's so amazing because she always goes for my favorite look and I'm like, 'Really?! You have to be kidding me.' It's been that way since the beginning."
He also shared that the biggest styling approach he takes with Zendaya is picking out something that she feels herself in, which clearly comes across in her style evolution. "Whenever we talk about style, we're like, 'We're going to do whatever we want! We don't care about trends!' " he said. "You might see her in some of-the-moment styles, but it's because that just happened to be what she was drawn to."
Related: Exclusive: Stylist Law Roach Shares His Impromptu Parisian Photo Shoot With Zendaya