Ziwe Fumudoh Is Not Trying To Cancel You
Ziwe Fumudoh, the creative mind behind a popular "race-baiting" Instagram Live show, talks cancel culture and taking her show to television.
---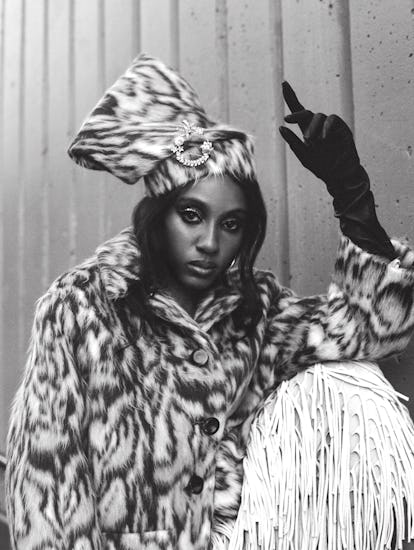 Hair by Walton Nunez for Pattern Beauty; makeup by Remi Odunsi for Vera Moore Cosmetics.
For our annual "The Originals" portfolio, we asked creatives—pioneers in the fields of art, design, fashion, comedy, activism and more—to share their insights on staying true to themselves and pushing the creative envelope in a chaotic year. Read all the Q+As from this year's group here.
You started your comedy show Baited on YouTube. At the start of the Covid-19 pandemic, you moved the concept to Instagram Live, where you now host a weekly talk show with guests who have gotten themselves into hot water, or have been 'canceled' for racist behavior. Could a version of Baited exist as part of the variety show you are going to star in and produce on Showtime? Or is Instagram the key to its success?
My Instagram Live show and Baited are different. The premise of Baited is that I am going to trick people into saying something racist. The Instagram Live show's premise is that I don't need to trick anybody into saying anything racist ever, they will volunteer that information against my will. I think the Instagram Live show is a hit because audiences can engage in real time, and we're all feeling the tension together. It's interactive. The concept of talking about race publicly is naturally taboo in American culture. That's something I'm subverting.
What else are you subverting with your show?
The Instagram Live show is different from Baited, but Baited—the YouTube show—subverts what talk shows are. It satirizes what a celebrity interview means. This show is like, 'Tell me your darkest secret about race.' It's really intrusive and intimate. It's voyeuristic. You feel like you're spying on an intimate dialogue between two friends. That's my intention with the show, to create something that feels both wide to the audience and also acutely intimate, and to subvert how we think of talk shows, late night shows, and media in general.
Do you think your audience can tell how much labor you've put into this project?
I don't know. I ask them to Venmo me for my emotional labor, and they do, so that's always nice. I think that the reason why it's popped off is because people appreciate how I'm adding more nuance to a traditional Instagram Live. At the beginning of the pandemic, every five minutes you'd see someone was going on Instagram Live to talk about the sandwich they had for lunch. My Instagram Live show feels like a full production. I think people appreciate that, but I can't read minds. If I could, I would be rich!
Do you think everyone, at least in America, is inherently racist?
I think if you've been socialized in this country, you've picked up inherent biases. If you've gone through the school system, whether public or private, where you live, what highways are around you, what grocery stores you go to, all that's inherent. In America, education about race is not that nuanced. You're just taught that Martin Luther King, Jr. is great and Robert E. Lee is not that nice. But there is obviously more nuance than being a Klan member or not.
Have you ever gotten in trouble for anything you've said online, or on stage during a performance?
Have I ever been wrong? Yes. People get mad at me all the time. During the summer, I was putting myself in weekly scenarios where I could easily say the wrong thing, and that vulnerability contributes to the show. Being able to be wrong makes the show more valuable and more interesting. I don't know everything. I don't pretend to know everything. Whenever I'm wrong, I just hope that people hold me accountable, ask me to say sorry, and I hope that I can listen and be humble.
You're going to write a book of essays. When do you want to share that with the world?
I think it comes out in winter 2022. That's contractual, I don't have any options. I have to write it, I'm going upstate to remove myself. This, to me, is a vacation. I love writing, I've been writing all my life. So the idea that I get to spend my time sitting and thinking about what thoughts of mine are worth printing sounds like a good time.
How do you define cancel culture?
I don't believe in cancel culture. Who has been canceled? I didn't create the term so I won't define it, but I think that it encompasses too much. On one hand, you can be canceled for tweeting something, or you can be canceled for being a racist, ableist, homophobic, transphobic misogynist. Those are two very different things. My show comes from a place where I'm not really trying to get anyone canceled. I'm just trying to have substantive conversations so my audience can laugh and enjoy themselves and go back to their respective spheres and ask the right questions, and question their own experiences. All of these guests that have been allegedly 'canceled' don't exist in a vacuum. Alison Roman did not invent 'race in food,' she is merely a symptom, not the disease. I'm just trying to create tools for everyone to go back into their ecosystems and learn, but mostly I'm just trying to make people laugh. That's all super heady, but I'm trying to have fun with my homegirls.
Does anyone in your family watch the show?
I recently heard that my aunts like the show. They thought that I was very kind but that I needed to be softer on establishment Democrats, which I appreciated. I think that's good advice. I'm open to all criticism, but please don't DM me.
What is the most original thing about the work that you do?
My Instagram Live show and Baited both pull from things that already exist: Andy Cohen's Real Housewives reunion episodes, 60 Minutes, comment culture and Xanga and MySpace, and Verzuz. I'm using all that to create something unique and original and specific to my interests, as someone who studied film, African American studies, and poetry, and who is a comedian. I'm bringing comedy to difficult conversations about race. Normally, when people talk about race—for example, during the beginning of the uprising and pandemic—it was like, 'Read this book by Robin and take your medicine and read books about race and you better learn about Black people!' It felt like such a chore. And it's a pleasure to be myself—a Black woman. There are challenges, but ultimately it's a blessing and I'm lucky to have this body and exist as myself. I want to show the pleasure of Blackness. I'm bringing levity and fun to serious topics so they don't feel like you're in detention. This is life. Life is tragedy and life is comedy.
Related: The Originals: 19 Creatives Who Transcend Categorization