Zoë Kravitz Unveils Brunette Pixie Cut
She's taking the trend to a dark place.
---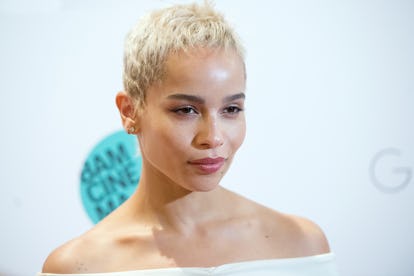 Mike Pont/Getty Images
When it comes to style, Zoë Kravitz can do no harm. Over the past year alone, the actress and singer, perhaps best known for her role as the complex neo-hippie Bonnie Carlson on the HBO miniseries Big Little Lies, has shifted between everything from blonde and brunette to a buzz cut and long braids. Now, she's taken yet another stylistic turn, this time taking the pixie cut trend to a dark place. Today, Kravitz casually posted a close look at her newly brunette hair on Instagram.
"Aaaaaaaaaaaand my coats caught in the door… siiiiiiiickkkkkkkkmkkkkkkk……," she captioned the photo of herself standing outside of a door in a plaid shirt, black jeans, mules and a long black coat that was, indeed, stuck in a door.
While she didn't credit the hair stylist behind her brunette pixie cut, in the past she has been vocal about giving shine to Nikki Nelms, whose clients also include Beyoncé and Solange Knowles, Serena Williams and La La Anthony. "Nikki is like family. She understands and elevates my aesthetic," Kravitz told Vogue about her in January. As Kravitz's Instagram suggests, the pair have worked together since, with Nelms helping the recently appointed YSL beauty ambassador throughout her transition from blonde into brunette.
Naturally, Kravitz made the often-awkward in-between hair color look easy.
From Polished Waves to Bold Pixies, a Look Back at Zoë Kravitz's Ever-Evolving Hairstyles
A young Zoë Kravtiz attends GQ's 50th Anniversary Celebration wearing her long brunette locks in polished waves with a sheer, nude lip. (2007)

Photo by Getty.
At the Fifth Avenue Sunglass Hut flagship store in New York, Kravitz wears her dark brunette shoulder length locks in soft curls.

Photo by Getty.
At the X-Men: First Class New York premiere, the actress wears her highlighted locks with tousled bangs and a subtle taupe smoky eye. (2011)

Photo by Getty.
Debuting her newest do with a chic pixie cut and luminous skin, Kravitz attends the The Dark Knight Rises New York premiere. (2012)

Photo by Getty.
Wearing her brunette locks in a chic french braided up do with a dark smoky cat eye, Kravitz attends the 30th Annual Night Of Stars. (2013)

Photo by Getty.
Kravitz debuts her blonde bob with a sleek cat eye and a stained berry lip at the American Ballet Theatre's 2014 Opening Night Spring Gala.

Photo by Getty.
Back to a brunette, Kravtiz wears her long locks middle-parted with a nude lip at the Guggenheim International Gala Dinner. (2014)

Photo by Getty.
Radiating with glowing, luminous skin and a bold red lip to pair perfectly with her red ensemble, Kravitz attends the 71st Venice Film Festival. (2014)

Photo by Getty.
Wearing an eccentric smoky eye with a creamy, nude lip, Kravtiz attends the Hollywood premiere of Mad Max: Fury Road. (2015)

Photo by Getty.
Wearing her hair in a playful top knot with a hint of blush on the cheeks and a bold lip, Kravtiz arrives at the Allegiant film premiere. (2016)

Photo by Getty.
Back to blonde! Kravtiz wears a low, knotted bun with a sleek cat eye and a baby pink lip at the Big Little Lies Hollywood premiere. (2017)

Photo by Getty.
At the Saint Laurent show during Paris Fashion Week, Kravitz sports a modern cat eye with a natural, nude lip. (2017)

Photo by Getty.
Wearing a classic red lip and a subtle smoky eye, the actress attends the New York premiere of her new film Rough Night. (2017)

Photo by Getty.
Considering it was just four days ago that Kravitz revealed her new post at YSL, her updated look could have something to do with her new role. "So honored to be named @yslbeauty global ?ambassador !!! ❤️," she wrote on Instagram at the time. "Thank you to my @yslbeauty family for allowing me to continue this journey with you. Let's do our best to inspire people to feel beautiful, inside and out!" The role is in addition to Kravitz's other recently announced gig as one of the new face's of Tiffany's.
Regardless of her motivation for going brunette though, one thing is certain: it won't be long before more follow suit. After all, right after she chopped off all of her braids in favor of a blonde buzzed look, the style became one of the year's biggest hair trends. Kristen Stewart aside — who showed off a blonde pixie cut back in March — Cara Delevingne, Emma Roberts, and Katy Perry have also stepped out in the look. Leave it to Kravitz, though, to always stay evolving.
Related: In Defense of Bonnie, Big Little Lies' Very Own Amanda Chantal Bacon
See What's Trending in W Video:
Kathryn Newton, HBO's Next Big Star, Leaves It All in the Ring — And Then, She Gets a Slice of Pie:
How Zoë Kravitz Became the Most Effortlessly Cool Girl In Fashion
A young Kravitz poses with dad Lenny in a floral dress with a bright turquoise bag.

Getty
Kravitz arrives at the 82nd Annual Academy Awards held at Kodak Theatre on March 7, 2010 in Hollywood, California.

Getty
Kravitz attends the premiere of Beware The Gonzo during the 2010 Tribeca Film Festival.

Getty
Kravitz arrives at the 25th Film Independent Spirit Awards held at Nokia Theatre LA Live on March 5, 2010

Getty
Kravitz attends the CHANEL Tribeca Film Festival Dinner in support of the Tribeca Film Festival Artists Awards Program at Odeon on April 28, 2010.

Getty
Kravitz attends the Yelling To The Sky premiere during day three of the 61st Berlin International Film Festival at Berlinale Palace on February 12, 2011.

Getty
Kravitz attends the premiere of Conan The Barbarian on August 11, 2011.

Getty
Kravitz attends Bullet To The Head New York premiere at AMC Lincoln Square Theater on January 29, 2013.

Getty
Kravitz attends the 30th annual Fashion Group International Night of Stars on October 22, 2013.

Getty
Kravitz attends The Union premiere during the 10th annual Tribeca Film Festival on April 20, 2011.

Getty
Kravitz attends the Guggenheim International Gala Dinner made possible by Dior on November 6, 2014.

Getty
Kravitz attends the premiere of Lionsgate's The Hunger Games: Catching Fire at Nokia Theatre L.A. Live on November 18, 2013.

Getty
Kravitz attends the 2014 Film Independent Spirit Awards at Santa Monica Beach on March 1, 2014.

Getty
Kravitz attends the "Charles James: Beyond Fashion" Costume Institute Gala at the Metropolitan Museum of Art on May 5, 2014.

Getty
Kravitz attends the 2015 Vanity Fair Oscar Party hosted by Graydon Carter at the Wallis Annenberg Center for the Performing Arts on February 22, 2015.

Getty
Kravitz attends FENDI celebrates the opening of the New York flagship store on February 13, 2015.

Getty
Kravitz attends "China: Through the Looking Glass", the 2015 Costume Institute Gala, at Metropolitan Museum of Art on May 4, 2015.

Getty
Kravitz arrives at the 22nd Annual ELLE Women In Hollywood Awards at Four Seasons Hotel Los Angeles at Beverly Hills on October 19, 2015.

Getty
Kravitz arrives at the 2016 InStyle And Warner Bros. 73rd Annual Golden Globe Awards Post-Party at The Beverly Hilton Hotel on January 10, 2016.

Getty
Kravitz attends the Vincent N Roxxy Premiere during the 2016 Tribeca Film Festival at Chelsea Bow Tie Cinemas on April 18, 2016.

Getty
Kravitz attends the New York premiere of Allegiant at the AMC Lincoln Square Theater on March 14, 2016.

Getty
Kravitz attends the "Manus x Machina: Fashion In An Age Of Technology" Costume Institute Gala at Metropolitan Museum of Art on May 2, 2016.

Getty
Kravitz attends The 21st Annual Critics' Choice Awards at Barker Hangar on January 17, 2016.

Getty
Kravitz attends the Valentino Haute Couture Fall/Winter 2016-2017 show as part of Paris Fashion Week on July 6, 2016.

Getty
Kravitz arrive at the premiere Of HBO's Big Little Lies at TCL Chinese Theatre on February 7, 2017.

Getty
Kravitz attends 19th Annual amfAR New York Gala- Arrivals at Cipriani Wall Street on February 8, 2017.

Getty
Kravitz attends the Saint Laurent show as part of the Paris Fashion Week Womenswear Fall/Winter 2017/2018 on February 28, 2017.

Getty
Kravitz attends 2017 Whitney Biennial presented by Tiffany & Co at The Whitney Museum of American Art on March 15, 2017.

Getty
Kravitz attends "Rei Kawakubo/Comme des Garcons: Art Of The In-Between" Costume Institute Gala at Metropolitan Museum of Art on May 1, 2017.

Getty
Kravitz attends the Rough Night New York Premeire at AMC Lincoln Square Theater on June 12, 2017.

Getty