Zoë Kravitz Coyly Admits She "Hung Out" With Drake, Whose Love Life is Harder to Keep Up with Than Taylor Swift's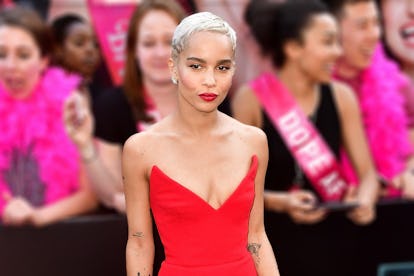 Composite. James Devaney/Getty Images
Drake's love life is harder to keep track of than Taylor Swift's. No one knows that better than Zoë Kravitz, who was rumored to have dated the Canadian heartthrob sometime in 2013. Both Kravitz and Drake have always demurred on their supposed romance when asked about it in subsequent years, but now Kravitz is addressing their sparks on the one and only late-night program where rumors go to die, Watch What Happens Live With Andy Cohen.
When taking calls from viewers during the show's candid call-in segment, Kravitz was asked by a viewer point-blank if she and Drake were ever involved, which stemmed from the duo being spotted at a Beyoncé concert looking cute together.
"We hung out for a minute, but we are very good friends," she responded. Cohen, always one for the hot tea, pressed on for more details: "You hung out, like, mashed a little bit?"
"We hung out a little bit," Kravitz explained with a laugh. "You know, it's like how I hang out, I don't know how you hang out." Oh, Cohen had a feeling what "hang out" entailed. "Well, if I was hanging out with Drake, I know what I'd be doing with him. Let me put it that way," he joked. Kravitz didn't disagree: "He's a cutie!"
Of course, Drake later went to much more high-profile "hang outs" with Rihanna and Jennifer Lopez, who recently made light of their romance during a performance.
Later in her Watch What Happens Live appearance, Kravitz also discussed what it was like to have her Big Little Lies costar Nicole Kidman as her father's fiancé for a short period of time. (Kidman and Lenny Kravitz were a couple in the mid-2000s, but they never married.)
"She was always so, so nice to me, and I hadn't seen her since I was like 13 years old," she explained when asked if it was odd to work alongside Kidman for the HBO miniseries. "But she was always so, so sweet to me, so it was nice to see her again. And she's also very professional, so it was not weird at all."
How Zoë Kravitz Became the Most Effortlessly Cool Girl In Fashion
A young Kravitz poses with dad Lenny in a floral dress with a bright turquoise bag.

Getty
Kravitz arrives at the 82nd Annual Academy Awards held at Kodak Theatre on March 7, 2010 in Hollywood, California.

Getty
Kravitz attends the premiere of Beware The Gonzo during the 2010 Tribeca Film Festival.

Getty
Kravitz arrives at the 25th Film Independent Spirit Awards held at Nokia Theatre LA Live on March 5, 2010

Getty
Kravitz attends the CHANEL Tribeca Film Festival Dinner in support of the Tribeca Film Festival Artists Awards Program at Odeon on April 28, 2010.

Getty
Kravitz attends the Yelling To The Sky premiere during day three of the 61st Berlin International Film Festival at Berlinale Palace on February 12, 2011.

Getty
Kravitz attends the premiere of Conan The Barbarian on August 11, 2011.

Getty
Kravitz attends Bullet To The Head New York premiere at AMC Lincoln Square Theater on January 29, 2013.

Getty
Kravitz attends the 30th annual Fashion Group International Night of Stars on October 22, 2013.

Getty
Kravitz attends The Union premiere during the 10th annual Tribeca Film Festival on April 20, 2011.

Getty
Kravitz attends the Guggenheim International Gala Dinner made possible by Dior on November 6, 2014.

Getty
Kravitz attends the premiere of Lionsgate's The Hunger Games: Catching Fire at Nokia Theatre L.A. Live on November 18, 2013.

Getty
Kravitz attends the 2014 Film Independent Spirit Awards at Santa Monica Beach on March 1, 2014.

Getty
Kravitz attends the "Charles James: Beyond Fashion" Costume Institute Gala at the Metropolitan Museum of Art on May 5, 2014.

Getty
Kravitz attends the 2015 Vanity Fair Oscar Party hosted by Graydon Carter at the Wallis Annenberg Center for the Performing Arts on February 22, 2015.

Getty
Kravitz attends FENDI celebrates the opening of the New York flagship store on February 13, 2015.

Getty
Kravitz attends "China: Through the Looking Glass", the 2015 Costume Institute Gala, at Metropolitan Museum of Art on May 4, 2015.

Getty
Kravitz arrives at the 22nd Annual ELLE Women In Hollywood Awards at Four Seasons Hotel Los Angeles at Beverly Hills on October 19, 2015.

Getty
Kravitz arrives at the 2016 InStyle And Warner Bros. 73rd Annual Golden Globe Awards Post-Party at The Beverly Hilton Hotel on January 10, 2016.

Getty
Kravitz attends the Vincent N Roxxy Premiere during the 2016 Tribeca Film Festival at Chelsea Bow Tie Cinemas on April 18, 2016.

Getty
Kravitz attends the New York premiere of Allegiant at the AMC Lincoln Square Theater on March 14, 2016.

Getty
Kravitz attends the "Manus x Machina: Fashion In An Age Of Technology" Costume Institute Gala at Metropolitan Museum of Art on May 2, 2016.

Getty
Kravitz attends The 21st Annual Critics' Choice Awards at Barker Hangar on January 17, 2016.

Getty
Kravitz attends the Valentino Haute Couture Fall/Winter 2016-2017 show as part of Paris Fashion Week on July 6, 2016.

Getty
Kravitz arrive at the premiere Of HBO's Big Little Lies at TCL Chinese Theatre on February 7, 2017.

Getty
Kravitz attends 19th Annual amfAR New York Gala- Arrivals at Cipriani Wall Street on February 8, 2017.

Getty
Kravitz attends the Saint Laurent show as part of the Paris Fashion Week Womenswear Fall/Winter 2017/2018 on February 28, 2017.

Getty
Kravitz attends 2017 Whitney Biennial presented by Tiffany & Co at The Whitney Museum of American Art on March 15, 2017.

Getty
Kravitz attends "Rei Kawakubo/Comme des Garcons: Art Of The In-Between" Costume Institute Gala at Metropolitan Museum of Art on May 1, 2017.

Getty
Kravitz attends the Rough Night New York Premeire at AMC Lincoln Square Theater on June 12, 2017.

Getty
Related: Zoë Kravitz, Alexander Wang Campaign Star, on Her Party Do's and Don'ts