Surprise: Zoë Kravitz Has Been Secretly Engaged Since February
Zoë Kravitz naturally had the most chill reaction to her boyfriend, Karl Glusman, asking her to marry him in February.
---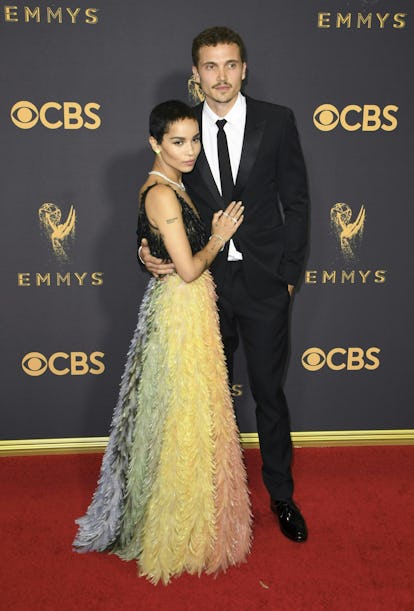 Getty
Zoë Kravitz is probably too good at keeping her private life private. For the 30th anniversary of her mother's Rolling Stone cover in which Lisa Bonet posed nude, wearing nothing but a blouse, Kravitz chose to honor her mom and re-create her iconic pose. But that cover shoot was not the most revealing portion of Kravitz's profile.
In an interview in which Kravitz would not give up too many spoilers for the anticipated second season of Big Little Lies or the latest installment of J.K. Rowling's Fantastic Beasts series, she did let it slip that she and her actor boyfriend, Karl Glusman, are engaged to be married. She was reportedly so nonchalant when she spilled this revelation that it was believed initially to be a joke, until the actress confirmed that she was serious by indicating the engagement ring on her left hand. "I haven't told anyone yet—I mean, I haven't told the world. I wanted to keep it private," she said.
According to Kravitz, the two met at a bar a couple years ago, and one-and-a-half years into the relationship, Glusman asked her to marry him. He'd planned a romantic trip to Paris that included popping the big question, but after their work schedules got in the way, he had to improvise and proposed at home instead. "I was in sweatpants. I think I was a little drunk," Kravitz admitted. "I could feel his heart beating so fast—I was like, 'Baby, are you okay?' I was actually worried about him!" she continued. When Glusman got down on one knee, Kravitz thought he was just stretching to calm himself down, until he pulled out the ring. "I love that it wasn't this elaborate plan in Paris. It was at home, in sweatpants," she said.
Leave it to Kravitz to have the most chill reaction to something as momentous as a proposal. That level of coolness seems to just run in the family.
Related: Zoë Kravitz Would Like to Remind Men She's Not Here to Look Good for Them