An Honest Review of Augustinus Bader's New Retinol Serum
We tried the science-backed skincare brand's latest product, which purports to deliver prescription-level results without the dreaded "retinol uglies."
---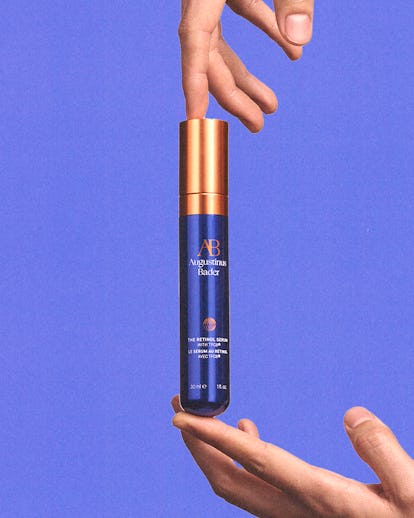 Image courtesy of Augustinus Bader; treatment by Ashley Peña
We may receive a portion of sales if you purchase a product through a link in this article.
Augustinus Bader—which prides itself on creating science-backed skincare products wrapped in ultra-chic, deep blue packaging—is a brand beloved by beauty editors the world over for good reason. Its cleansing balm has practically become the stuff of cult legend, as has its body cream. Now, the label is getting into the retinol game, releasing a serum that purports to deliver the same results as a prescription would, but without the painful acclimation period. Four W editors and contributors set out to see whether that claim actually held truth—or if it was simply a beauty myth.
Andrea Whittle, Features Director
How familiar are you with retinol or Retin-A products?
I've done a fair amount of retinol/retinoid experimentation in my quest for a smooth, clear complexion free from excess oil and fine lines. In the past, I've used various strengths of the Skinceuticals retinol cream (effective with minimal irritation), Differin gel (didn't see any difference), Paula's Choice retinol (solid) and prescription 0.01% tretinoin gel (thought it was going to be a life-changer, ended up with peeling, redness, and cystic acne instead). After my tretinoin experience, I was just about ready to give up on the so-called miracle ingredient in favor of acid exfoliants, which have always worked well for me.
What sorts of associations come up when you think of the Augustinus Bader label?
Like any excellent luxury beauty brand, Augustinus Bader has cultivated an aura of scientific rigor combined with sexy decadence. (The brand's founder is a university professor and an expert on stem cell biology; 50 ml. of their most popular moisturizer goes for $290.) I've used their "The Cream" and body cream before, both of which are lovely and feel fabulous going on. But I'm of the opinion that any solid, straightforward moisturizer will do the job—active ingredients are what you should be spending your skincare budget on.
Describe your experience using the Augustinus Bader retinol serum.
I've been using the retinol serum consistently for 4 weeks, applying it at night between washing my face and putting on moisturizer. For the first week or so, I used it on alternating nights in case it turned out to be irritating, but I didn't develop any redness or dryness, so now it's a nightly thing. I took a brief break when I got a bit of a sunburn after sitting out for too long on an unexpectedly balmy spring afternoon.
Results-wise, it's a pretty remarkable product. My skin has a glassy, even look to it, and the occasional acne I had been dealing with since my last foray into tretinoin has completely cleared. I haven't had to deal with any of the usual "retinol uglies" either—no redness, no peeling, nothing.
Would you use Augustinus Bader's Retinol Serum again?
If money were no object, yes. Realistically, I'll have to see how long this first bottle lasts and then make some calculations as to whether I can fit it into my regular skincare routine. Although, if I were going to recommend that a friend splurge on one thing every few months, this would probably be it.
Eleonore Condo, Contributor
Where did you first hear of Augustinus Bader?
I became keenly aware of the brand when their products were spotted on Kendall Roy's vanity last season on Succession. I researched them at the time and was interested in their formulations, and I liked how scientific the brand felt. I recently started using their balm cleanser, which I really enjoy—it's thick without being goopy and my skin feels super clean afterwards.
Have you used retinol products before?
I have used a couple different retinol products in the past—one my dermatologist had given me, and also Drunk Elephant's Oil. I actually discovered through using retinol that my rosy cheeks are the result of rosacea, which meant I was much more sensitive to actives than I realized. I completely ruined my skin barrier for a bit by over-using retinols and vitamin C, then had to dial it back big time. However, before my skin went nuts, I did notice a lot of clarity and less uneven texture, so I wasn't completely soured on retinol products.
Describe your experience using Augustinus Bader's Retinol Serum.
Because of my past experience with retinol, I was nervous to dive back in, and took things quite slow at the start. Once a week, then twice, then I finally built my way up to every other day. I made sure to use very nourishing after care, like La Roche Posay's Cicaplast Baume, and I was rewarded with great skin! I love how the serum applies; one pump covers my face and neck in a thin layer. I never felt itchy or inflamed and my forehead, which is where I struggle the most with texture, stayed bump-free.
Would you use Augustinus Bader's Retinol Serum again?
I would. Because of my past sensitivity, finding something that works for my skin makes the price tag worth it.
Maxine Wally, Senior Digital Editor
What's your history with retinol products?
I have only ever used prescription Retin-A products because I believe burning off the first layer of your skin is the best way to unveil a fresh, youthful look below. I first used a topical tretinoin while holed up at home in 2020 during quarantine, when I was able to wait out the worst of my red, scaly, inflamed face in the safety of my own home. During that month-or-so period, I suffered from lots of painful sores, the corners of my mouth cracking and bleeding whenever I laughed. But I have to say, once that was all over, I absolutely loved the results (I suppose I had better, huh?). My skin had never looked so clear, so plump, glossy, and filled in. But these days, I don't have a month or so to wait out a new Retin-A cycle—so I was excited to try Augustinus Bader's new retinol to avoid all that suffering.
Are you a fan of Augustinus Bader?
I'm a huge fan of Augustinus Bader's products—especially the lip balm. If you haven't tried it before, it;s well worth the investment. It might be my favorite lip balm I've ever used.
What happened when you used the brand's Retinol Serum?
I used the retinol serum for about a month at night. Given my past experience with tretinoin, I was hesitant to use too much, so I applied a pea-size drop onto my face around twice a week, After I'd dipped my toe in the water, however, I experienced no pain, no redness, no crackling of the skin, so I upped it to four nights a week. I was amazed by the results—I thought to achieve this kind of smooth, even, clear skin, rid of acne (even hormonal!) I had to endure some amount of discomfort. Augustinus Bader has showed me that's not true.
Would you use this product again?
Definitely—but to be honest, I'm not sure I can afford the price tag regularly. I'm going to have to savor every last drop of this bottle and wait a while before I purchase a new one again.
Claire Valentine, Culture Editor
What's your history with retinol products?
I've been dabbling in retinol products for a few years now—first with Paula's Choice 1% retinol serum, then via a prescription cream with just 0.025% of the active ingredient. I'm a redhead with very sensitive skin, so even a tiny bit of vitamin A (or C, for that matter) goes a very long way for me. With the prescription cream, I definitely experienced a lot of peeling and dryness, and though I know you're supposed to stick with it through the so-called "retinol uglies," I can't stand that feeling and gave up after about three weeks of regular use.
Had you heard of the brand Augustinus Bader in the past?
I had heard of Augustinus Bader—whenever there's a science-backed brand on the market, it piques my interest. The price tag kept me from exploring much further, but I was excited to give The Retinol Serum a try, given its promise of a less irritating experience.
So what happened?
Due to my past retinol blues, I started slow with AB's serum, adding a pea-sized amount after my Cos-Rx essence and before hyaluronic acid and moisturizer at night. I did this every other day the whole four weeks, and definitely didn't experience the intense dryness caused by my first few go-arounds with retinol. I did get some mild peeling, but it's to be expected with my skin, and the result so far has been worth it: my face's texture is smoother and my complexion is noticeably more even. I've even been skipping my tinted moisturizer some days and going bare-faced—a revelation!
Would you use Augustinus Bader's Retinol Serum again?
If it fit into my budget, absolutely.