How to Nail Vamp Makeup, According to 5 Beauty Experts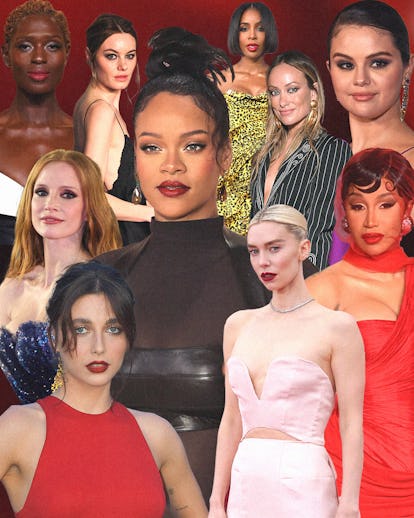 Collage by Ashley Peña
We may receive a portion of sales if you purchase a product through a link in this article.
Put those cheerful hot-pink looks and strawberry girl makeup tutorials aside for now—because sultry, vampy beauty has taken the spotlight. For those who begin their Halloween countdown in January, can never get enough of a smokey eye (even before 5 PM) and are generally more drawn to edgy makeup looks, the dark and deep hues we're seeing on red carpets and spring 2024 runways are a welcome respite from the Barbiecore hysteria that swept the beauty world earlier this year. Veteran makeup artist Jo Baker—who has created breathtaking work for Olivia Wilde, Natasha Lyonne, and Vanessa Kirby—is a huge proponent of the vamp look. "There's something about adding dramatic, contrasting color and an element of eerie tones that always pleases me," she tells W. "The gritty, darker, and often morbid tones mixed with pastels can make the vamp and punk aesthetic feel ultra-modern and wearable."
These revived hues are here to stay through winter—putting Barbie right back in her Malibu Dreamhouse, where she belongs. For those who want to experiment with the vamp look for the first time, here's a tip: richer colors need to be applied often, with precision, and in cohesion with other products, so as to not overpower the face and end up with a look resembling Baby-Jane-meets-Morticia-Adams-meets-Lady-Gaga-at-4-AM. Below, five of the most recognizable names in the beauty industry have shared with us their favorite products and tricks to achieve the vamp look.
Robin Black
"For a chic vampy look, I love Addiction Tokyo's Taste of Life from the Lipstick Extreme Shine collection," says Black, who has worked with Jessica Chastain, Selena Gomez, Jodie Turner Smith, and many more stars. "This translucent, glossy black is a subtle way to add a vampy vibe to your look. Sheer black adds a mysterious and deep neutral tone to the lips that is fierce. (It reminds me of the Chanel black gloss topper, which was one of my favorites.)"
"Also from Addiction is their eye shadow, Bad Card. It's a silky-smooth matte black that is a must-have for any vampy eye look. It's surprisingly difficult to find a good matte black, especially one that doesn't have fallout and is easy to blend."
"For eyeliners, I find that the Sisley Phyto-Khol Star Waterproof in Sparkling Black is superb. Bring the drama with glints of silver in this blackest-of-black eyeliners: I like to create a thick line along the lash line and then smoke it out. (I recommend pairing this product with the Phyto-Eye Twist in Black Diamond for an intense, shimmery look.)"
"Make Beauty also has a beautiful burgundy I like to use often. It's a deep hue with an unusual purplish undertone and a high-shine finish; it's a modern take on the classic vamp lip and works on a wide range of skin tones. This formula also has a great black (Blackout), and for the brave, a really cool royal blue (Magnetic Field)."
"Lastly, never have I ever seen a red shimmering shadow quite like Oden's Eye M012 Leon. The intense pigment is multi chromatic—shifting from the vampiest red to black with a superb shimmer. And I can't forget Chanel Les 4 Ombres in 334 Modern Glamour—an outstanding eye shadow essential for a modern-vamp vibe."
Jo Baker
"Vamp makeup is a year-round, go-to vibe for me, alongside punk-inspired makeup," says Baker, the visionary behind Brie Larson, Gal Gadot, and Lucy Boynton's makeup looks. "I even love the vamp tones you can get even from mixing the two elements of pastels and dark shades together. I almost always use Bakeup's Micro Palm Palette in Desert Road Trip. It has the most universally flattering smokey tone—I would describe it as 'charred': a sultry, sooty tone that suits everyone. The soft, desaturated hues allow you to really build up the shadows for a subtle and/or super vamped up look. Here's a pro tip—add a little Elizabeth Arden 8 Hour Cream on your lids for an old-school makeup artist's trick. It lends an editorial, yummy texture to the look that makes eyes flicker and shine in the night light."
Jillian Dempsey
"Vamp makeup is a cult classic," Dempsey tells W. "It's a very seductive look when executed properly on lips and eyes. The shades are typically tones of deep wine, reddish hues, plum, burgundy, and brown. Any finish will work as far as gloss, sheen, demi-matte or matte. I like to build on layers for this look and start with my Khôl Eyeliner in Rich Brown on the lips. Sketch lightly in the center of your lips and use a finger or dry nylon brush to feather and sketch it out to a light base; this immediately deepens your lips. Then add Ruby Lid Tint or Scarlett Cheek Tint over it with a dot of lip balm and you have a very layered and sexy lip shade."
"If I'm really looking to vamp things up, I'll add in Chanel Longwear Lip Pencil in shade 192, Prune Noir, which is a lovely deep plum. Add in Lisa Eldridge's Velvet Jazz Lipstick, a deeper red. These two mixed together deliver a lovely reddish plum. Feel free to apply even more of the Chanel lip pencil for an even deeper tone."
"For the eyes, use my Jet Black Khôl Eyeliner to gently trace around your upper and lower water line, then use the smudger tool on the end to blend out evenly on both top and bottom lids. Dip into Taupe or Dew Lid Tint and gently move the eyeliner around to give you those sultry eyes. Part of this look is going a little heavier on the lower part of your lids. Lastly, use my new Flyk Trick Mascara as your secret weapon for adjusting and shaping sexy lashes using the newly designed tool on the tip."
Priscilla Ono
"To me, vampire makeup is all about flawless, glistening skin and dark oxblood and burgundy shades for eyes, lips and cheeks," says Ono, who works regularly with Rihanna and Kelly Rowland. "To achieve vampire-like skin, I mix Fenty Beauty Pro Filt'r Soft Matte Longwear Foundation for a soft matte, flawless finish with Fenty Beauty Diamond Bomb All-Over Diamond Veil in How Many Carats?! The combination creates a super-smooth complexion with a glistening finish—reminiscent of your favorite vampire movie!"
"For vampy accents, I like to do a mix on the eyes, lips and cheeks. I always opt for a matte finish in this shade for a more dramatic effect. My favorite for the lips is Fenty Icon Velvet Liquid Lipstick in Wicked Whine—it's a brand-new shade, actually—this gorgeous, deep-wine berry color that looks gorgeous on all skin tones. For the eyes, I love to keep it simple and just line the eye in a mix of red hues so that it really pops and makes an impact against that sparkling skin. I'll combine the Fenty Beauty Flypencil Longwear Pencil Eyeliner in Cherry Punk, a cherry-red matte, and Purp-A-Trader (an eggplant purple matte) for a nice variation in shades. These colors tend to make the whites of the eyes really stand out."
Alexandra French
"When it comes to vampy eyeliner, I prefer MAC's Brush Stroke 24-hour Liner," says French, whose client list includes Alexa Demie, Nicola Peltz Beckham, and Dove Cameron. "I love this long-wear eyeliner for a more precise makeup moment. The formula glides on and is easy to clean up with a pointed Q-tip or concealer, making it super user-friendly. And the fine-point felt tip applicator makes it easy to do inner corner, snatched eyeliner."
"For a shadow that complements the dark lipstick look, I love pairing a shimmery nude, matte mauve, a bold silver, or even a touch of sparkle to a deep lip. My favorite product (that would work on any skin tone!) is MAC Dazzleshadow Extreme in Discotheque, which is just pure sparkle. For lighter skin, I love the MAC Pro Longwear Paint Pot in a shade like Cool Taupe; for darker skin, I like a matching, matte, neutral eye shadow, or something glittery—like the Dazzle Show Liquid in Diamond Crumbles."
"At the moment, I am obsessed with anything sparkly as a highlighter, so the MAC Glitter in Reflects Bronze or Reflects Transparent Pink are so beautiful on the cheekbones and give a little hint of color. Just dab some over your foundation with your finger. If you're looking for something more velvety, the Extra Dimension Skin Finish highlighters are perfect for every skin tone. My favorite foundation for a dark matte lip would be something skin-like and dewy. I love MAC Studio Radiance Face & Body exactly for this!"
"When it comes to lipsticks, there are so many ways to wear a bold and vampy lip. If you're looking for a matte lip, I recommend MAC Locked Kiss Ink 24-Hour Lip Color in Vixen. For a satin finish, I love Satin Lipstick in Film Noir."