Olivia Wilde Has Always Been a Saint Laurent Woman
An evening in Paris with the director, producer, and actor.
---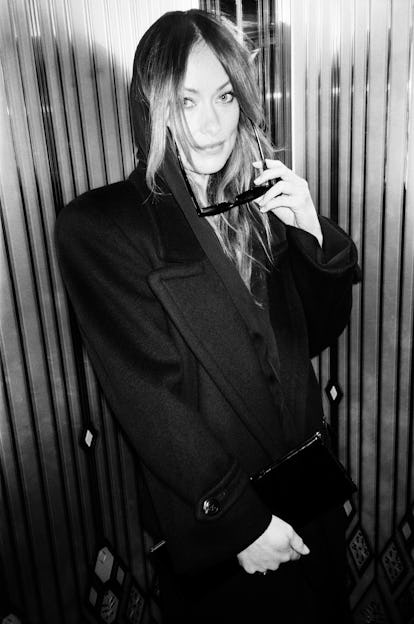 Photograph by Adrien Dantou
As of 1 AM on March 1, Olivia Wilde's Saint Laurent hooded blouse was affixed firmly to the top of her head "with extremely powerful glue," according to the director, actor, and producer's Instagram Story from the evening (the post served as "proof of life," she wrote). Earlier that day, Wilde had touched down in Paris for a whirlwind 24 hours of fashion shows—including her main event, sitting front row at Anthony Vaccarello's fall 2023 presentation.
She took in the designer's latest collection for Saint Laurent—a celebration of 1980s power dressing for today's woman—while wearing a combination of spring 2023 and fall 2023's most distinct highlights. The aforementioned hooded gown, à la Grace Jones, was the centerpiece of Saint Laurent's previous season (Wilde's was jet black, like the rest of her outfit). And her black coat and super-mini skirt heralded the latest look of Vaccarello's fall 2023 vision—an oversize jacket with bold, exaggerated shoulders, and a slim silhouette on the bottom. But, as Wilde told W in an e-mail interview following the show, "I would have worn an old suitcase with the legs cut out if [Saint Laurent] asked me to." Instead, the selection process for her show look went more like this: "They actually sent a few looks to choose from," Wilde says. "I loved them all so much that I brought a few options and decided on the day to wear the sheer (and I mean sheer) hooded black silk pajama look with the gorgeous trench coat with the major shoulders. I was so happy in it all night." Below, Wilde shares her photo diary from the star-studded evening in Paris, along with some musings on her own personal style.
What is your first memory of Saint Laurent? Do you remember the first item you purchased from the brand?
I had Helmut Newton's photograph of the woman in the YSL smoking jacket up on my dorm room wall when I was a teenager. I wanted to be that woman—unapologetically powerful and elegant.
Photograph by Adrien Dantou
Photograph by Adrien Dantou
How does your approach to getting dressed on an off-day differ from choosing an outfit for a special event like this one?
Today is a day off, and I'm wearing a sweater and black tights. I think I probably won't change or leave the house until dinner. What a difference a day makes.
What was your style like as a teenager?
I dressed like Johnny Lee Hooker had a baby with John Belushi. But I think I was going for a Françoise Hardy thing in my head? Lots of corduroy bell bottom suits. Probably too many sweatshirts. Vintage jeans were a real passion of mine. I felt like I had a gift of identifying great denim. When I look back at photos now, I'm not so sure. But I was an individual, which I'm proud of. Always a weirdo.
Photograph by Adrien Dantou
Photograph by Adrien Dantou
Photograph by Adrien Dantou
Photograph by Adrien Dantou
How would you describe your personal style now and how has it evolved over time?
It depends where I am. In L.A., I wear jeans and a t-shirt every single day and night. Everywhere else, I seem to put more effort in. But in general, I'm very easy when it comes to style. No fuss. I love good knits (I own a pretty fantastic and insane amount of La Ligne sweaters) and appreciate a great coat (I still have my black shearling Acne coats, which might weigh 4,000 pounds) and find a way to wear sneakers with everything. But I am also very happy in my Khaite boots (a worthwhile splurge).
What styles and silhouettes do you generally favor? Are there any styles you tend to avoid?
I love a strong shoulder, a flared pant, and a seriously deep, low neck. I admire effortlessness and simplicity in fashion. I avoid fussiness.
Photograph by Adrien Dantou
Photograph by Adrien Dantou
Do you have a fashion pet peeve?
A lack of pockets.
Who is a current-day public figure whose style sensibilities have caught your attention?
I love Adwoa Aboah, and just finally met her at the Saint Laurent last night. She is fantastic and always so chic.
Do you have any fashion regrets?
I don't have any regrets.
What's in store for 2023?
"Work work work work work" —Her Majesty, Rihanna.