Zendaya and Emily Ratajkowski Show Off the Season's Hottest Hairstyle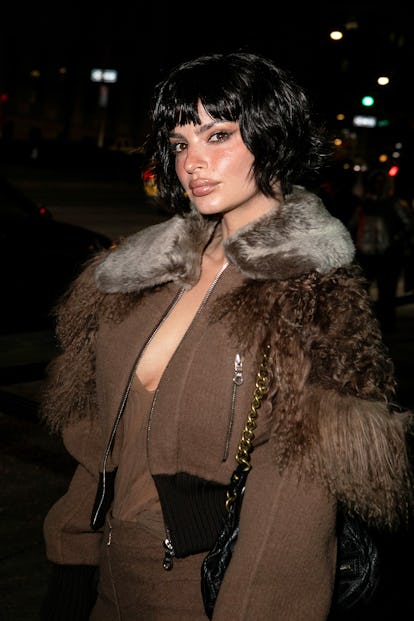 Hippolyte Petit/Getty Images Entertainment/Getty Images
It's official, bobs are the cut of the season. Hailey Bieber kicked off the trend last month when she chopped her light brown hair to a shoulder-skimming length, but she isn't the only one to try a new look on for size. Zendaya, too, has been experimenting with shorter styles as of late, and Emily Ratajkowski took the opportunity of the Marc Jacobs show on Thursday night to test out a whole new 'do.
To be fair, Zendaya originally debuted a short cut back in December at a Euphoria FYC event, so really, she should be the one credited for the resurgence of the style. On Thursday, though, the actress took to Instagram to show that she has maintained the short length, while simultaneously changing up the hue a bit. Wearing an orange and red Issey Miyake high neck top, Zendaya showed off a curly bob in a very light brown, almost blonde hue.
It doesn't seem like the actress is currently working on any projects, as her two upcoming films Challengers and Dune: Part Two have wrapped filming. There are murmurs that Euphoria season three begins production this month, so it's possible Zendaya is just having some fun with her hair before she has to don Rue's long locks. Or, maybe, Rue is trying out a new, shorter look for the new season.
And while Zendaya went lighter, Ratajkowski opted for darker, showing up to Marc Jacob's fall 2023 show with an almost-black chin length bob. Now, Ratajkowski's look is likely a wig, inspired by the gothic aesthetic of the show, but that doesn't make it any less exciting. The model, who has almost always had dark brown long locks, looks great with this new length, and should consider making the permanent chop.