Allison Williams Is Self-Aware About The Nepo Baby Allegations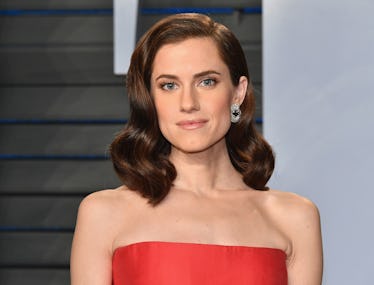 Dia Dipasupil/Getty Images Entertainment/Getty Images
The nepo baby discourse, brought on by TikTok sleuths discovering indie singers' parents names were blue on Wikipedia, New York Magazine's tongue-in-cheek investigative report, and apparently, a lack of anything else to talk about, is flourishing. Those who qualify for the undesirable title have been outing themselves from the woodwork, posting their own defenses of why they deserve their vaulted positions no thanks to their famous or otherwise connected parents.
Not Allison Williams, though. Best known for exemplifying entitled millennial cringe as Marnie on HBO's Girls, Williams is also the daughter of former NBC anchor Brian Williams, a fact that contributed to the lack of separation between herself and her annoying character in the public's perception when the show was airing from 2012-2017. Since then, Williams has chosen roles that subvert audience expectations of her elite WASP vibe, most notably as the psychopathic white supremacist Rose in Get Out.
In promoting her most recent horror project, as the genius scientist Gemma who creates an AI monster doll in M3GAN, Williams has been quick to bring up the nepo baby discourse that she is inevitably part of. And unlike the other children of famouses who have made things worse by denouncing any leg up they may have gotten thanks to their pedigree, Williams has a satisfyingly self-aware take on her situation.
"All that people are looking for is an acknowledgement that it's not a level playing field," Williams recently told Vulture. "It's just unfair. Period, end of the story, and no one's really working that hard to make it fair. To not acknowledge that me getting started as an actress versus someone with zero connections isn't the same — it's ludicrous. It doesn't take anything away from the work that I've done. It just means that it's not as fun to root for me."
She also acknowledged to Town & Country, "For someone with no connections to our business to get to the place where I was able to start, skill aside—that's what people mean. And that's legitimate."
Additionally, Williams is hyperaware that there are still those, somehow, who can't separate her from Marnie.
"It's horrifying to me. How could you play Marnie for all those years and not be in on the joke?" she said. "Just straight-faced singing that Kanye song without knowing that there was anything wrong with it? Listen, if people think that's who I am — fascinating. What the younger version of me would've felt at that suggestion is panic that I can't tell all of them who I am. But that instinct, of wanting to control that idea of me in this mind of a stranger that I'll never meet, is something that falls off of you with age but doesn't disappear entirely. I wish it did!"