Amal Clooney Has Reportedly Been Helping Meghan Markle "Settle Into London Life"
They have a "very natural friendship."
---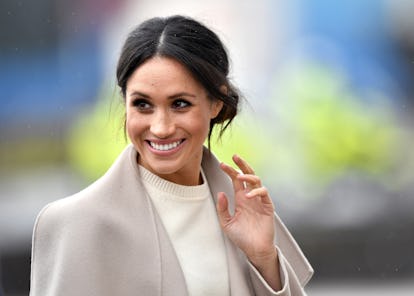 Charles McQuillan/Getty Images
When Meghan Markle moved to London to be with now-husband Prince Harry, she left many of her friends and family. And though she made this move in the name of love and appears to be getting along rather well with the royal family, that doesn't mean she didn't need to find some new friends outside the palace. Enter Amal Clooney: According to People, the London-based human rights lawyer has taken the duchess of Sussex under her wing, helping her assimilate to her new life in perhaps the brightest spotlight in the U.K.
"Meghan and Amal have known each other for a while [and share] many interests," a source told People. "Amal has been helping Meghan settle into London life," the source added. "It was a very natural friendship from day one." Indeed, their friendship makes sense. Clooney, 40, and Markle, 36, both had self-sufficient careers before marrying powerful and famous men; they both have ties to Hollywood, Markle through her career as a star on Suits and Clooney via her aforementioned famous husband; and they've both taken the fashion world by storm in recent years. Honestly, longer-lasting friendships have been built on much less.
And this friendship comes with its perks: Earlier this month, Amal and George Clooney landed a highly coveted invitation to the royal wedding and its subsequent, even more exclusive evening reception. The Clooneys were among the best-dressed at the day's ceremony, with Amal in a bright yellow Stella McCartney dress with matching netted hat and George in a dapper gray suit and a yellow striped tie and pocket square to coordinate with his wife. Later, at the afterparty, George reportedly stole a dance with Markle (though he was reportedly snubbed by one of her new in-laws, Sarah "Fergie" Ferguson).
Markle apparently has also benefited from her newfound friendship with Clooney. Besides gaining something of a mentor mom of two Amal, Markle has also reportedly gained a new member of her glam team from Clooney. Last month, Spanish-born stylist Miguel Perez confirmed to The Mail on Sunday that Clooney had introduced him to Markle. "Yes, I do Meghan's hair," he said. "I do Amal's, and Meghan is friends with her. I also do George's, I do the whole family. Amal put Meghan and me together when she moved here [to London]. I do her color, her cut, and her styling." This friendship is what we call a win-win.
Related: Royal Wedding 2018: See the 10 Best Dressed Guests, From Amal Clooney to Troian Bellisario
Royal Wedding 2018: See the 10 Best Dressed Guests, From Amal Clooney to Troian Bellisario
Oprah Winfrey in Stella McCartney arrives at St George's Chapel at Windsor Castle before the wedding of Prince Harry to Meghan Markle on May 19, 2018 in Windsor, England.

WPA Pool/Getty Images
Sofia Wellesley arrives for the wedding ceremony of Britain's Prince Harry, Duke of Sussex and US actress Meghan Markle at St George's Chapel, Windsor Castle, in Windsor, on May 19, 2018.

CHRIS RADBURN
Carey Mulligan in Erdem arrives at St George's Chapel at Windsor Castle before the wedding of Prince Harry to Meghan Markle on May 19, 2018 in Windsor, England.

WPA Pool
Lady Kitty Spencer arrives at St George's Chapel at Windsor Castle before the wedding of Prince Harry to Meghan Markle on May 19, 2018 in Windsor, England. (Photo by Ian West – WPA Pool/Getty Images)

WPA Pool
Victoria Beckham arrives for the wedding ceremony of Britain's Prince Harry and US actress Meghan Markle at St George's Chapel, Windsor Castle on May 19, 2018 in Windsor, England.

WPA Pool
Troian Bellisario arrives at St George's Chapel at Windsor Castle before the wedding of Prince Harry to Meghan Markle on May 19, 2018 in Windsor, England.

WPA Pool
Amal Clooney arrive at St George's Chapel at Windsor Castle before the wedding of Prince Harry to Meghan Markle on May 19, 2018 in Windsor, England.

WPA Pool
Abigail Spencer and Priyanka Chopra arrive at the wedding of Prince Harry to Ms Meghan Markle at St George's Chapel, Windsor Castle on May 19, 2018 in Windsor, England.

Chris Jackson
Serena Williams, in Versace, arrives at St George's Chapel at Windsor Castle before the wedding of Prince Harry to Meghan Markle on May 19, 2018 in Windsor, England.

WPA Pool