George Clooney Dances With Meghan Markle, Is "Snubbed" by Fergie at the Royal Wedding
Much to the amusement of the royal wedding guests.
---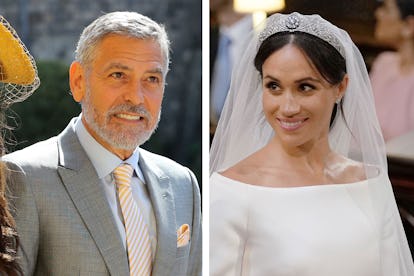 Composite. Getty Images
Breaking: George Clooney—the man who's had women falling at his feet since the ER days, was named People's "Sexiest Man Alive" twice, and is now married to one of the most beautiful and brilliant women on the planet—was reportedly turned down for a dance at the royal wedding. While even the bride herself, Meghan Markle, was willing to leave her prince's side for a few minutes to boogie with Clooney, there was one royal who reportedly refused the offer to hit the dance floor with the categorically handsome actor. According to The Mirror, Clooney asked Sarah "Fergie" Ferguson to dance and was promptly denied.
"Fergie snubbed him when he asked her to dance, much to the ­amusement of other guests," The Mirror wrote of the heiress's response to the legendary Hollywood heartthrob.
Thankfully, there was plenty more excitement going on at the reception that the moment was likely quickly forgotten. While Markle's Suits costars didn't get the nod for the evening portion event, other notable guests included David and Victoria Beckham, Serena Williams, James Corden, Idris Elba, Amal Clooney, and Priyanka Chopra, The Mirror reports. And despite the Clooney–Fergie drama, it sounds like there was still plenty of fun to be had on the dance floor.
When it came time for their first dance, Meghan and Harry reportedly shirked tradition and instead of a slow song, played Whitney Houston's "I Wanna Dance With Somebody." "It wasn't ­traditional in the slightest. They went into a bit of a jive and a lindy hop," one of the guests told The Mirror. At one point in the night, Idris Elba reportedly took over the turntables and played some Luther Vandross.
Though it sounds like Fergie spent the evening a bit buttoned up, that wasn't the case for most of the people at Frogmore House on Saturday night. "It was informal and a lovely atmosphere," one guest shared. "The whole evening had a really chilled, festival vibe."
Related: Is Sarah Ferguson Finally Ready For Her Royal Comeback?