And Just Like That... Season 3 Is Officially Happening
Looks like Carrie's "Last Supper" party in season two won't be the final farewell after all.
---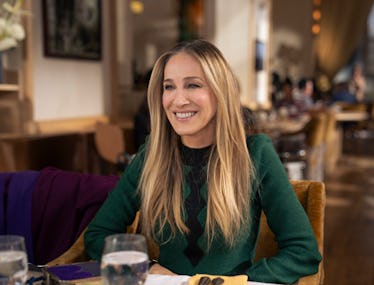 Photograph by Craig Blankenhorn/Max
And just like that, we're back for another season of Max's Sex and the City sequel, And Just Like That. The series has been renewed for a third installment ahead of its season two finale, which notably is set to include a cameo (albeit via phone call) from Kim Cattrall as Samantha Jones, the sex-positive publicist and erstwhile best friend of Carrie who hasn't returned to the series full time due to her real-life issues with the cast and production.
Like the original Sex and the City series, which aired on HBO from 1998-2004, And Just Like That has generated tireless discourse since it first debuted in 2021. The show's attempts to update itself for a new era—one that doesn't totally center on white, straight women and their relationships—has resulted in a handful of new main characters, some who are fan-favorite characters (like Sarita Choudhury's independent real estate broker Seema Patel) as well as those who both social media and professional critics might call more heavy-handed representations (like Miranda's nonbinary love interest Che Diaz, played by Sara Ramírez).
In the formal announcement on August 22, executive producer Michael Patrick King stated, "We are thrilled to spend more time in the 'Sex And The City' universe telling new stories about the lives of these relatable and aspirational characters played by these amazing actors. And Just Like That… here comes season three."
The Sarah Jessica Parker-led series has also, of course, brought back the fashion it's known for, along with the continuation of her decades-long love triangle with the now-deceased Mr. Big (Christopher Noth) and furniture maker Aidan Shaw (John Corbett).
Stay tuned for more updates on season three of And Just Like That.