Bella Hadid and The Weeknd Spent the Night Kissing in Cannes
Yes, there are grainy paparazzi photos to prove it.
---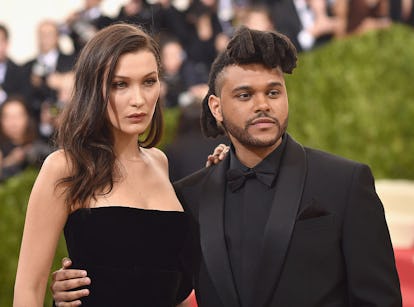 Dimitrios Kambouris/Getty Images
Practically as soon as she had the 10-pound veil that was sewn to her head for the Met Gala removed, Bella Hadid took off for the Cannes Film Festival in the South of France for an "unveiling" of her new collaboration with Alexander Wang and, um, Magnum ice cream. Also in town, it turned out, was The Weeknd, aka Abel Tesfaye, aka Hadid's ex-boyfriend, who's been extra emotional about his recent breakups with her and Selena Gomez as of late.
Rather than awkwardly avoiding each other, the pair actually spent most of the night together—two hours, to be precise—at the Magnum x Alexander Wang party that was the site of their reunion. Their hang-out also included sitting down for a real conversation, which, in the midst of a party, of course necessitated them leaning in to hear each other. Convenient, since the next thing they did was (gasp!) kiss. According to the Los Angeles Times, which even fastidiously noted their exact arrival times, they actually kissed "intermittently" throughout the night. (In case you were wondering, they also sat on each other's laps.)
Yes, there are Instagrams and ultra-zoomed-in, grainy paparazzi photos to prove it, which is pretty much the only way such an intimate (and public) reunion between the pair seems believable. Sure, they've repeatedly made the obligatory insistences that they're just friends since they broke up in 2016, but Tesfaye has also had a highly emotional relationship with Selena Gomez since then, whom he appeared to tear up about while performing at Coachella last month. Then, a few days later, rumors started circulating that he was "definitely dating" the DJ and model Chantel Jeffries.
On the other hand, there's an explicit line in his new EP that is almost certainly directed at Hadid, who planned on competing in horseback riding at the Olympics: "I hope you know this dick is still an option … You were equestrian, so ride it like a champion." (Yep.) And even though he seemed to be thinking deeply about Gomez at Coachella, he also spent some of his time at the festival with Hadid, where they were allegedly spotted "kissing all night." (Hadid later cheekily denied this on Instagram by commenting "it wasn't me" with a shrugging emoji on a post about the rumors.)
Anyway! Neither instance, of course, means they're actually back together. After all, who can blame anyone for wanting to get flirty while partying on the beach in Cannes?
Related: A Breakdown of The Weeknd's Most Emo Lyrics About Selena Gomez and Bella Hadid on His New EP
Bella Hadid Is the Reigning Queen Of Model Off-Duty Style
Bella Hadid is seen walking in Soho on June 30, 2016 in New York City.

Getty
Bella Hadid leaves the 'L'Avenue' restaurant on October 28, 2016 in Paris, France.

Getty
Bella Hadid is seen in Soho on November 14, 2016 in New York City.

Getty
Bella Hadid is seen in Midtown on February 14, 2017 in New York City.

Getty
Bella Hadid arrives at a party on February 28, 2017 in Paris, France.

Getty
Bella Hadid leaves her hotel on March 1, 2017 in Paris, France.

Getty
Bella Hadid is seen on January 21, 2017 in Paris, France.

Getty
Bella Hadid is seen in the East Village on November 18, 2016 in New York City.

Getty
Bella Hadid leaves the 'RIMOWA' boutique in Rue du Faubourg Saint Honore on March 6, 2017 in Paris, France.

Getty
Bella Hadid is seen at Chelsea Piers on March 30, 2017 in New York City.

Getty
Bella Hadid is seen leaving her apartment in the East Village on April 5, 2017 in New York City.

Getty
Bella Hadid seen on the streets of Manhattan on April 5, 2017 in New York City.

Getty
Bella Hadid on a night out at Sexy Fish restaurant in Mayfair on April 19, 2017 in London, England.

Getty
Bella Hadid is seen in the East Village on April 25, 2017 in New York City.

Getty
Bella Hadid is seen the East Village on April 29, 2017 in New York City.

Getty
Bella Hadid is spotted during the 70th annual Cannes Film Festival on May 17, 2017 in Cannes, France.

Getty
Bella Hadid is seen in Chelsea on May 4, 2017 in New York City.

Getty
Bella Hadid is spotted at the Majestic Hotel during the 70th annual Cannes Film Festival at on May 20, 2017 in Cannes, France.

Getty
Bella Hadid is seen in NoHo on May 10, 2017 in New York City.

Getty
Bella Hadid enters a Noho apartment on June 06, 2017 in New York City.

Getty
Bella Hadid is seen at 'L'Avenue' restaurant on June 9, 2017 in Paris, France.

Getty
Bella Hadid is spotted at the 'Majestic' hotel during the 70th annual Cannes Film Festival at on May 27, 2017 in Cannes, France.

Getty
Bella Hadid is spotted at Airport Roissy Charles de Gaulle airport on June 11, 2017 in Paris, France.

Getty
Bella Hadid is seen in the East Village on June 12, 2017 in New York City.

Getty
Bella Hadid seen on the streets of Manhattan on June 13, 2017 in New York City.

Getty
Bella Hadid is seen at LAX on June 21, 2017 in Los Angeles, California.

Getty
Bella Hadid seen out in Manhattan on July 17, 2017 in New York City.

Getty
Bella Hadid is seen in Paris, France, on June 3, 2017.

Getty
Bella Hadid is seen walking in Soho on July 19, 2017 in New York City.

Getty
Bella Hadid is seen on August 26, 2017 in New York City. (Photo by Ignat/Bauer-Griffin/GC Images)

Ignat/Bauer-Griffin