Cardi B Just Delivered the Best Red Carpet Interview of the 2018 Grammys
This is an artist at work.
---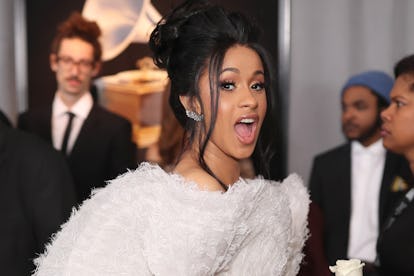 Christopher Polk
Red carpet interviews are usually a nonstop procession of cringe, but not when Cardi B is the subject.
In an interview with E! Live's Giuliana Rancic on the red carpet at the 2018 Grammy Awards, the Grammy-nominated rapper delivered endless one-liners and GIF-able moments while maneuvering around an interviewer who was clearly at a loss. "I'm feeling good, I'm feeling nervous, overwhelmed, everything. I feel a bit of—whoo!—butterflies in my stomach and vagina," she began.
In response, Rancic starred, totally stunned, before uttering an "OK" and an "I love you."
Rancic complimented Cardi B on her lack of filter, to which Cardi B responded, "I love it too. Sometimes it gets me in trouble, whoever's in there," she quipped, gesturing to her head. "I know for a fact that all the teachers in kindergarten to high school, I know they all remember me. I know they don't [forget me] because they always say, 'You're so special, we've seen you somewhere,' and it's just like, 'OK, but like, are you going to pass me?' "
The rapper, who upstaged everyone on the red carpet, including Lady Gaga, in a sculptural, strapless dress by London-based fashion brand Ashish, continued to field Rancic's line of inquiry with aplomb. In response to a question about the rumors she inspires, she replied, "It's like everybody always talking about there's someone got a problem with me, or somebody always saying that I'm pregnant every two weeks, so it's just like, if y'all wanna know, ask me. I'll tell you."
Elsewhere in the interview, Cardi B revealed that she is taking a break from reading stories about herself on gossip sites ("I haven't replied back to no bad comments like in five days") and that she's delaying her marriage to fiancé Offset due to an impending album drop. She wrapped things up by sharing some advice for fans ("People always want to tell you how to do it—no, do it your way") before dropping the most quotable moment of the night.
"It makes me feel good," she said, about her engagement. "You know how when you get into bad arguments, you'll be like, 'Do he really love me?' I'll be like, 'He bought me a half a million dollar ring. Yeah, he does.'"
Related: Cardi B Has Every Right To Want To Win A Grammy
Grammys 2018: See Lady Gaga, Cardi B, and More of the Biggest Stars in Music on the Red Carpet
Lady Gaga attends the 60th Annual GRAMMY Awards at Madison Square Garden on January 28, 2018 in New York City. (Photo by Kevin Mazur/Getty Images for NARAS)

Kevin Mazur
Cardi B attends the 60th Annual GRAMMY Awards at Madison Square Garden on January 28, 2018 in New York City. (Photo by Kevin Mazur/Getty Images for NARAS)

Kevin Mazur
Lana Del Rey attends the 60th Annual GRAMMY Awards at Madison Square Garden on January 28, 2018 in New York City. (Photo by John Shearer/Getty Images)

John Shearer
Camila Cabello attends the 60th Annual GRAMMY Awards at Madison Square Garden on January 28, 2018 in New York City. (Photo by Steve Granitz/WireImage)

Steve Granitz
SZA attends the 60th Annual GRAMMY Awards at Madison Square Garden on January 28, 2018 in New York City. (Photo by Lester Cohen/Getty Images for NARAS)

Lester Cohen
Jaden Smith attends the 60th Annual GRAMMY Awards at Madison Square Garden on January 28, 2018 in New York City. (Photo by John Shearer/Getty Images)

John Shearer
Kesha attends the 60th Annual GRAMMY Awards at Madison Square Garden on January 28, 2018 in New York City. (Photo by John Shearer/Getty Images)

John Shearer
Janelle Monae attends the 60th Annual GRAMMY Awards at Madison Square Garden on January 28, 2018 in New York City. (Photo by Jamie McCarthy/Getty Images)

Jamie McCarthy
Elton John attends the 60th Annual GRAMMY Awards at Madison Square Garden on January 28, 2018 in New York City. (Photo by Kevin Mazur/Getty Images for NARAS)

Kevin Mazur/Getty Images
Kelly Clarkson carries a white rose at the 60th Annual GRAMMY Awards at Madison Square Garden on January 28, 2018 in New York City. (Photo by Kevin Mazur/Getty Images for NARAS)

Kevin Mazur
Tyler, the Creator attends the 60th Annual GRAMMY Awards at Madison Square Garden on January 28, 2018 in New York City. (Photo by Jamie McCarthy/Getty Images)

Jamie McCarthy
Rita Ora attends the 60th Annual GRAMMY Awards at Madison Square Garden on January 28, 2018 in New York City. (Photo by Kevin Mazur/Getty Images for NARAS)

Kevin Mazur
Pink with her daughter Willow Sage Hart attend the 60th Annual GRAMMY Awards at Madison Square Garden on January 28, 2018 in New York City. (Photo by Lester Cohen/Getty Images for NARAS)

Lester Cohen
Cyndi Lauper attends the 60th Annual GRAMMY Awards at Madison Square Garden on January 28, 2018 in New York City. (Photo by Christopher Polk/Getty Images for NARAS)

Christopher Polk
Nick Jonas attends the 60th Annual GRAMMY Awards at Madison Square Garden on January 28, 2018 in New York City. (Photo by Jamie McCarthy/Getty Images)

Jamie McCarthy
Hailee Steinfeld attends the 60th Annual GRAMMY Awards at Madison Square Garden on January 28, 2018 in New York City. (Photo by Kevin Mazur/Getty Images for NARAS)

Kevin Mazur
DJ Khaled and his son Assad attends the 60th Annual GRAMMY Awards at Madison Square Garden on January 28, 2018 in New York City. (Photo by Lester Cohen/Getty Images for NARAS)

Lester Cohen
Miley Cyrus carries a white rose at the 60th Grammy Awards on January 28, 2018, in New York. (ANGELA WEISS/AFP/Getty Images)

ANGELA WEISS