Courteney Cox Clarifies Her Trippy Cameo in Prince Harry's Memoir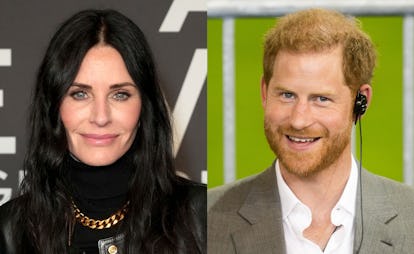 Kevin Mazur/Getty Images for CELINE/Samir Hussein/WireImage
Courteney Cox would like to set the record straight about one of the headline-making revelations that came from Prince Harry's recently-released memoir. No, she's not commenting on his "frostbitten penis," nor his alleged physical altercation with William. Cox is more focused on the mushrooms.
In Spare, Harry wrote about a time when he was staying at the Friends actress' house in early 2016 and found some mushroom chocolates in the fridge. "Somebody behind me said they were for everybody," he wrote in the book. "Help yourself, boys. My mate and I grabbed several, gobbled them, washed them down with tequila." Not long after, Harry found himself in the bathroom as the mushrooms kicked in.
"Beside the toilet was a round silver bin, the kind with a foot pedal to open the lid," he said. "I started at the bin. It started back. What—staring? I stepped on the pedal. A huge open grin. Now the loo became a head too. The bowl was its gaping me, the hinges of the seat were its piercing silver eyes. It said: Aaah."
A comical, if not strange moment in a book filled with dark and depressing details, and Cox seems pleased to have played a (small) role in it. "He did stay here for a couple of days—probably two or three," she said in a recent interview with Variety. As for the mushrooms, she's not confirming anything, other than that she didn't directly give them to Harry. "I'm not saying there were mushrooms!" she said. "I definitely wasn't passing them out." Cox admitted she hasn't read the book yet (if she had, she'd know Harry admits to nabbing the mushrooms from her fridge), but she wants to check it out. "I've heard it's really entertaining."
The actress also revealed she recently saw the Prince at a birthday party, but didn't go up to him as he was in conversation with other people at the time. Maybe next time, though, she'll invite him over again to hang out with his loo pal.