Diversity in Fashion Is at a Peak With Fall 2017 Print Ads
A new report reveals that fashion is becoming a more inclusive place.
---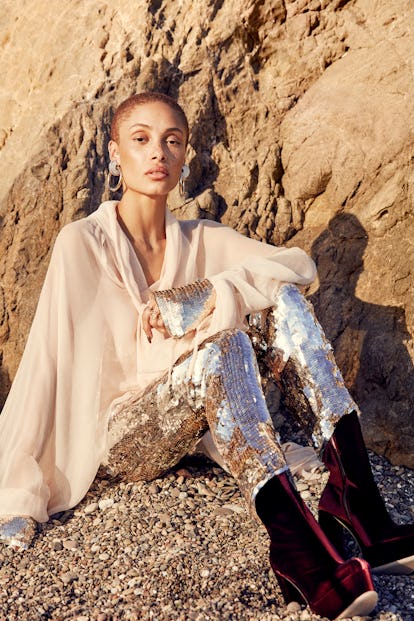 Photographer: Olivia Malone Stylist: Deborah Afshani Stylist: Sam Milner
Only three months into 2017, diversity in fashion was already at an all time high. Back in March, after fashion month shows were tallied up, it was revealed that every major New York Fashion Week presentation included at least one model of color for the first time ever. In total, models of color amounted to 27.9 percent at NYFW, which — although far from being perfect — was an increase from the two seasons before, as The Fashion Spot pointed out. That trend has seemingly seeped into the pages of magazines through the year. The Fashion Spot has just conducted a new analysis finding that a record number of nonwhite models were cast in major Fall 2017 print ads.
Specifically, models of color accounted for 30.4 percent of Fall 2017 print ad appearances, which was a dramatic increase from the season before (25.5 percent) and twice as much as two falls ago. The rise can be attributed to brands like Coach which cast 67 percent women of color, Christian Dior which cast the same percentage, Dolce & Gabbana which cast 63 percent models of color, and Saint Laurent, which cast three out of four models as women of color, a vast improvement from their 2001-2015 campaigns which had none as The Fashion Spot points out. Not to mention on the male scale, Gap and Nordstrom were beacons of diversity, with Gap's brilliant "Bridging the Gap" campaign casting more people of color than white people (9 out of 10).
On-the-rise model Adwoa Aboah, who is of partial Ghanian decent, was also one of the most cast models overall with five campaigns to her name. Ind addition to the Gap campaign, she's also popped up in ads for Christian Dior, Miu Miu, and others.
As for other kinds of diversity, transgender models were also cast at a record high this season. Fall 2017 print ads — from Helmut Lang to Sisley and Philipp Plein — accounted for six transgender model castings, which was up from five castings in Spring 2017 and zero castings in the Fall 2016 season. Although at a mere 1.3 percent of models cast in print ads for this season there is still a long way to go for more complete representation of the trans community.
Meanwhile one area of diversity that did not fare as well: plus-size models. The number of plus-size castings in print ads actually dropped from last season. Plus models accounted for just 2.2 percent of ads (0.1 percent less than last season). Luxury brands like Dolce & Gabbana tapping Alessandra Garcia Lorido and Vivienne Westwood featuring Emma Breschi were some of the few examples.
On the whole though, the notable uptick of diversity in fashion is something to celebrate — and, given the current political climate in which designers are feeling more emboldened to voice their political beliefs, it's a trend that seems likely to continue. As human equality has become increasingly under attack within the United States, it's more important than ever to show inclusivity.
Related: A Glimpse at the Revived Helmut Lang Thanks to the New Campaign Featuring Alek Wek, Shayne Oliver, and Traci Lords
Women's Rights Are Human Rights": 62 Fashion Insiders Speak Out in a Powerful Video for International Women's Day: