In Appreciation of Elle Fanning and Chloë Sevigny, the Only People in Cannes Serving Up Actual Looks
From vintage Prada to custom Mugler.
---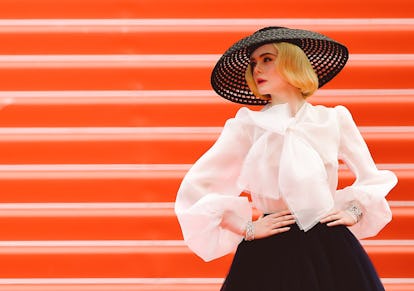 Matt Winkelmeyer/Getty Images
The red carpet of the Cannes Film Festival never disappoints, but this year, the responsibility to keep that tradition alive has largely fallen on only two names: Elle Fanning and Chloë Sevigny, who've been in France for a week and yet are still somehow pulling out endless look after look, putting the rest of attendees to shame.
Fanning, for example, was a key factor in making the world premiere of Quentin Tarantino's Once Upon a Time… in Hollywood the biggest red carpet since the Met Gala. Margot Robbie has been coming through with references to the '60s—most notably, by channeling Sharon Tate's hair—but Fanning, who isn't even in the film (though, her sister Dakota is), easily put its cast to shame. She was the picture of Old Hollywood elegance, with a Dior couture ensemble that gave her a New Look silhouette, plus a macramé hat.
She also claimed a sizable, yet deserved, amount of real estate on the red carpet of Les Miserables in a giant floral Valentino couture gown, which she accessorized with real flowers in her hair.
Even while off-duty, she and Sevigny have been wearing looks more deserving of the spotlight than those on the actual red carpets. Sevigny, for one, showed up to the festival prominently toting a sun hat around her neck, harking back to the festival's surprisingly casual glory days
Of course, the fact that Sevigny has style is nothing new; she's been the standout on and off red carpets for the past 20-plus years. This time, though, she's really shown her range, following up the custom Mugler she wore to the first premiere of The Dead Don't Die with a relatively low-key, but nonetheless elegant, Loewe fall 2019 look with intricate eyelet lace and pearls the very next day.
Like the true runway model that she is, she's also been posing up a storm, both on the carpet and off:
And while it may have been unintentional, there's nothing to make your vintage Prada stand out like fainting because it's a bit too tight, causing Colin Firth to revert to Mr. Darcy mode.
Fanning might have taken the cake when it comes to couture, but no one has nailed the designer credits like Sevigny; in addition to custom Mugler, she's also worn some of the signature crescent moons of Paris's buzziest up-and-comers, Marine Serre
Somehow, the red carpets still aren't over yet, so the rest do have time to step it up like Sevigny and Fanning. For now, though, the only special shoutout goes to Kendall Jenner. While clearly in full promotion mode for Giambattista Valli's new H&M collab, we have to throw her a bone for looking like she was having an utter (post-breakup) ball while prancing around the city in layers upon layers of hot pink tulle.
Related: Elle Fanning Fainted at Cannes, Transforming Colin Firth Back Into Mr. Darcy
A Look Back at the Cannes Film Festival's Pre-Red Carpet Glory Days
French actress Michèle Morgan on the beach in Cannes, France during the first-ever Cannes Film Festival in 1946.

Serge de Sazo/Gamma-Rapho via Getty Images
Jane Birkin and Serge Gainsbourg on the beach in Cannes, France during the Cannes Festival in May of 1974.

Gilbert Tourte/Gamma-Rapho via Getty Images
Mariel Hemingway while in Cannes, France to promote her film Manhattan for the Cannes Film Festival in May of 1979.

Daniel Simon/Gamma-Rapho via Getty Images
Brigitte Bardot and Isabelle Corey in Cannes, France for the Cannes Film Festival in May of 1956.

Haywood Magee/Picture Post/Hulton Archive/Getty Images
Brigitte Bardot running barefoot on the beach while in Cannes, France for the Cannes Film Festival in April of 1956.

George W. Hales/Getty Images
Yoko Ono and John Lennon in Cannes, France for the Cannes Festival in May of 1970.

Keystone-France/Gamma-Keystone via Getty Images
Jan Miner, Dustin Hoffman, and Valerie Perrine in Cannes, France for the Cannes Film Festival, presenting Bob Fosse's film Lenny in May of 1975.

Bertrand Laforet/Gamma-Rapho via Getty Images
The scene at an open-air hair salon overlooking the Mediterranean Sea in Cannes, France during the Cannes Film Festival in May of 1958.

Keystone/Getty Images
Producer Mike Todd with his wife, Elizabeth Taylor, while in Cannes, France to promote his film Around the World in Eighty Days at the Cannes Film Festival in May of 1957.

Bettmann/Getty Images
Jack Nicholson living his life in Cannes, France during the Cannes Festival in May of 1974.

Giribaldi/Gamma-Rapho via Getty Images
Michael Caine in Cannes, France for the Cannes Film Festival, promoting his film Alfie with a group of women wearing questionably placed advertisements in May of 1966.

Keystone-France/Gamma-Keystone via Getty Images
British actress Diana Dors lying on the beach with an effigy of her favorite actor, Gregory Peck, while in Cannes, France for the Cannes Film Festival in May of 1956.

Gamma-Keystone via Getty Images
Italian actress Claudia Cardinale on a beach in Cannes, France with the leopard that she walked on a leash at the screening of Luschino Visconti's film The Leopard, during the Cannes Film Festival in May of 1963.

Keystone-France/Gamma-Keystone via Getty Images
Isabelle Huppert in Cannes, France for the Cannes Film Festival, ahead of receiving the Suzanne Bianchetti award for best young actress in May of 1976.

Michel Ginfray/Gamma-Rapho via Getty Images)
British actress Diana Dors in Cannes, France for the Cannes Film Festival, being escorted by policemen from the beach to her hotel in May of 1956.

Keystone-France/Gamma-Rapho via Getty Images
David Bowie standing out from the crowd in Cannes, France for the Cannes Festival in May of 1978.

Ralph Gatti/AFP/Getty Images
Agnès Varda in Cannes, France to promote her film Cléo from 5 to 7 at the Cannes Film Festival in May of 1962.

Reporters Associes/Gamma-Rapho via Getty Images
French actress Yvonne Furneaux eating spaghetti by the pool post-Cannes Film Festival party for La Dolce Vita, hosted by the photographer Dalmas in Cannes, France in May of 1960.

Pierluigi Praturlon/Getty Images
Grace Kelly on the trip to Cannes, France in which she met her future husband, Prince Rainier of Monaco, during the Cannes Festival in May of 1955.

Keystone-France/Gamma-Keystone via Getty Images
Tippi Hedren, Alfred Hitchcock, and a flock of birds in Cannes, France, at the Cannes Film Festival presentation of The Birds in May of 1963.

Keystone-France/Gamma-Rapho via Getty Images
French actress Marina Vlady applying her makeup while in Cannes, France for the Cannes Film Festival in May of 1962.

Paul Schutzer/Getty Images
Jane Fonda in Cannes, France for the Cannes Film Festival in 1978.

Kent Gavin/Daily Mirror/Mirrorpix/Getty Images
Swedish-American actress Ann Margret at a photo call for Ken Russell's film Tommy on the streets of Cannes, France during the Cannes Film Festival in May of 1975.

Ralph Gatti/AFP/Getty Images
Catherine Deneuve in Cannes, France for the Cannes Film Festival in May of 1965.

R.A./Gamma-Keystone via Getty Images
Arnold Schwarzenegger on the beach with women from the Folies Bergère while in Cannes, France for the Cannes Film Festival in May of 1977.

Keystone/Getty Images
Juliette Binoche taking flight on the beach in Cannes, France during the Cannes Film Festival in May of 1985.

AFP/Getty Images
French actress France Anglade in Cannes, France for the Cannes Film Festival in May of 1960.

Roger Viollet Collection/Getty Images
Charlotte Rampling and Tennessee Williams in Cannes, France for the Cannes Festival in May of 1976.

Gilbert Tourte/Gamma-Rapho via Getty Images
Photographers on the scene at the Cannes Film Festival in Cannes, France in May of 1965.

Reporters Associes/Gamma-Rapho via Getty Images
Jayne Mansfield surrounded by onlookers and press in a fountain in Cannes, France during the Cannes Film Festival in May of 1964.

Pictorial Parade/AFP/Hulton Archive/Getty Images